Stinger Frame Lock Folding Kit with African Bubinga Scales
Gift wrapping:

Options available

Shipping:

Calculated at Checkout
Bulk discount rates
Below are the available bulk discount rates for each individual item when you purchase a certain amount
| | |
| --- | --- |
| Buy 3 or above | and pay only $69.00 each |
Description
Folder Kit "Stinger" with hardwood scales and all parts
The newly redesigned "Stinger" is a quality framelock folding kit model that offers good performance and style at a reasonable cost. This design features a satin finished hollow ground blade profile with polished liners and premium assembly parts. The blade is in 440C and with a blade length of 75 mm, the liners are in 410 grade Stainless Steel. The handle scales included comes shaped and pre-drilled ready for assembly and final sanding. The scales are in Bubinga, a hardwood from Africa known for high strength to weight ratio.

Properly built, you can easily meet or exceed the quality and performance found on many production knives in the $200+ dollar range. The modification options on this model are virtually limitless, as you can add filework, engraving, different handle treatments and much more. The base unit is designed to be easily assembled and does not require any additional parts for standard completion (see finished standard model below).

This EDC folder kit is a modern, high-quality framelock design and offers good value for money. The kit requires TORX T6 and T8 screw drivers for completion. The folder kit is designed by CKK in the US and manufactured to their specifications in China.
General Kit Specifications
Skill Rating: Level I-III (Based on modification desire)
Blade Steel: 440C SS (heat-treated to RC 56-58)
Frame Steel: 410 SS
Screw Parts: SS Torx (High-Quality)
Handle Length: 3.75"
Blade Length: 3.00"
Overall Length: 6.5
Handle Material: Bubinga Wood (Included)
Pivot: Stainless Steel
Tools required: T8 and T6 TORX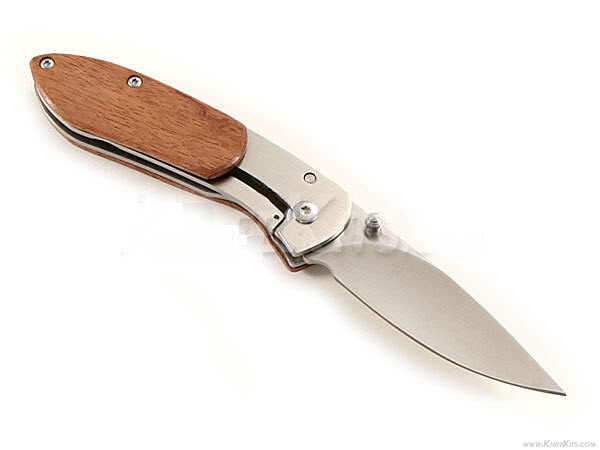 View All
Close
4 Reviews
stinger frame lock kit knife

A good looking knife ,seems to be well made. The only downside is in the assembly video (which I watched before ordering)the kit had a pocket clip. The kit that was sent doesn't have a pocket clip.

Stinger Frame Lock Kit with African Bubinga Scales

The kit arrived nicely packaged. It assembled without any issues (noting it requires Torx T6 & T8 screw drivers) and the Bubinga scales look nice. The completed knife is very functional; the blade is nicely ground, unfolds & locks into place nicely. Conversely, the foldaway action works well. Overall, an attractive and very functional folding knife.

Stinger frame lock folding kit

As always with Creative man the quality was excellent and it arrived in good time, also great value for money.

Nice knife, easy to assemble and the added ability to change the scales is a bonus
View All
Close