MTM #26 Tony Earwaker
By Bjorn Jacobsen, November 2023.
Tony is one of those guys who is always happy to help. Having met him several times over the years it was no surprise to anyone when he decided to start what quickly became the biggest Guild hammer-in in the country! Always happy to help new makers in and outside of the Guild, Tony is a now the North QLD Guild rep. Here is his story..
Growing up in Townsville
Hi guys, my name is Tony Earwaker, I'm 47yo and live just outside of Townsville in North Queensland. I was born and bred in Townsville and conducted all my schooling here.
During my younger years I was a real turd and was always getting into mischief.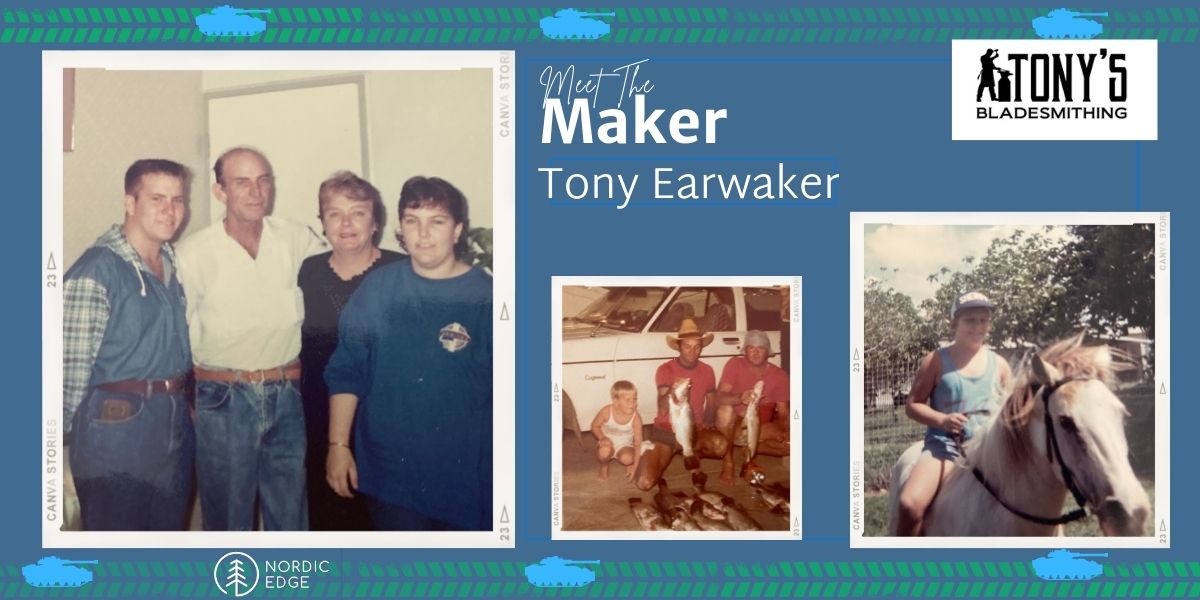 Tony with his dad, mum and sister in 1992. Gone fishing with dad at about 5 years of age. Riding Taffy about 10 years old.
Joining the Army at 17 years old
I always wanted to join the Army growing up, and during my last year of school my family took me along to an Army open day and I was hooked for real! From then on, I was determined to join the Army and specifically the Infantry.
I discussed with my family, and they were supportive but because I was only 16 I couldn't join without parental permission. Eventually my dad said "we will let you join but we want you to do a trade", so I chose to become an Army Apprentice as a Fitter/Turner/Armourer.
I went to the selection interviews and testing and did very well, but it wasn't until I had my final interview with the Commandant of the Army Apprentice School that I was accepted. The Commandant said to me "I see you play Rugby League, have you ever played Rugby Union"?
I replied "Not much".
He said "Well you do now, take it from me you're in and I'll see you at training Wednesday night".
And that was the beginning of an almost 24-year career!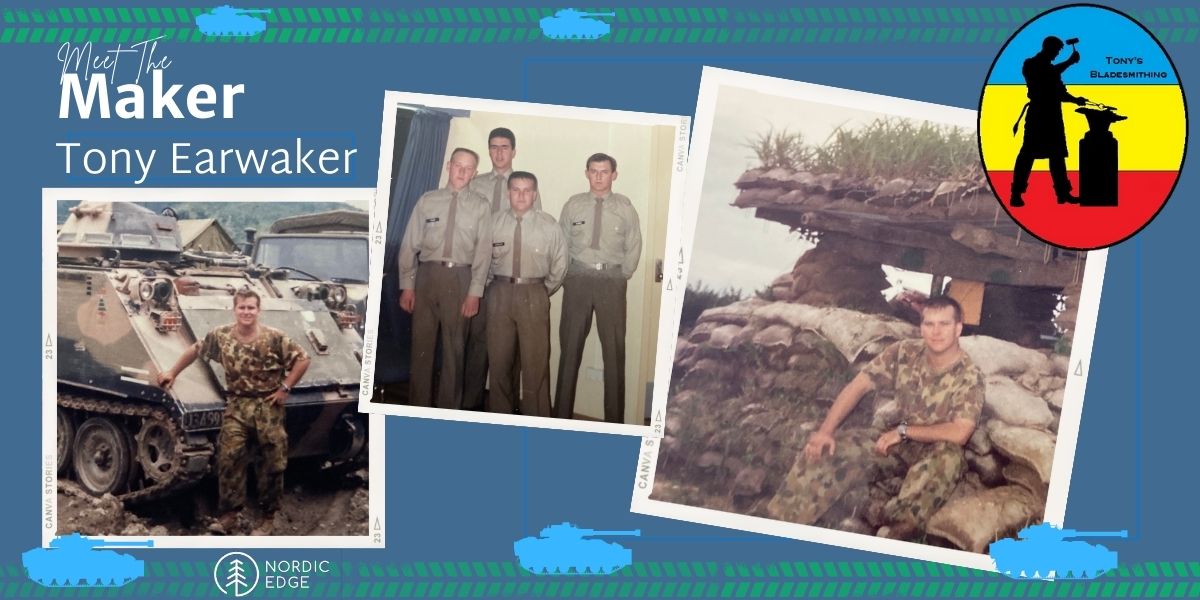 Tony Fixing APC's in Balibo East Timor 2000. With fellow Appy's 1993. Just finished building the Gun Piquet bunker in East Timor posing for a photo 2000.
Army Life
So off I went to a small location just outside of Albury/Wodonga called Bonegilla, where the Army Apprentice School is located, and I started my Trade and Military training. After 2 years at Bonegilla, I was posted back to Townsville to finish my trade OJT (On the Job Training).
I then spent the next 22 odd years bouncing around various Army Units in Townsville, Darwin, Brisbane and Melbourne. As well as five different deployments around the world including East Timor, Solomon Islands and Afghanistan.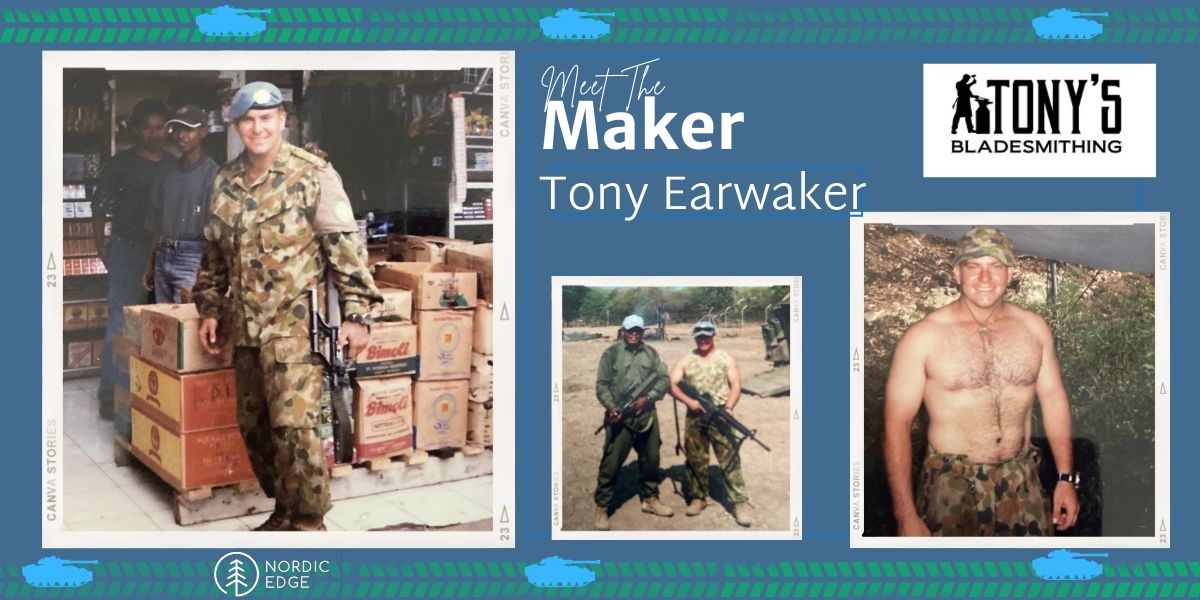 Visiting a market in Dili 2002, Swapping Weapons with a Fijian Armourer 2002, Trying to stay fit in a make shift gym we built in East Timor 2000.
Melbourne was my final Army posting where I reached the pinnacle of my Career by reaching the Rank of Warrant Officer Class 1 (the highest rank achievable by a non-commissioned officer).
But it was also the lowest point of my career as I was medically discharged due to PTSD and various other physical injuries including a broken neck.
Me with some Timor local kids 2000, mum me and Kate when I got promoted to WO1 2014 and me in dress uniform 2016.
PTSD and a new start
Whilst posted to one of the many Units in Townsville, I met and married my loving wife Kate and we also have a now 12 years old son. My wife and my son are my rocks and have always stuck by me through thick and thin.
During my discharge process in 2016 (which took around 12mths) I was given the opportunity to do a course funded by Defence, I said to the young lass that was appointed as my rehab coordinator that I would like to do a knife making course, to which she replied "not a chance are we allowing someone with PTSD to do a knife making course", so I told her to stick her courses in her @$$.
Anyway, after some persuasive arguments, about 2 weeks later she came back to me saying that it had been approved and the next thing you know I was on my way to Canberra to spend a week with Karim Haddad at Tharwa Valley Forge.
Me and Kate scrub up alright. Max and I going fishing 2023. Family fishing trip 2023 where I got the smallest fish.
Back on track at Tharwa Valley Forge
During the week Karim guided me through the entire process of Knife Making and I walked away having made 5 knives. Karim even allowed my best mate Allister Coney, to come along and help out with the process (he is also a hobby maker now).
After returning back from Canberra I bought an 84 Engineering Grinder and as they say - the rest is history!
At the completion of my medical retirement discharge, my family moved back to Townsville and to this day I continue making knives as a hobby and I use it to control my PTSD and all the shitty things that go along with that.
I find knifemaking forces me to be grounded, and I need to concentrate on the task at hand or it can be rather dangerous.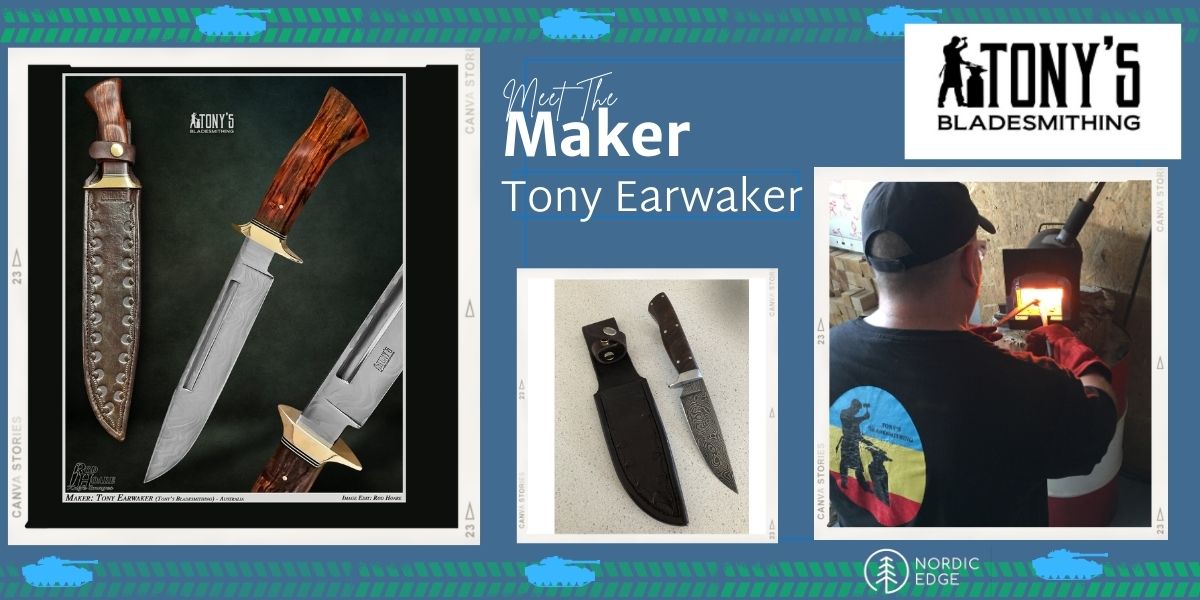 Big Ass Damascus Bowie photo by Rod Hoare that made it into Blade Magazine, Damascus Hunter, Firing up the forge to heat treat a Carbon Steel Knife.
Knife making and joining the Guild
I'm unsure how many knives I have made over the years, but I'd estimate it to be quite a lot. In 2017, I applied for Probationary Membership to the Australian Knifemaker Guild (AKG) and was assessed by Doug Timbs. Doug critiqued my 3 knives and I passed assessment and received some excellent feedback.
From there I spent the next couple of years learning as much as I could and in 2020, I applied for Full Membership to the AKG and was assessed by Paul-Emmanuel Arestan and once again passed assessment, I was proud as punch as that was my biggest achievement since discharging from the Army.
(Editor's note: To become a Probationary member of the Guild, you submit 3 knives. Each has to achieve 10 points of the possible 20 from the detailed assessment check list and a 90% pass mark for full membership assessment. Click here for the document:LINK)
So in short I've now been making knives as a hobby for about 7 years, I've drawn inspiration from and been guided by many of Australia's great makers and I'm lucky enough to call some of them friends. Including Karim Haddad, Kev Slattery, Uncle Keith Fludder, Jackson Rumble, Bruce Barnett, Doug Timbs, Paul-Emmanuel Arestan, Ian Stewart, Rob Herbert and the list goes on (sorry if I've missed anyone).
This year I was accepted to the AKG Committee, and I now have the pleasure of being the NTH QLD Guild representative/assessor and a general committee member, this saw me at the Sydney Knife Show being a guest Judge this year which was a great experience.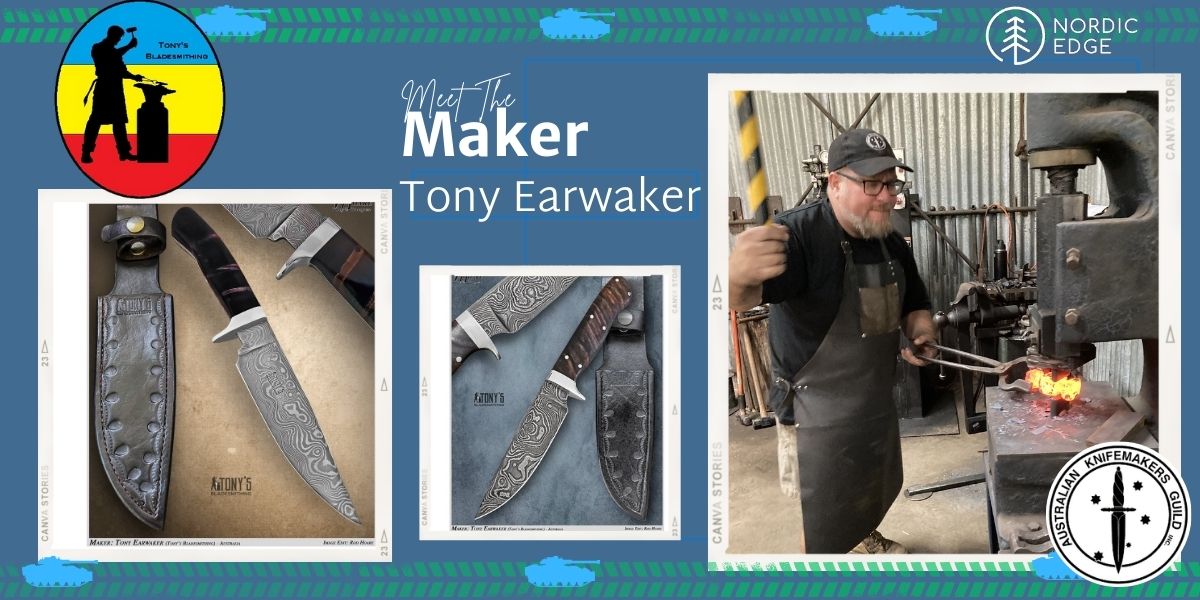 Damascus hunters' photos by Rod Hoare, Me doing one of the many courses I've done at Tharwa Valley Forge.
Travelling and making friends
Knifemaking has opened a lot of doors for me, and I've had the luxury to be able to travel and do some knife making training with some truly remarkably skilled tradesmen around the world, including in Thailand, Japan, Nepal and the USA.
My style
I make heaps of different styles of knives but mostly outdoors knives and generally full tang, I would consider my favourite high carbon steels to be 1084, 1095, 80CRV2 and D2 (more a tool steel and a real pig to hand sand). And my favourite stainless steels to be NitroV, S35Vn and 440C. I also like to use farriers rasps, especially up here in Townsville where there are a lot of 'horse people' who appreciate new life given to old tools.
I would say that full tang knives are my go-to knives to make because a lot of the knives I make go to Defence members and hunters that are relying on these knives as tools of the trade so to speak. And if the handle was to break for some reason whilst in the field, they could still have a usable tool in a pinch.
I do all my own work in-house, including leather and Kydex sheaths and I have recently purchased a forging press (which I'm awaiting to receive) so hopefully I'll be making more Damascus steel knives in the future.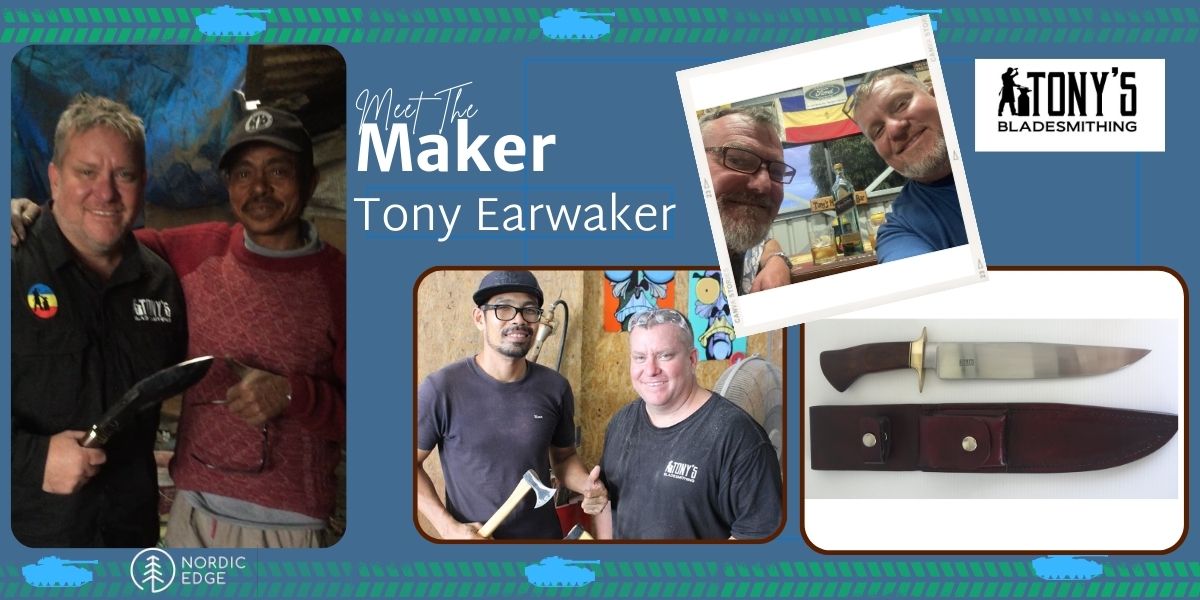 Learning the art of the Gurka Khukuri in Nepal 2020, Learning the art of axe making in Thailand 2019, learning the art of Bowie Knives with Jackson Rumble 2020.
Starting the Townsville Hammer-in
One of my biggest achievements in Knife Making so far (apart from achieving Full AKG membership), is organising and hosting one of Australia's largest hammer-ins.
The Townsville Hammer-In, came to life after I was 'gobbing' off to my friend Corin Urquhart one night about how shit it is that all the hammer-ins and Knife Camps are held 'down south' and Corin said to me "Well you do the hard work and run your own!" and that's what I did.
I've been running the Townsville Hammer-In now for the past 3 or 4 years and this year with the help of all of my awesome sponsors, I was able to provide training to some potential new knife makers and I was able to donate $3400 to the Guild.
Apart from the hammer-ins, giving back to the Guild, I also try to give back to the Veteran community by teaching other Veterans some 'tricks of the trade', so to speak.
(Editor's note: Tony has also helped host the Australian Beginner Knife Making Awards with Nordic Edge and the Guild in 2022, being the Head Judge)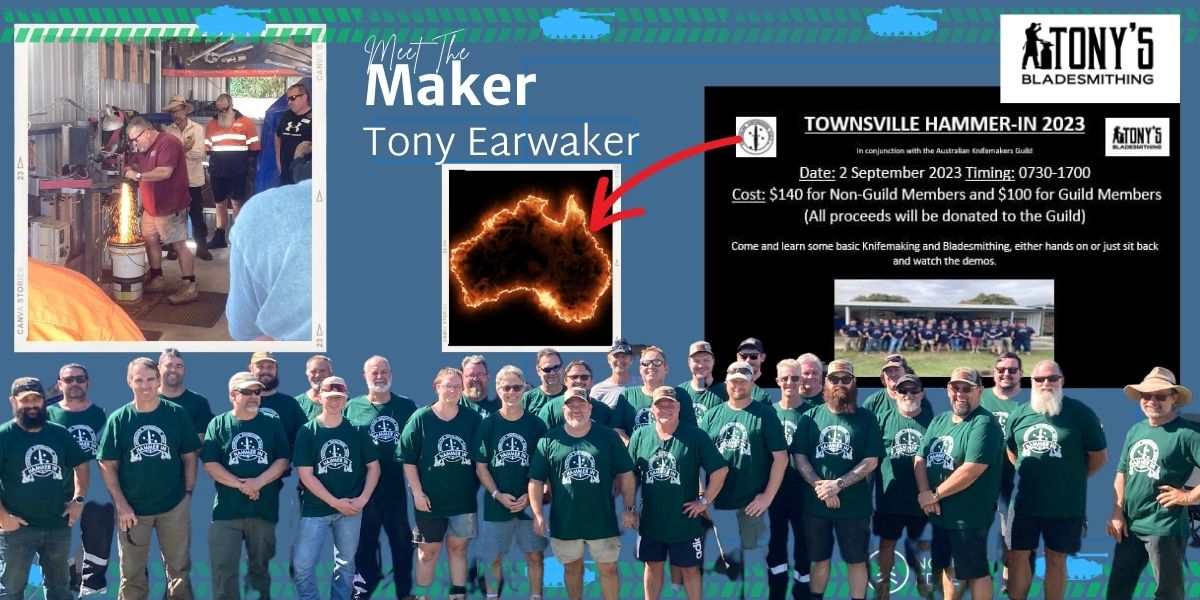 Tony teaching at the Hammer In and all of the 2023 Hammer-In Attendees.
Advice for new makers
If I could give some advice to new or potential knife makers out there, it would be to go and do as many courses as you can. Learn from as many different makers as possible, I've done about 10 different courses here in Australia, at Tharwa Valley Forge and with Keith Fludder and overseas and each one has taught me new things. You will never stop learning unless you fail to give something a go.
My other piece of advice would be to 'buy once cry once', I have done the opposite of this advice so many times both in knife making and in my personal life. It has cost me a lot of time and money and now I tend to buy the best I can afford (even if it's not 'the' best, just buy or make or trade for the best you can afford).
Last but not least just give it a go and have some fun with it. Unless you are making a living from knife making, have fun with it and once it stops being fun (yes that does happen), take a step away from it for a while and let the fire return to your belly and get back after it.
Cheers Tony
Tony's Bladesmithing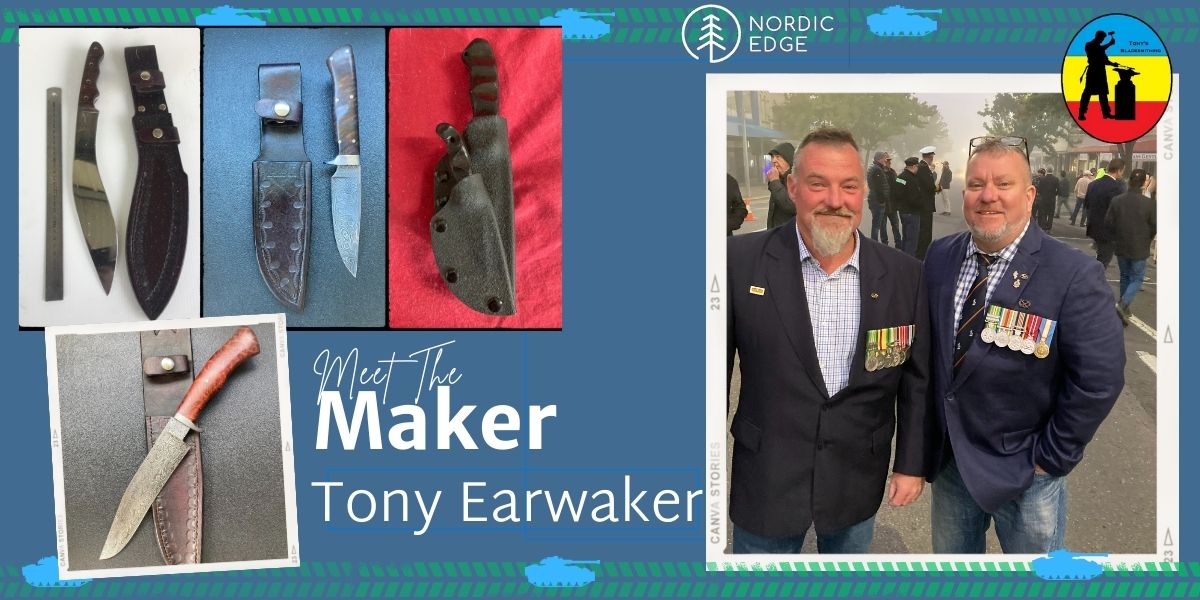 A few more of my knives and styles. Me and my best mate Allister Coney doing Anzac Day in Yass NSW 2022
****
If you are in the Townsville area, follow Tony's page on facebook to be in the loop for things happening at Tony's forge. You might end up with both some new mates and some new skills!
Now and then available knives also pop up – or contact Tony directly to enquire about having something made.
Tony's Bladesmithing on Facebook: LINK
Recent Posts
g10 handle materialsList of deals for Black Friday Sale 2023.Only available from Thursday 23rd - Sun …

Adelaide knife showBy Bjorn Jacobsen, November 2023.The weekend of 18th and 19th November 2023 it w …

MTM #26 Tony EarwakerBy Bjorn Jacobsen, November 2023.Tony is one of those guys who is always happy …