By Bjorn J, 13.06.2022
BLADE show is the biggest knife show in the world, held each year in Atlanta, Georgia in the South of the USA.
To give you a picture of how big it is, if you were to walk past each of the 920 tables from the exhibitiors, spending 1 minutes on each table, you would need 15.6 hours. To do a single walk-through, no buying, talking or picking stuff up!
Here are some photos from our trip, should you want to get an idea of what to expect, if tagging along next year.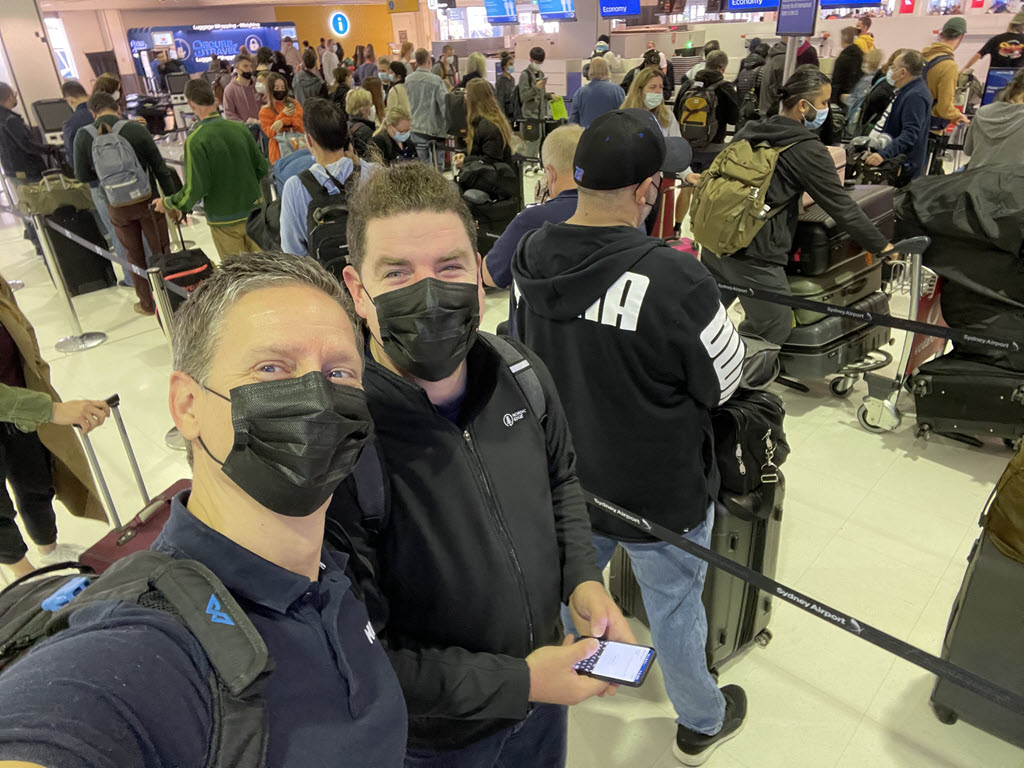 Riley and I set off from Sydney Thursday 2nd of June on a pretty long trip. It is almost 15 hours in the air to San Franscisco, then another 4.5 hours or so from there to Atlanta. Adding getting to and from airports and wait time in San Franscisco, it is a pretty long day before arriving at the hotel in Atlanta.
Speaking of flights, I don't mind the old family movie. But on a long flight after reading a Walter Sorrell book called Fake ID, it would have been more fun had Riley not put on Parental Restrictions on my in-flight TV: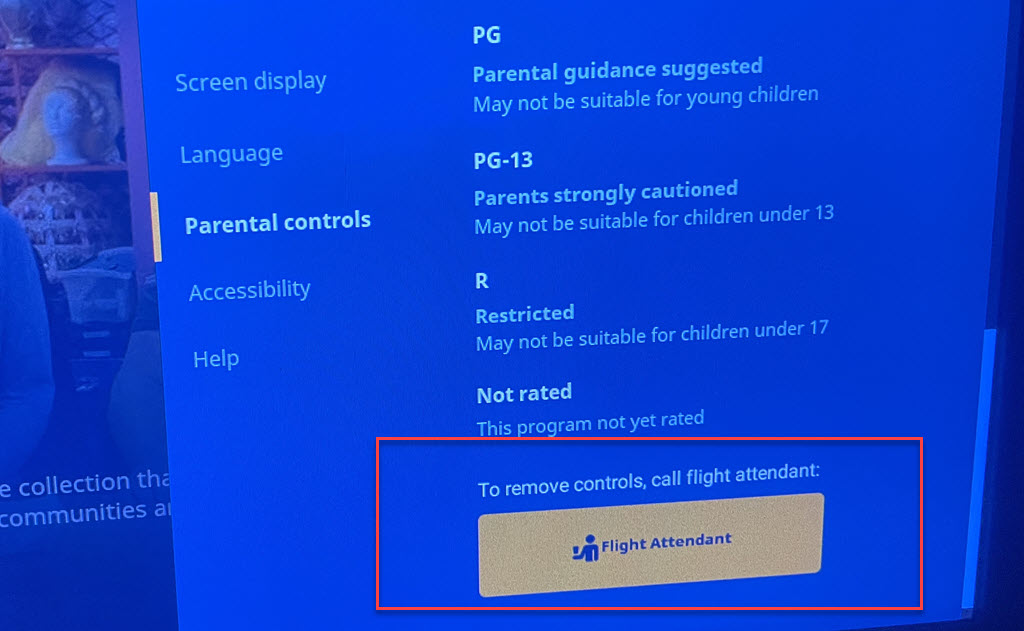 Anyway, some constructive feedback later and about a day and half it felt like on the road, we got to Atlanta. Checking out our Chrystler 300 rental car and zooming up the highway on the other side of the road (great time to make Riley consider his actions on the plane), we made it to the Renessaince Waverly Hotel, connected to Cobb Galleria where the actual show is.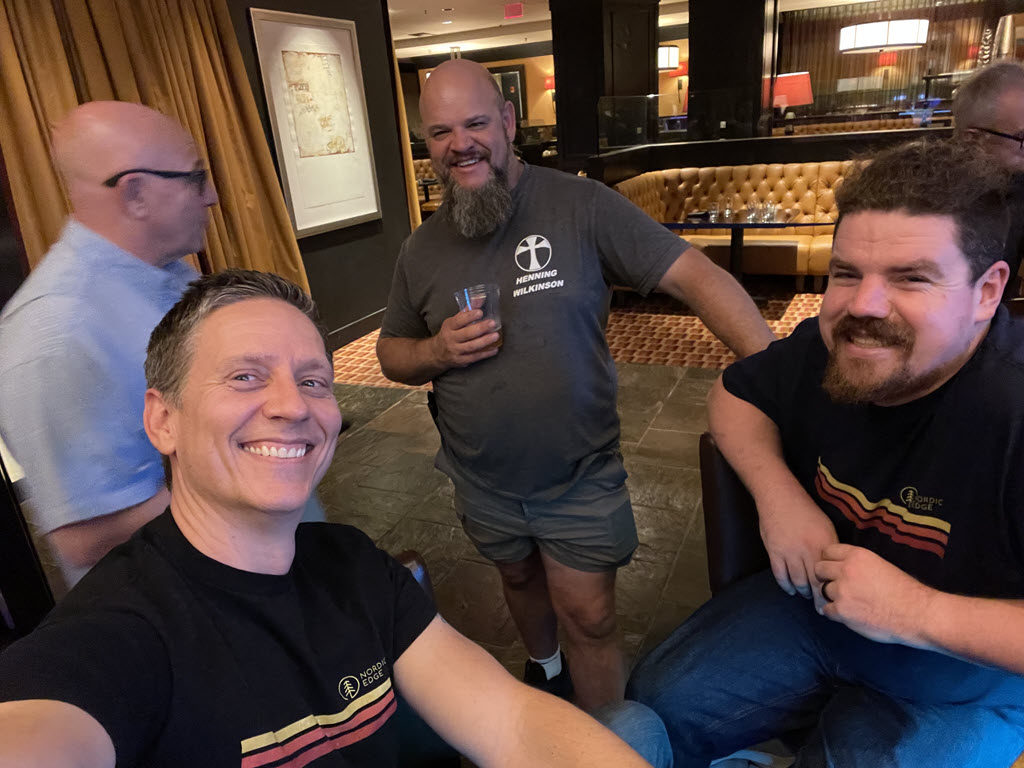 We met up with some friends from last year for a beer in the bar, and it is of course a knife show. On every table there are knives being displayed, even in the bar! Check out this beauty made by Henning Wilkinson from South Africa.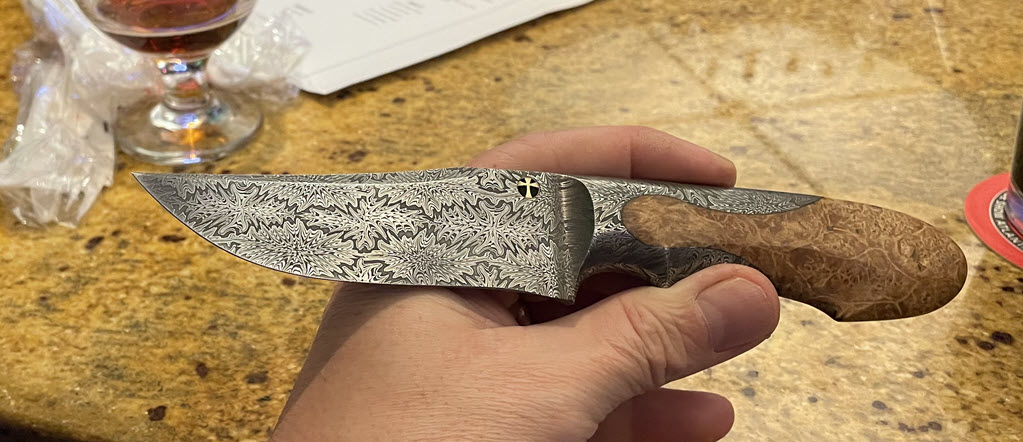 Early Friday morning we got setup and ready on our table 15T in the big room - the show is now so big there is also an overflow room. Riley had to McGyver the table display, as the clamps were not big enough. Riley being very resourceful, he ended up with the ends stuck in a box of blade vices each and that worked perfectly.
The room was buzzing even before the crowds were let in, everyone was making sure their table was ready. The knives were lined up, we had a bunch of French makers on our left - one of them sold out everything on his table on Friday and spent the rest of the weekend with a big grin on his face.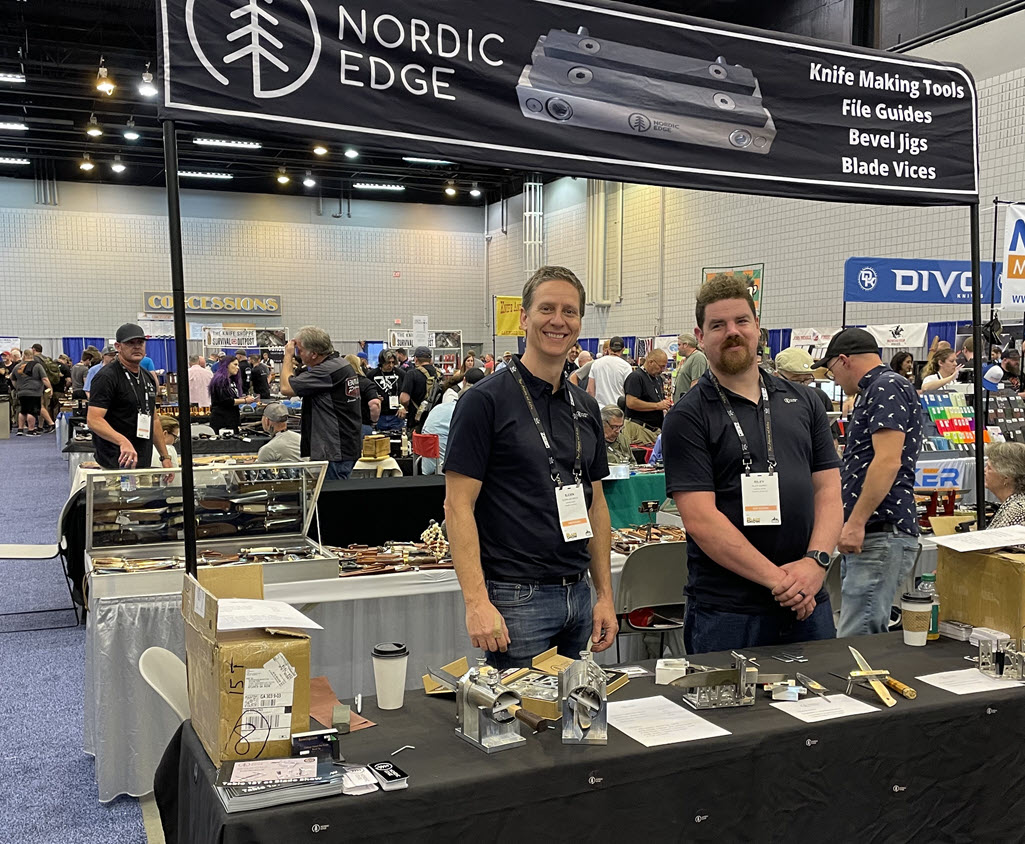 We met Michael from Trollskyy Knives on youtube, another hero of ours! He was a super nice guy, stayed and chatted for a while. It was cool when he posted on Instagram when getting home to Poland sticking our Nordic Edge sticker on his power hammer!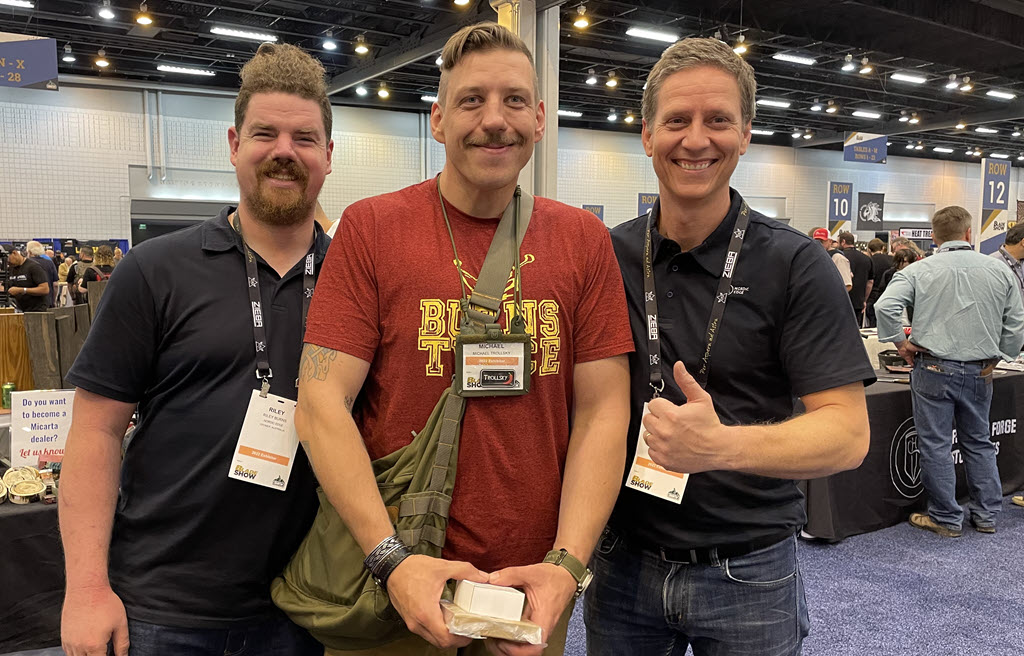 Apologies if every other photo is of us drinking or eating, but there was a bit of that. Here we are having a beer with Walter Sorrells, another hero of ours from Youtube, Butch Deveroux from Wyoming, Henning Wilkinson, Dominic Binkert from DB Blades in Melbourne.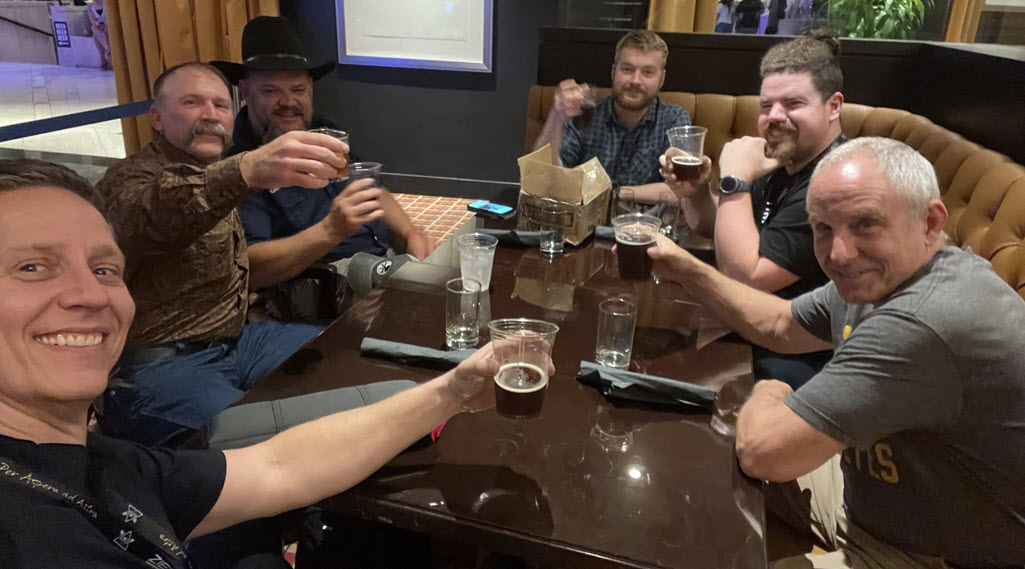 Walter hung out at our table on the Saturday for a bit too, drawing a bit of a crowd.
Dominic from DB Blades had cunningly added an Australian flag and inflatable kangaroo at his table, next to Michael Cunningham in the other room.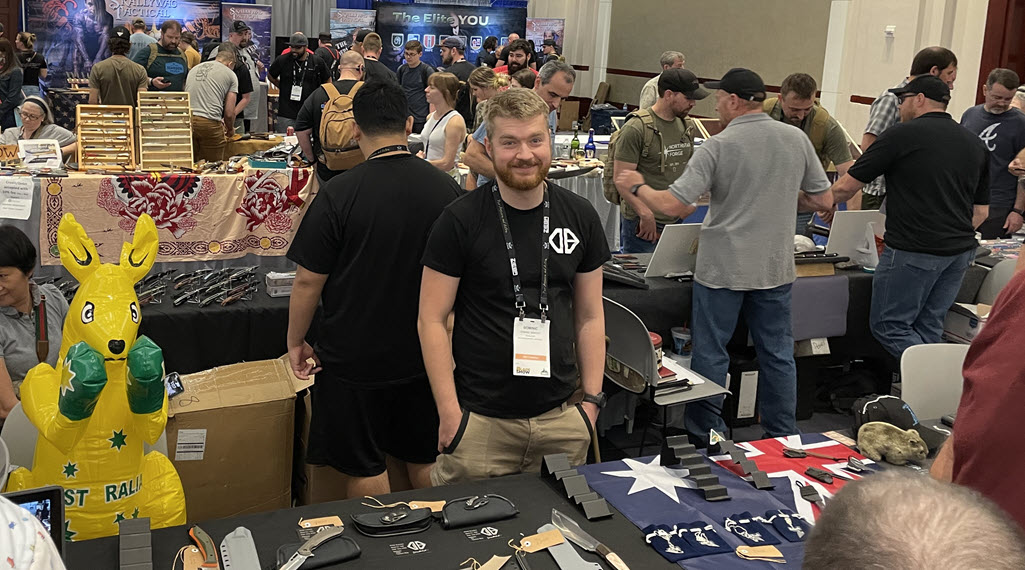 Check out this amazing sword made by the guys at the father & son team at Winburne Steel!
Henning came by to say hello again, with Andrew Blomfield commenting "You had a sword in one hand and Henning in the other - how did he get away?!"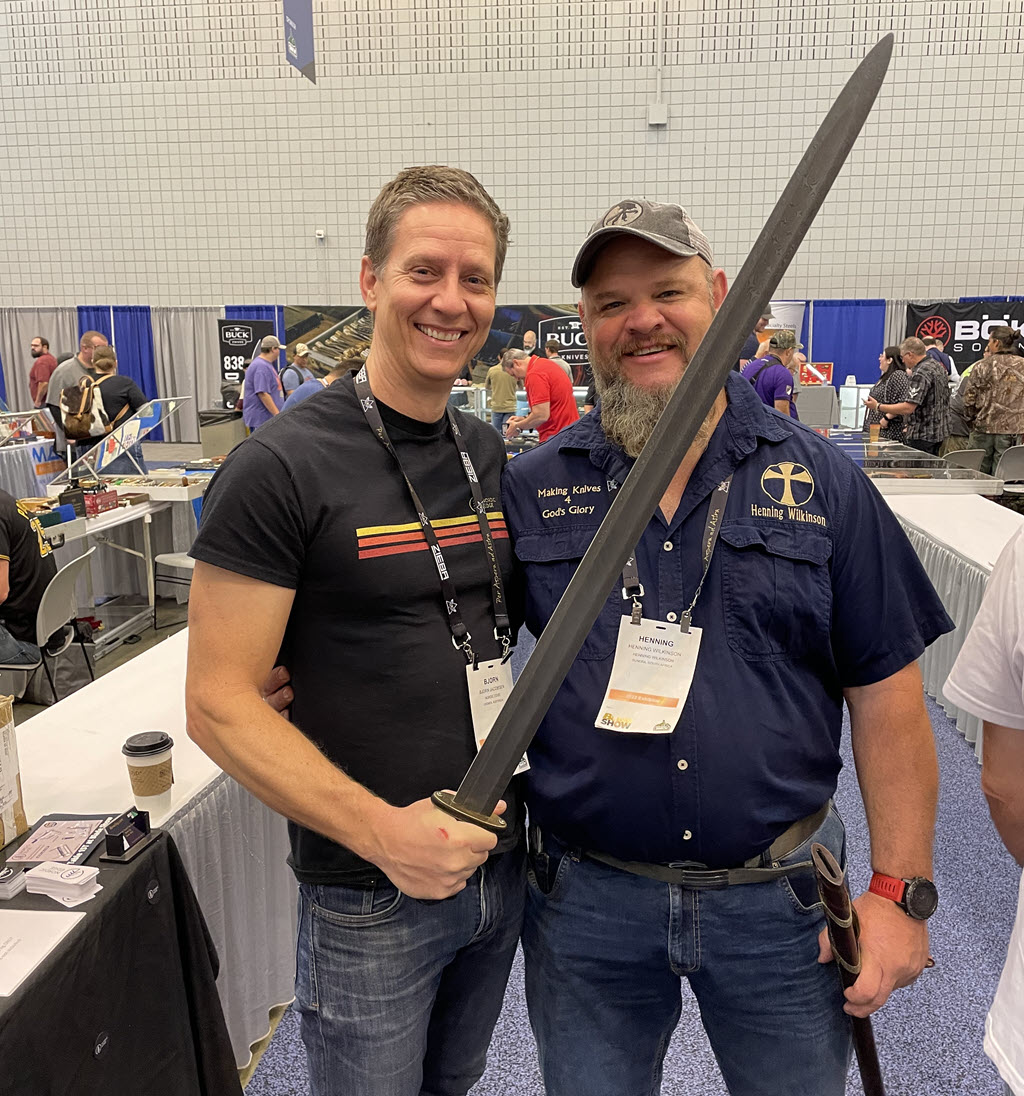 Speaking of Andrew Blomfield, he succesfully completed his ABS Journeyman Smith review at Blade Show 2022. It was a lot of work he said, and some sleepless nights before the final judging, but all worth it in the end.Here are the 5 knives Andrew handed in for the JS test.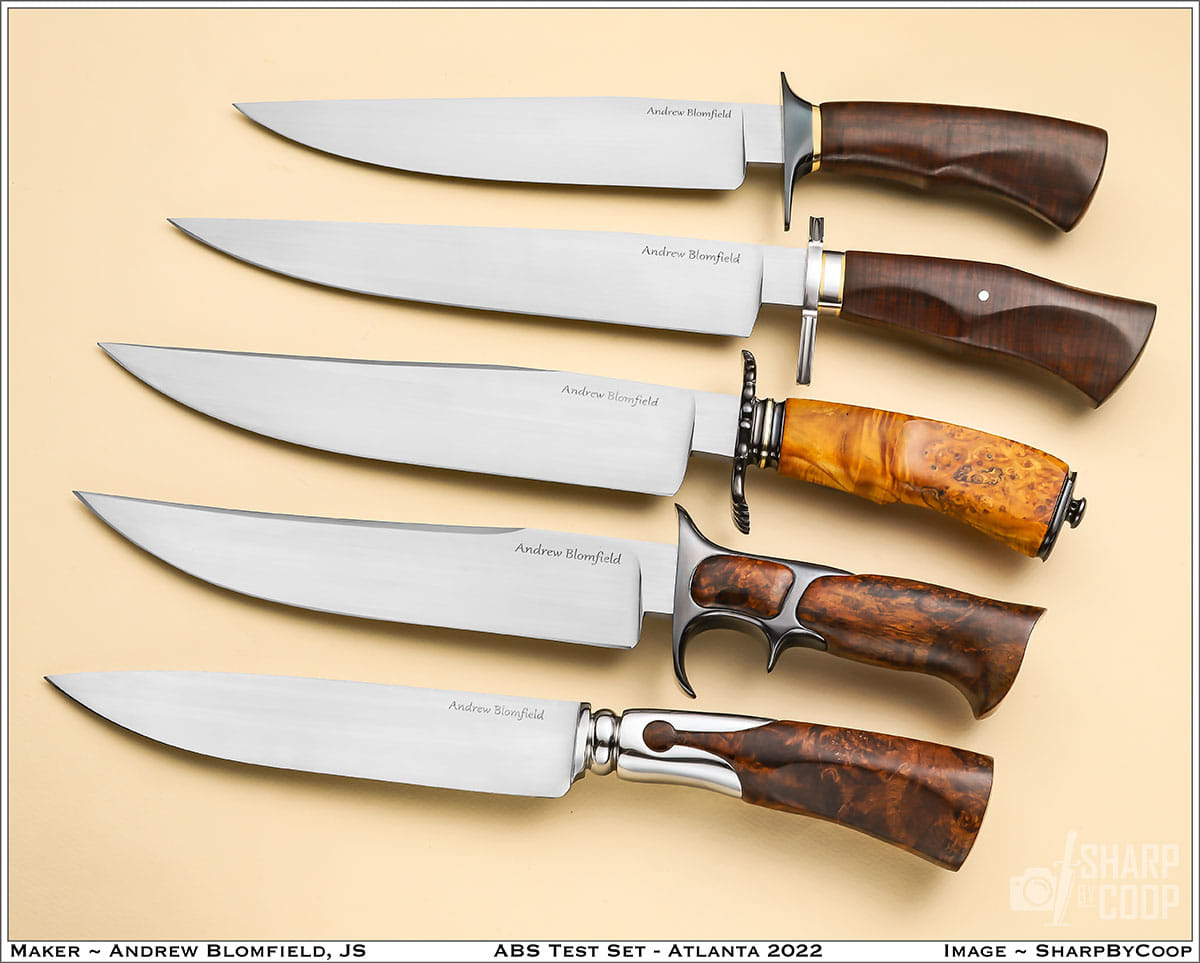 Something we love about going to shows, is how many people put a lot of effort into looking the part! How cool is this guy with his deerskin suite!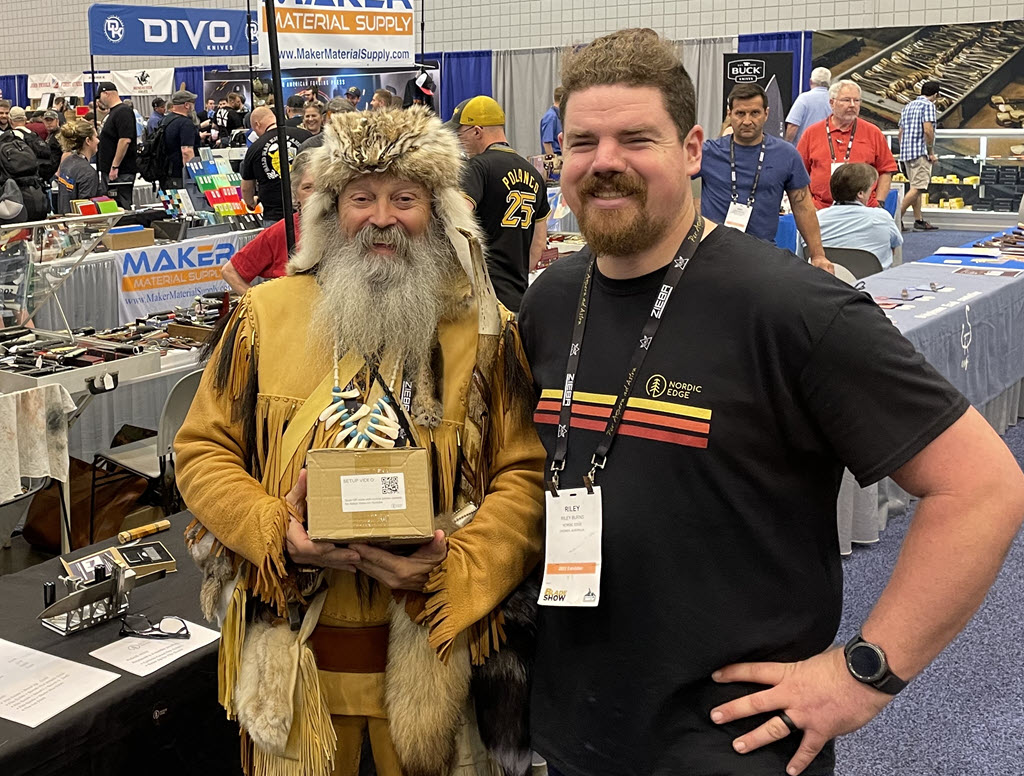 Another couple of food shots, sorry. This is us enjoying an amazing pork sparerib session at Fat Matt's Spare Rib Shack, a tip from some new friends at Blade show and from now on something we will have to do every year. Andrew, Dom and I did half a rack each, Riley went all-in for a full rack.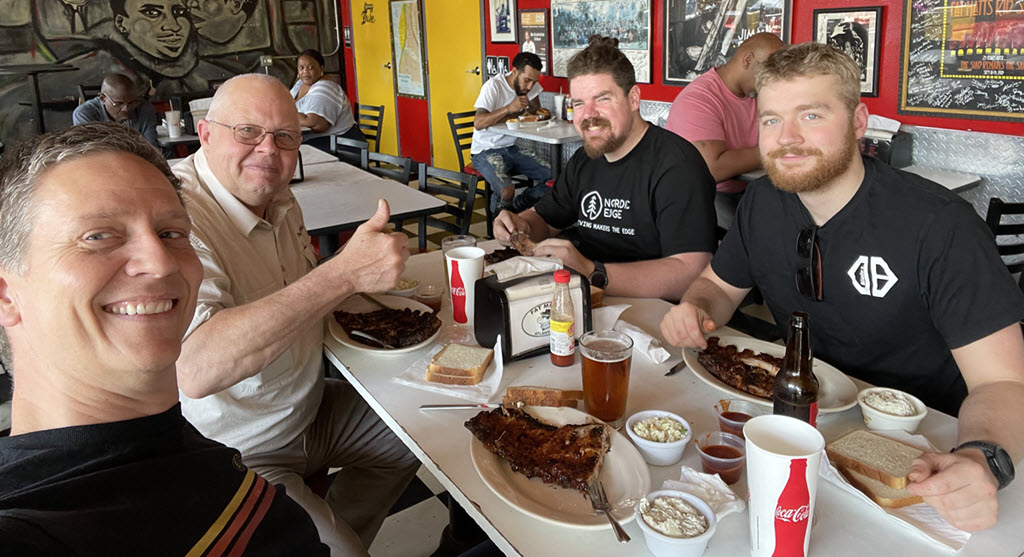 Last dinner shot, I promise! One thing that was unexpected, was that it was hard to get into restaurants at night. They are having so big staffing issues - not getting enough people to work- that everything is running at reduced capacity. There will be 1/3 or more free tables in the restaurant, but they would not let us in, saying there are not enough servers.
Here we are enjoying our body weight in chicken wings, Riley, Dom, Andrew, Michael and Narelle Cummingham.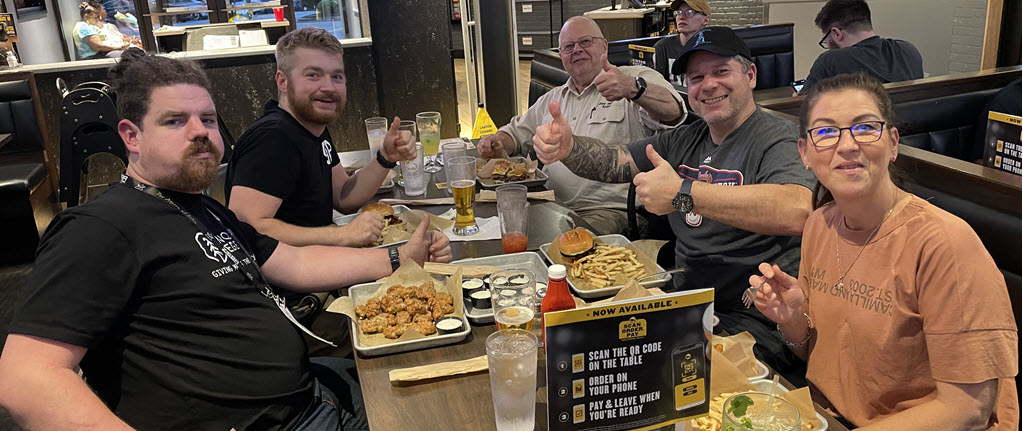 Did we mention the show was packed? Loads of people everywhere, and even on Sunday which was day 3 there were people queueing up outside before they opened the doors.
After the show Riley and I went on a road trip to Nashville for a couple of days. Country & Western music at the pub, and more amazing bbq food. Since I promised no more food pictures, I will not post the ones from Peg Leg Porkies BBQ in Nashville - but put it on your list should you be in Nashville and after a massive feed.
Recent Posts
Looking for an affordable knife making grinder? 2 x 72" belt sizeTilts for horisontal use when need …

By Bjorn J, 13.06.2022BLADE show is the biggest knife show in the world, held each year in Atlanta, …

Here are the slides from the Winner Announcements from the 2022 Knife Making Awards!We had such a go …