Meet The Maker: Alistair Phillips
By Michael Masion for Nordic Edge October 2021.
The story of Alistair Phillips and the Kapara.
Among the multitude of highly skilled Australian Knife makers, a handful have ventured into the realms of folding knives. Of those, the number of makers who are competent in making a modern one-handed opening knife can probably be counted on the fingers of one hand. Yet in this very exclusive club, Alistair Phillips is the only one who focuses his knife making singularly on folding knives (with the exception of the odd mini pry bar or two).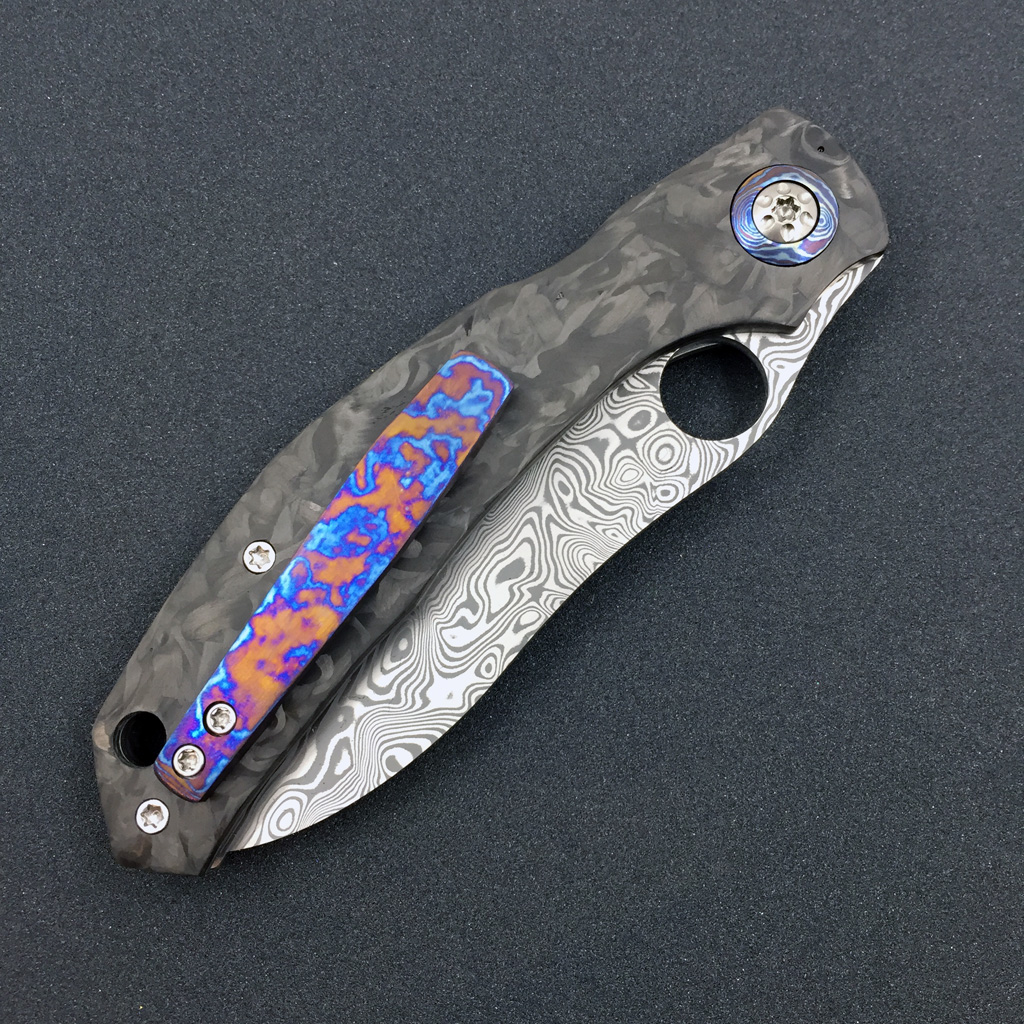 Born in Sydney in 1974, Alistair's father was serving in the navy, so a lot of his early years were spent on the move. Growing up he lived in Adelaide, then across to London and the UK, followed by a period of time in the US, before finally coming back to settle in Sydney through his teenage years. Like a lot of boys this age, Alistair got involved in the Boy Scouts when he was about 10 and this is when the knife connection was formed.
A good pocket knife is a vital tool for the Scouts (doing a lot of outdoor activities and camping), and Alistair began to carry and learned to appreciate his Buck 110 style folding knife. By the age of 16, he started buying and reading US knife magazines including "Blade" and also befriended his local butcher – Peter Bennett who was also an established custom knife maker. "I'd walk down from school past the butcher and occasionally drop in to talk knives and things like that". He gave Alistair some steel and encouraged him to make his own. Later, he welcomed Alistair in to his workshop where he was able to use the equipment and offer guidance to help the young man begin his first knife.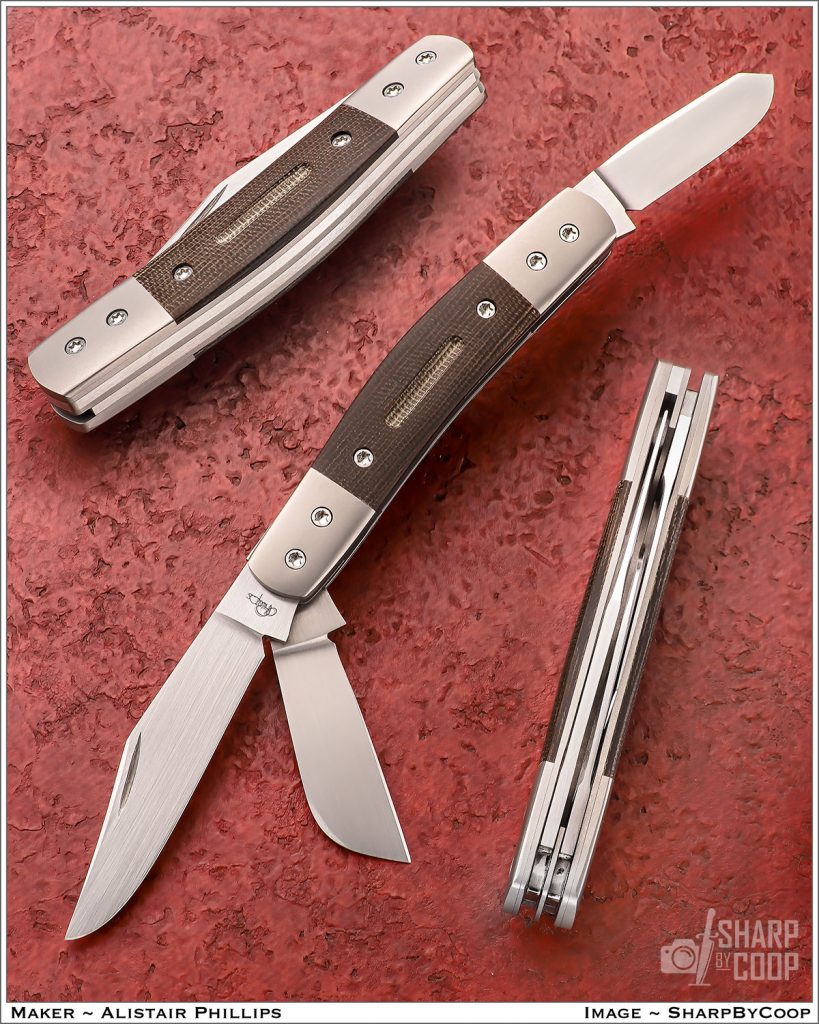 After finishing high school, he moved to Canberra in order to attend Australian National University (ANU), a city he still calls "home". Alistair went on to forge a career in software development and game programming, and though it would be a long time before he ever made another knife, he never lost the passion and appreciation of owning a good pocket knife. "I like the folders, because to me it's a knife that I can every day carry. I carried a knife every day, whether it was just a small Swiss Army Knife on my key ring or a larger folder… I would always have one on me."
The hobby lay dormant for some time, as Alistair started a family and continued on his career. In 2004, for his 30th birthday, he was given a gift certificate to attend a knifemaking course with Karim Haddad at Tharwa Forge. This was at the very beginning of Tharwa Forge, in fact only the third course that Karim had ever run at what has grown into one of the world's leading bladesmithing schools. "That's kind of what's kicked it off for me as more of a hobby. I made a couple of fixed blades after that, but then I started to teach myself folders and specializing in folders. Slip joints mostly to start with, before moving onto kind of more modern stuff. "I really enjoyed the challenge of getting it fitted together to work smoothly as a folder. That was more so than forging or any of the other parts of knife making"
By 2006-2007, Alistair had started selling knives and joined the Australian Knifemakers Guild as a probationary member at the Canberra Knife Show. A year later, after also attending the Adelaide Knife Show, he had attained full membership at the Melbourne Knife Show. "All my knives were folders that I was using to apply for Guild membership, which was a bit different from what most people do". Karrim had continued to be his local mentor, but Peter Bald had also played a big part with his knowledge and experience in folders. "I went and visited his workshop after the Adelaide Knife Show and had a good chat about processes and how he did things. All my folder stuff was self-taught; there were no courses on folders and no Youtube or anything like that at the time".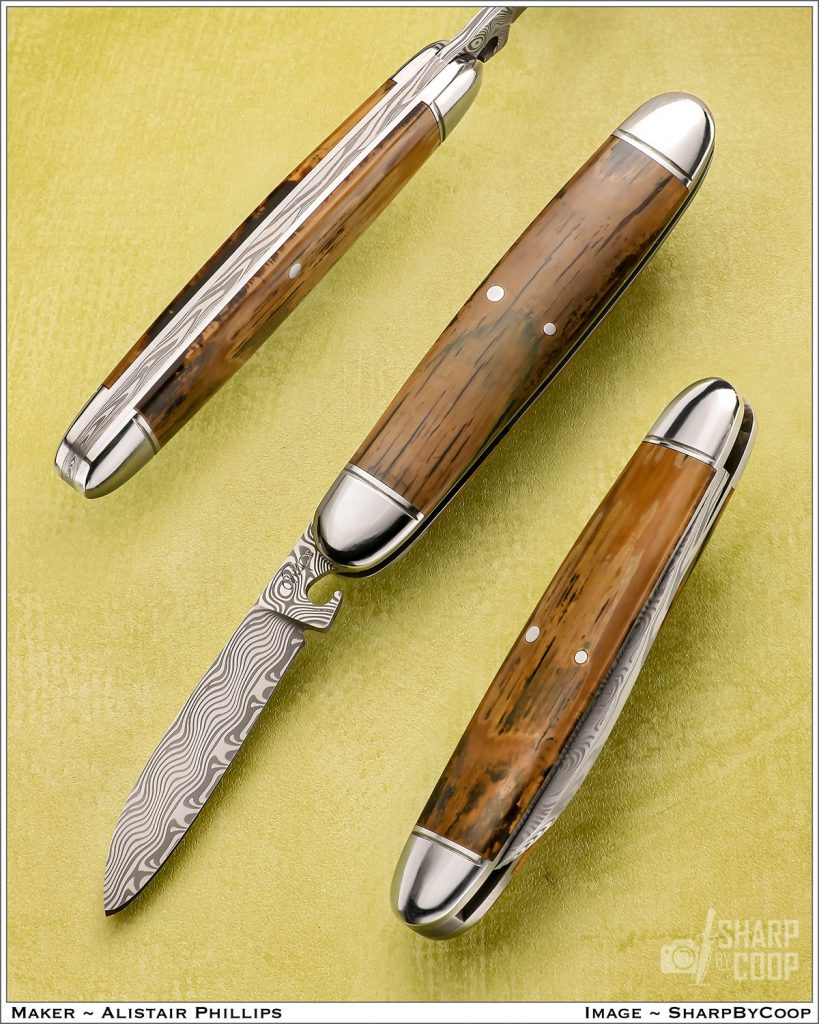 His first knives were all slip-joints, but then he soon moved on to modern liner-locks. "I started using more modern materials in my slip joints and doing screw-together slip-joints, and then transferred across to liner locks". When asked about his choice of blade steel, this is what Alistair had to say: "With a folder, you're always manipulating the blade with your hands and fingers, so the steels I like to use are stainless steels that are less likely to rust from your finger oils. As a result of that, they tend to be mostly stock removal rather than forging." Alistair does his own heat treatment in a three phase Paragon kiln which can get up to correct temperature much faster than a conventional 240v kiln. "A kiln that can get up to temperature faster allows me to heat treat more knives in a day". Following heat treatment, he often implements a liquid nitrogen quench (depending on the steel). "Some steels you need to go right down to -70 Celsius to get complete conversion from austenite to martensite". Most modern steels will benefit from cryo-treatment, often achieving a couple of Rockwell points of hardness and increased toughness. Because these days Alistair works in batches (of twelve or so), he utilizes a dewar which he can fill with liquid nitrogen when needed rather than keeping a supply of it. His "go to" steel is RWL34, but he also likes to experiment with exotic modern steels when the opportunity presents. He likes RWL34 because it provides it offers a good balance between durability, ease of grinding and machining and ease of hardening as well as excellent surface finish, while some of the modern steels.
The story of the "Kapara".
By 2014, he had applied to Spyderco for the licence to use the "round hole" for single handed opening – just in time for the first Sydney Knife Show. Soon after this, he started working on a folding knife model specifically designed for food preparation or more specifically, for cutting fruit for healthy lunches. This was primarily for his personal use, but obviously something that would also have mass appeal also. It had to be durable, one handed opening, easy to clean and highly rust resistant. It also needed blade and handle geometry suitable for intricate cuts as well as being able to cut to flat surfaces (chopping board) similar to a chef's knife. But above all else, it had to be minimalist and slender enough to be able to carry in the pocket unobtrusively yet having a blade long enough to cut an apple or an orange etc. The culmination of this design was a slender slip-joint, featuring the above mentioned Spyderco "round hole" and of course a pocket clip.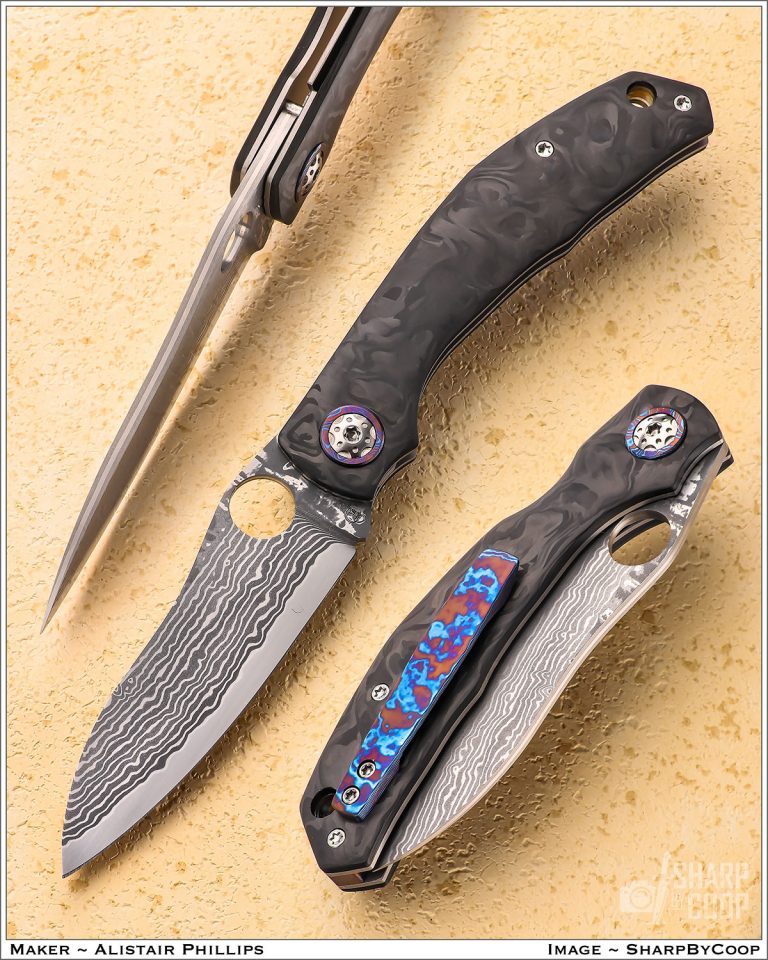 When Alistair posted photos of this custom knife on the Spyderco internet forum https://forum.spyderco.com , Sal Glesser (the founder and owner of the company) instantly took a personal interest in the knife and contacted Alistair to order one for himself. Realizing the unique opportunity this presented, he set to work. He made two and picked the best one out of that small batch to send to Sal. "I was thinking, this is the most important knife I've ever made!" He recalls laughing.
Needless to say, Sal was suitably impressed and talk began on a factory collaboration production model. Spyderco is a highly innovative company, renowned for their unique designs and collaborations with some of the best knife makers from around the world. However, this was going to be the first of its type for Australia and would become the most anticipated model of 2018 both here and abroad.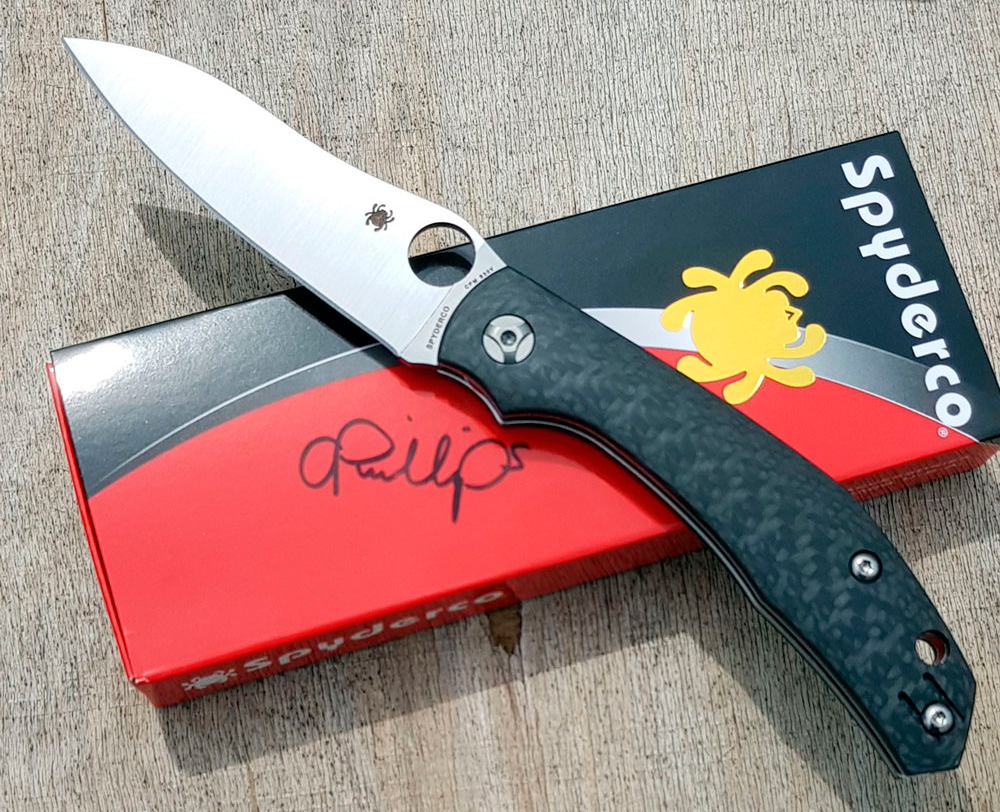 There were of course a few hurdles to overcome first and some technical issues involving mass production. One of the key changes was Sal's request to make this into a locking blade rather than slip-joint. Alistair had spent that Christmas holidays redesigning the knife and eventually settled on Spyderco's patented "compression lock" (which of course he was granted permission to use). This mechanism was perfectly suited for this knife: as well as being easily accessible to safely close with one hand, it also offered the advantage of having the locking mechanism furthest away from the blade (where food prep was happening). It also suited the overall geometry of this design; it facilitated having the pivot point lower and thus handle slightly higher in relation to the blade (similar to a kitchen knife). Spyderco's trademark wire pocket clip was added to keep with the minimalist design and flexible carry options. Last but not least was the name change. In order to avoid potential confusion with another production knife on the market, it was decided to name it "Kapara" (Aboriginal name for the red back spider) and was given the model designation C241CFP. There are plans for future variations of this model, but like everything else, these plans were disrupted by the worldwide pandemic, but no doubt we shall hear of these in the near future. Alistair had made several custom versions of this model, this knife can be seen on the cover of the first issue of the Australian Knife Magazine.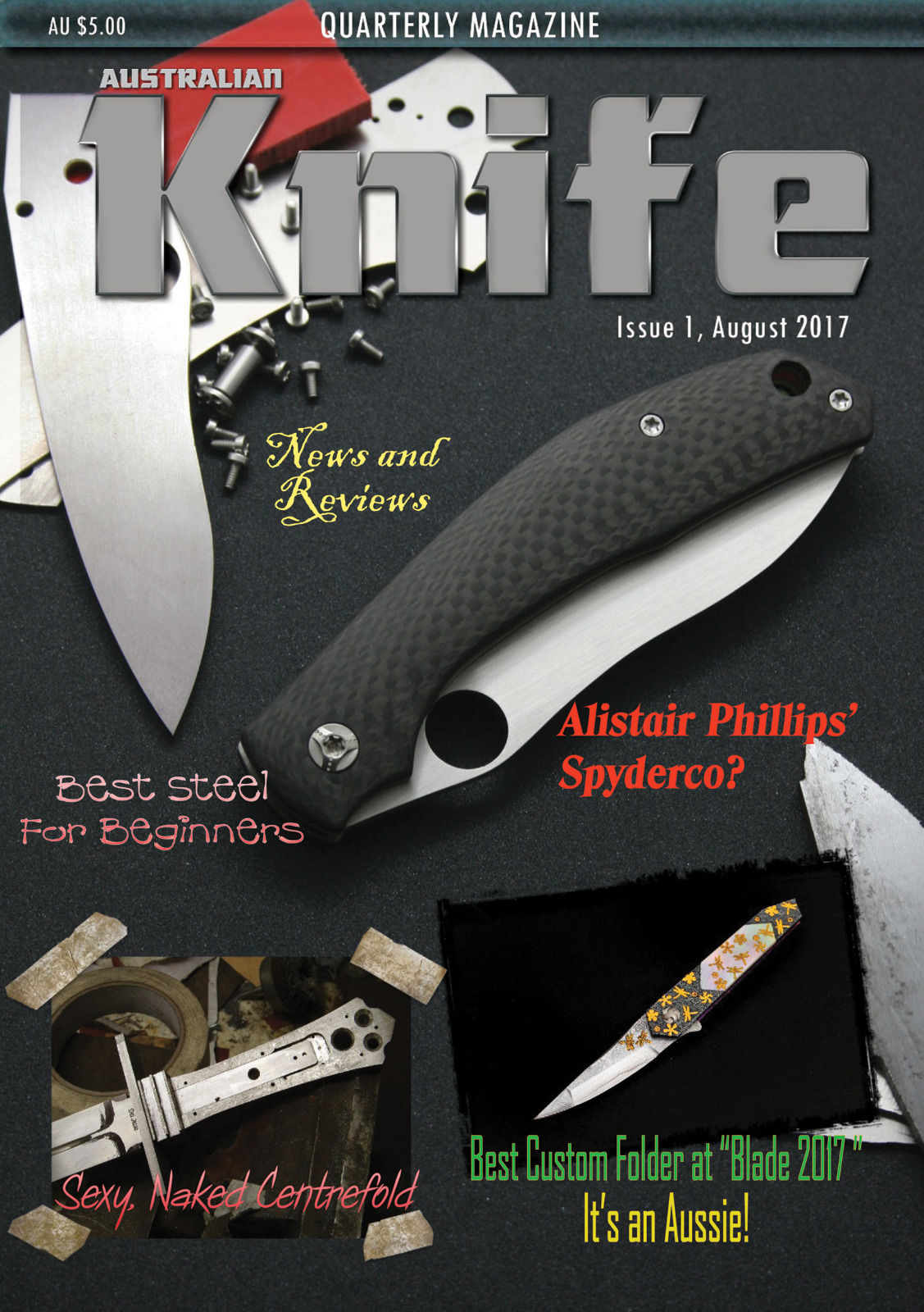 In June 2021, after 6 years of training, Alistair had earned his Black Belt in Zan Shin Martial Arts. He is also the current Vice President of the Australian Knifemakers Guild.
To get in contact with Alistair or own one of his knives, visit Alistair Phillips Folders here: LINK
Recent Posts
New Australian Podcast: Talking Shed with Riley and DarrenThe guys had some much fun hosting the Aus …

Heads up for people in Adelaide and surrounding areas; the South Australian Knife Show is back on ne …

This week we got the newest member of the family ready; the v5-SHORT!The "shorty" is the smaller ver …