Meet The Maker: Bobby Smith
By Bjorn Jacobsen, 20.01.2022
Bobby Smith is the man behind Shifty Blades, based in Katunga in Northern Victoria. With a big beard, often in a hat and sunnies, Bobby is an easily recognizable maker and so are his blades, specifically the pocket cleavers he has made a name for himself with.
Speaking of pocket cleavers; we don't want to steal any of Bobby's thunder here – let's just say that during the interview a new design was discussed and there may be some news coming out in a little while from Shifty Blades.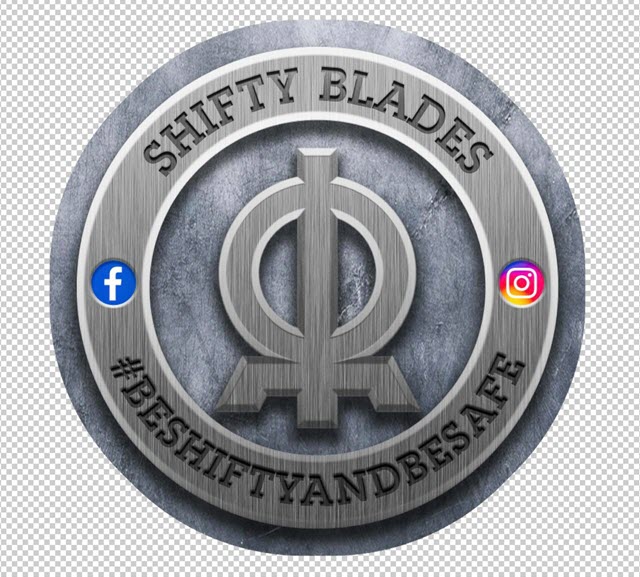 Happy Accident – birth of the Shifty Pocket Cleaver
What has become Bobby's trademark knife started as a bit of a happy accident; Bobby is an admin of a facebook group called "Knife making from repurposed/recycled steel" and the person starting the group is a mate of Bobby's. To mark the group hitting 50,000 members, Bobby wanted to make him a knife from a piece of saw blade he had, but it was a little short.. Designing a pocket cleaver with elegant lines that lies "just right in the hand" turned out to be a good idea, the knife was a hit!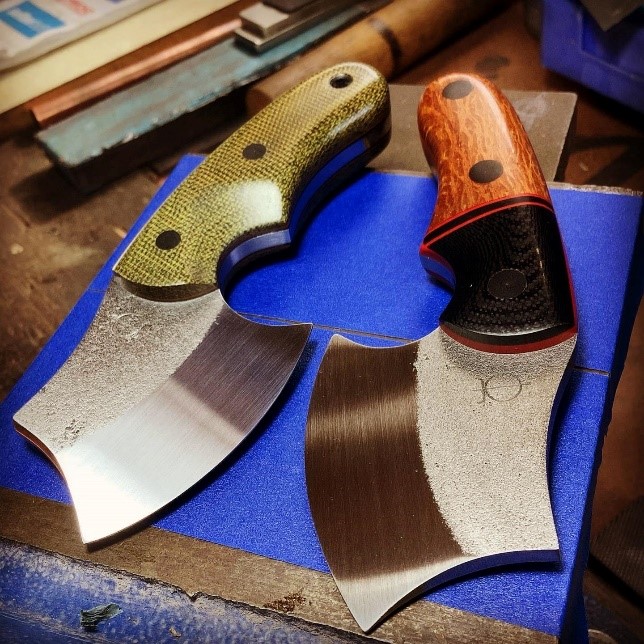 Bobby likes the idea of giving new life to an old piece of steel, it suits his mentality of reusing materials and creating something from a piece of steel someone else might just throw aside. By putting in the time and effort and having his results hardness tested, Bobby is one of the makers who is proving there is value in old materials. When receiving a knife from Shifty Blades, you know a lot of thought and effort has gone into reusing materials, hand making each blade from start to finish.
Limited run of 50 pocket cleavers
It all snow-balled from that first pocket cleaver, mates and then customers started ordering them. Bobby numbered them, after all it was taking a lot of effort and he wanted to make sure each was unique. When Bobby got to number 20, he decided this was going to be a limited-run kind of thing; He would only ever make 50 of them. At the time he was not sure if he would ever make or sell that many, but it sounded like a nice, big number far enough out into the future and that would be a hard limit. If he ever got to 50 – that would be it.
Sold out within months – with a 2 year waiting list
Within a couple of months, the waiting list was full, every number up to 50 had a name against it! As Bobby drew a double line in the book under number 50 and reached for the files, he knew he was in for a challenge; they are all hand-filed.. Every pocket cleaver is made by hand, filing the bevels on a filing jig, shaping the handles and finishing each one is a time-consuming process.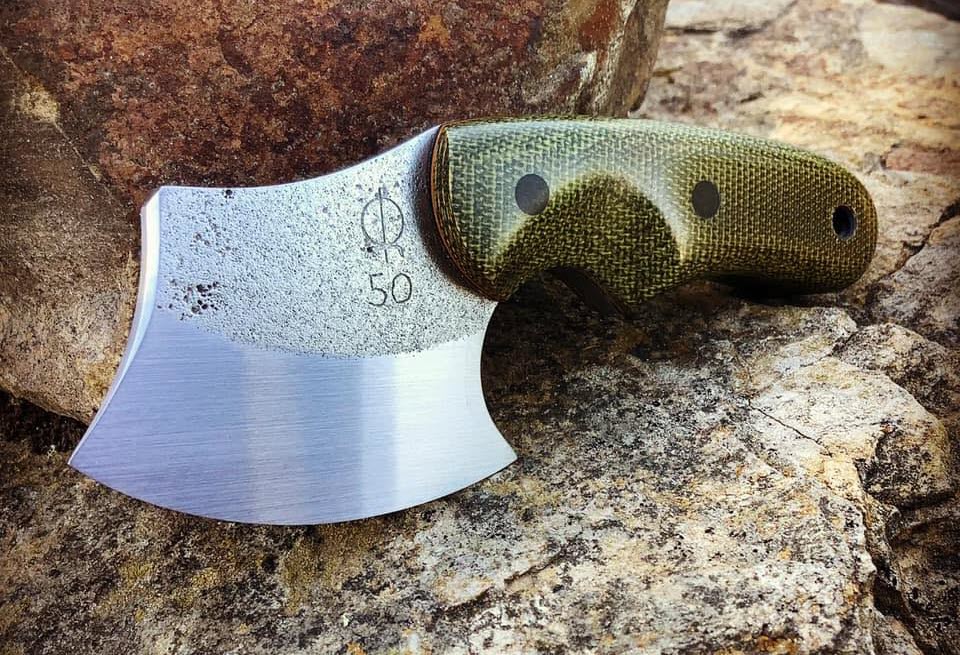 (Pocket Cleaver Number 50. Clean lines and a handle that lies comfortably in the hand has made these a popular model)
The hand-filing jig made popular on youtube by Gough Custom is also where Bobby started, like so many of us. What separates Bobby from many other makers is that this was not a stepping stone to find out if he liked making knives before moving on to a knife grinder or multi-tool.
Bobby enjoys the quiet process of sitting down in the shed, reaching for a file and in a controlled way hand-filing the bevels of every blade. Bobby does own a 2x48" Shopmaster grinder, as well as a 4 x 36" woodworking grinder but none of them are much involved in making the pocket cleavers – or other knives Bobby makes for that matter.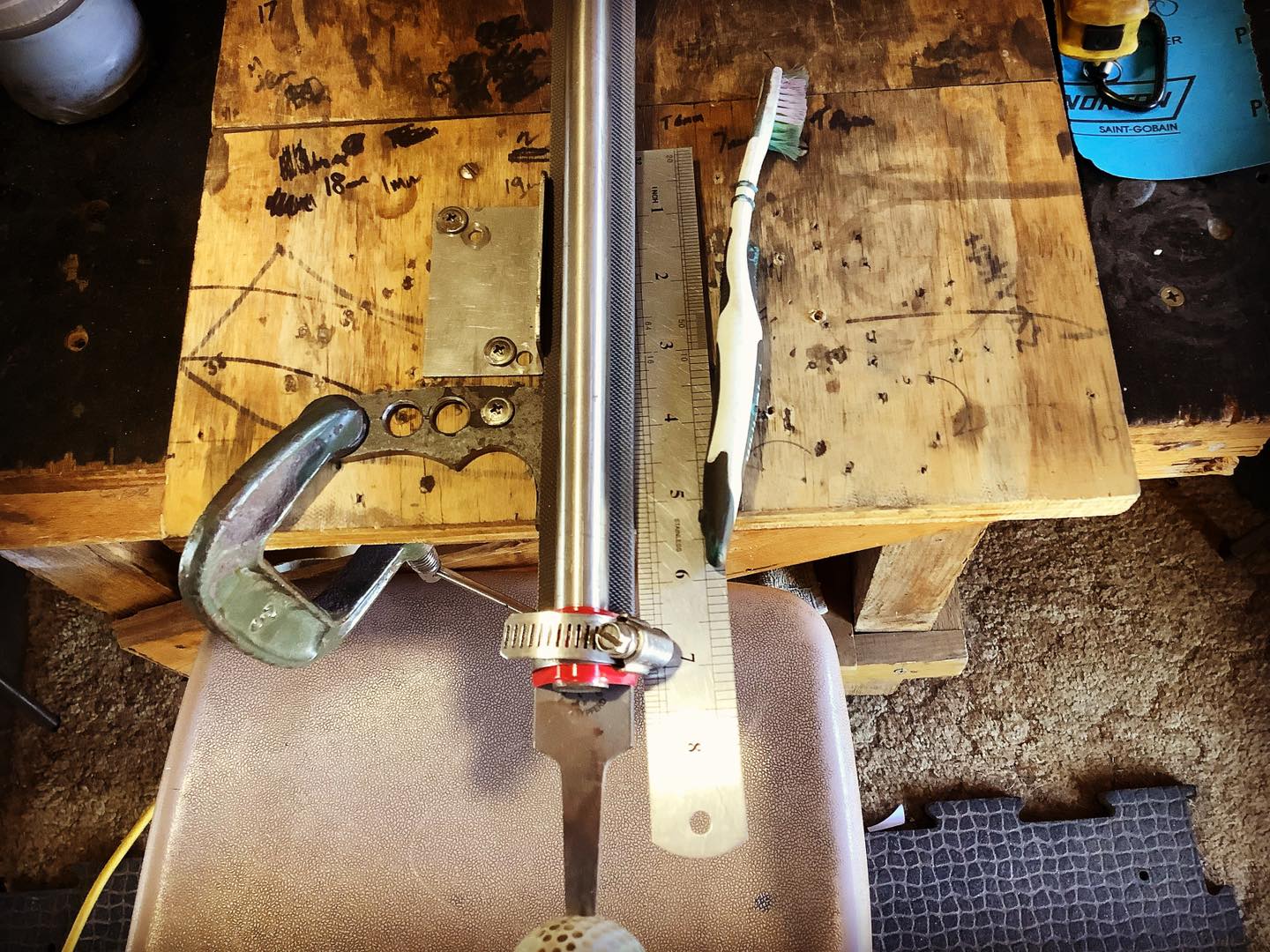 (Bobby's view of the hand filing jig. Note the tooth brush which is used together with a file card to keep the file clean of steel shavings. This avoid a steel shaving being stuck between the teeth of the file, scratching the blade)
So Bobby kept filing by hand, kept making pocket cleavers from recycled steel and handle scales in G10, micarta and acrylics while working his way through the list. It has now been almost 2 years until he got to the end of the line. After that long, only a couple of people have pulled out and when we spoke in mid-January 2022, there were actually two knives still available (be quick if wanting one!). Bobby knew he could have made and sold 100 of the pocket cleavers but decided to stay true to his word – 50 was the hard limit and there will not be any more.
Milking Machine Technician
Growing up in a dairy part of Australia and following in his father's footsteps, Bobby became a milking machine technician after studying engineering at TAFE. After 25 years in the dairy industry Bobby left his job to become a full-time carer for his wife who fell ill. It was a tough time with the wife in a wheelchair, two kids at home and uncertainty around what the future would bring. Bobby was used to working with hand tools and wanted a hobby to keep his mind busy and decided to teach himself knife making. Already keen on recycling and reusing, and with the help of the Internet and facebook groups, Bobby got started. With an engineering mindset and plenty of patience, Bobby found a process that worked for him. Not only creating functional cool looking knives, but also gave him a meaningful hobby he enjoyed spending time on.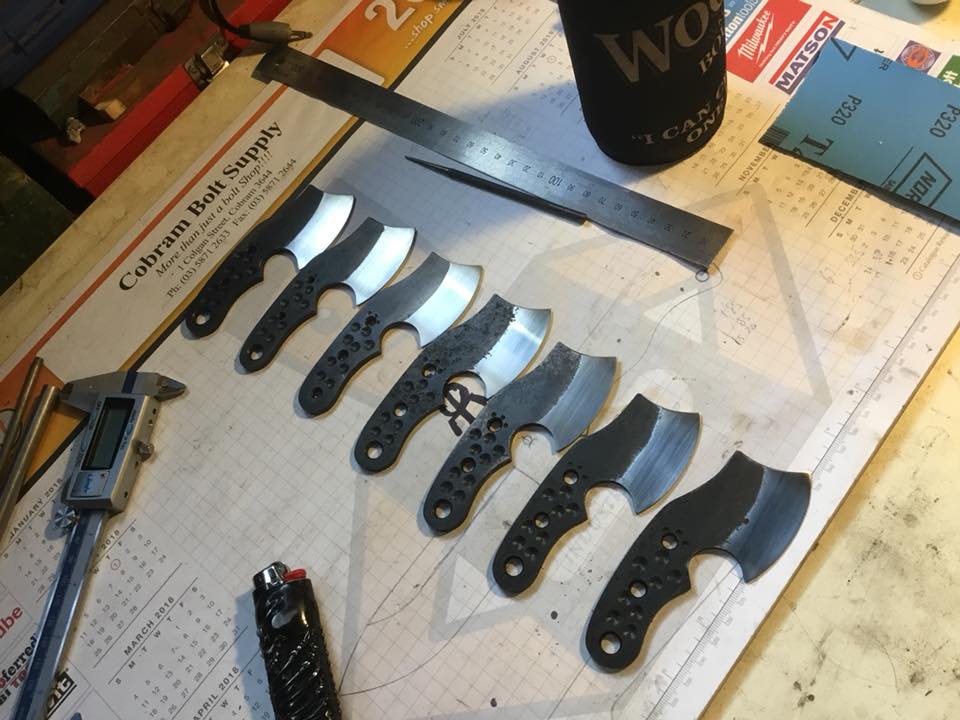 Cacti collection
Another thing Bobby likes to spend time on, is his collection of cacti. Getting a cactus to thrive in the garden to the point of flowering is a bit of a challenge, and another activity where putting in the time and effort needed pays off over time. His collection has grown by swapping with other collectors and also from inheriting several types from his mother.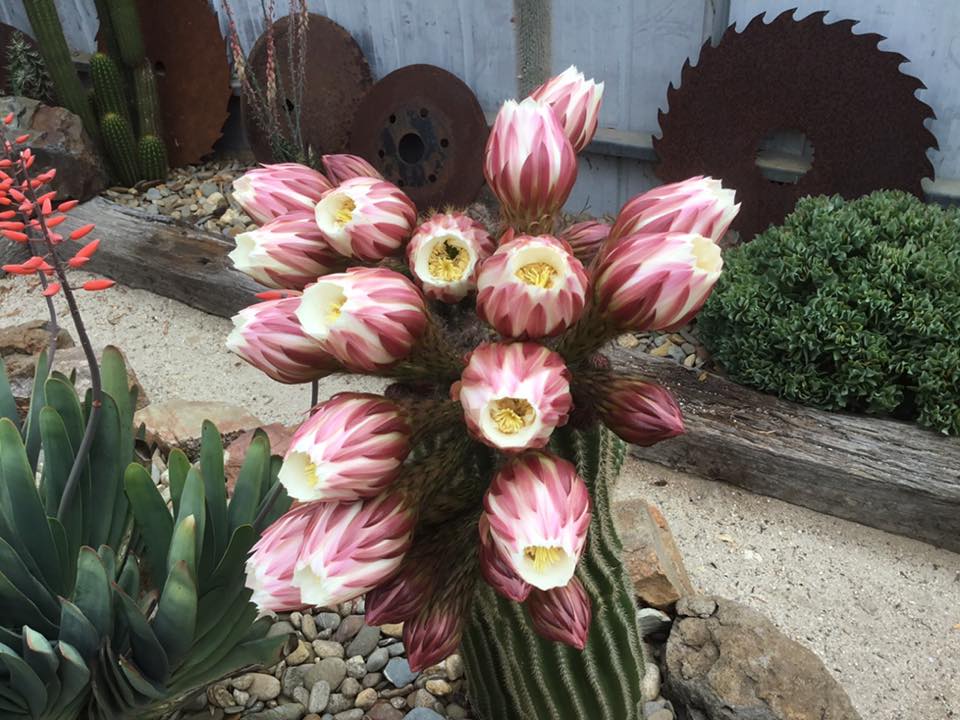 (Flowering cactus in Bobby's garden. Note the saw blades in the background)
Melbourne Knife Show
Being based outside of the major cities, there are not that many makers in the area where Bobby is. Like many of us, Bobby is on social media groups to trade experiences and get inspiration from other makers, but also take the opportunity to go to the Melbourne Knife Show when that is on. Visiting the Guild show, Bobby has taken the opportunity to talk with and inspect the work of many other makers there. Speaking of the Guild, Bobby wants to join and is planning to stop selling everything he makes long enough to get reviewed for his probationary membership in the Australian Knifemakers Guild this year.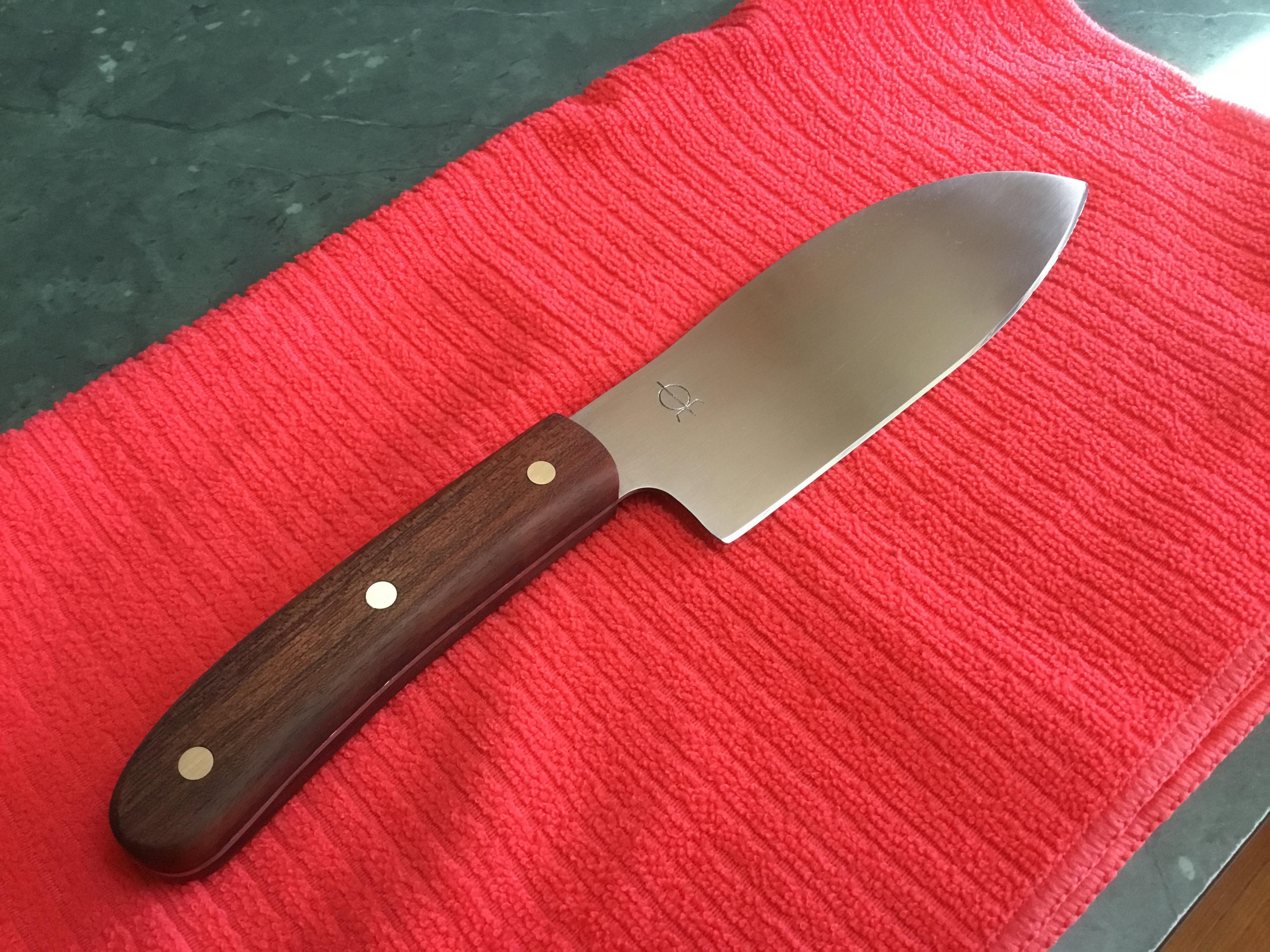 Inspiring makers
Bobby has several favourite makers he admires the work of, some of these are Peter del Raso and Ian Stewart. "I really like makers who have created a distinct style, where you can recognize the maker from the knife. I really like Peter Del Raso's style and his fit and finish is something we can all aspire to", Bobby says. "The same goes for Ian Stewart, not only has he created a distinct look about his work, but his willingness to openly share his process online with pictures and notes is something I admire. He rough grinds by grinder, then goes to hand tools to finish, that resonates with me."
Buckets of steel shavings
Because Bobby hand files his knives, the shavings are not burned and he saves them in different buckets for different steels. With the hope of one day using them in a canister Damascus blade of some sort. Over time the hand filing has become a happy habit, turning on the radio or a knife making podcast (Bobby has been a guest on Toby's Fire & Steel podcast), Bobby sits down in front of the filing jig, grabbing a file and a file card and goes to work.
Not all pocket cleavers
Not everything Bobby makes is pocket cleavers, there are also a few chef knives, and also this one from a 126 year old saw blade that Bobby is quite happy with. The photo below is from before it was finished but you can see the shape incorporates two of the old saw teeth as part of the spine.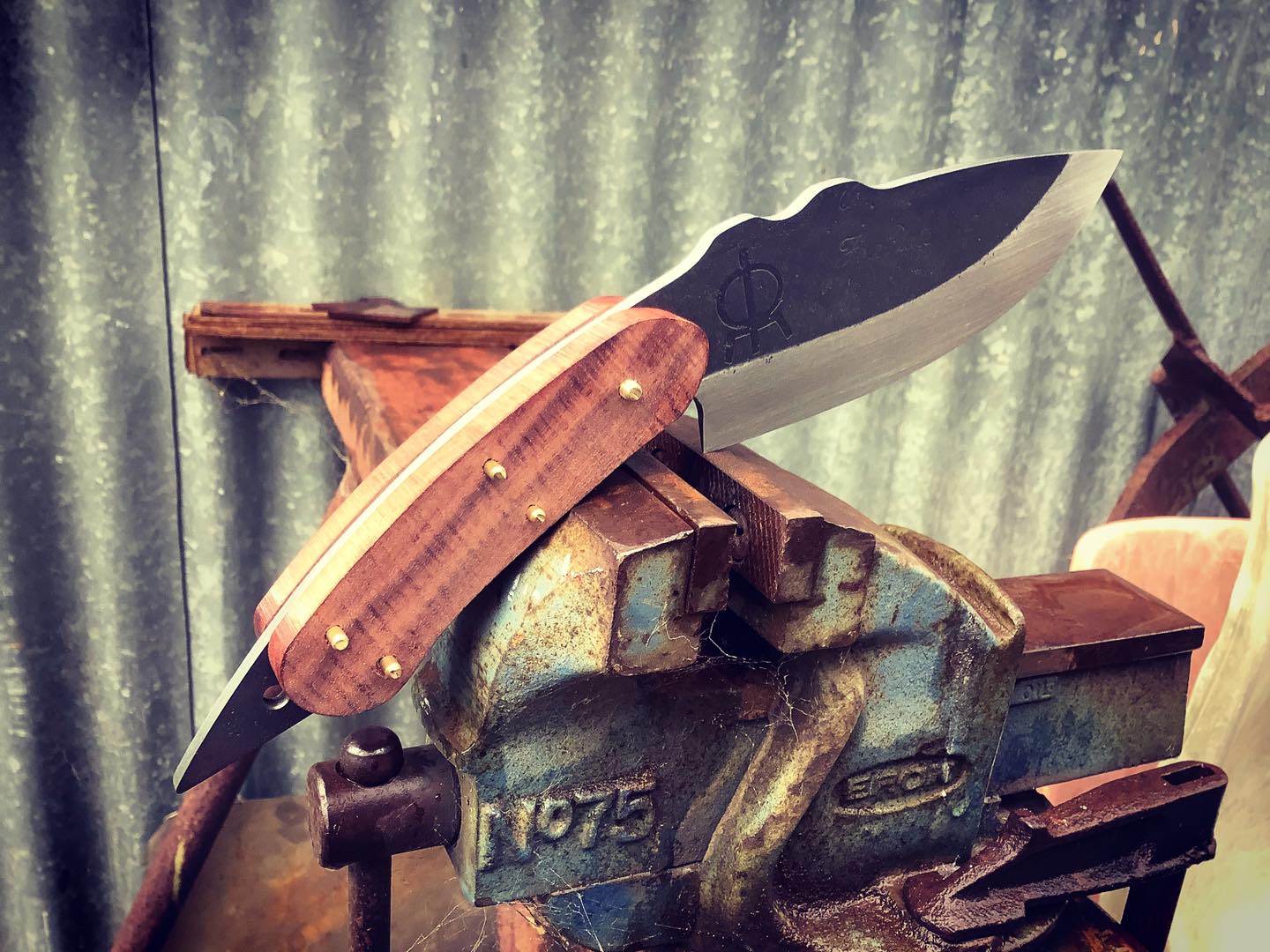 Talking of hand filing jigs, here are Bobby's tips:
1.Use a file card to clean the file, this helps avoid a stuck steel shaving scratching the bevel.
2.Mark the centre line and how high the bevels will go before starting, that way it is easier to file away without having to stop and check all the time.
3.When the first side is done, take notice of where the blade is attached and how high the eyebolt is above the filing jig. This helps getting the other side even, and is also very helpful when later making this model again. Knowing how high to set the eyebolt and how high to make the bevels can speed the process up a bit.
4.Use good files; Bobby uses 300 mm Pherd brand files and rather than going to finer and finer grades, he wraps abrasive paper around the file to clean up the bevels.
Slow down – have fun
And more of a general tip is to slow down, take your time. Don't rush the last 10% of the knife "to get done tonight". Slow down, let the job take the time it needs to make it as good as you are able to. When the job is done, the knife will carry your name and you will be happier about it if spending the time it takes. We do this as a hobby, have fun while doing it. Sometimes it is just not working, or your head is not there, then put it away and come back to it when you are in the right frame of mind.
It is easy to get caught up in getting the job done today or tonight, then afterwards noticing the little flaw you ignored more than everything you did right on that knife. Bobby's advice is to give yourself the time needed, if something is a bit frustrating or not quite working today then if you have the time to come back another day - do so.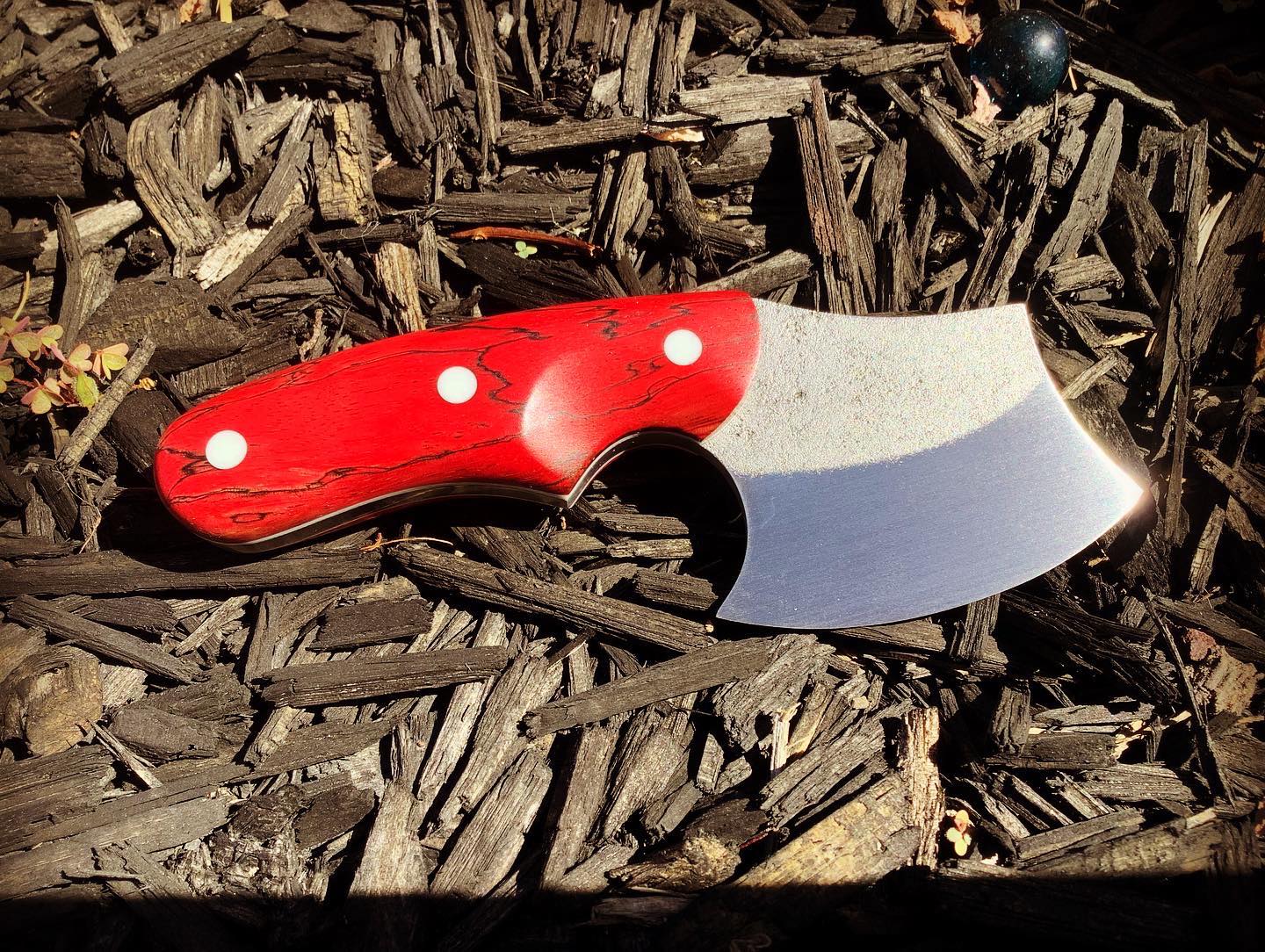 Bobby heat treats in a gas forge or furnace, using a steel pipe inside the forge with a thermocouple inside the pipe for more even heat distribution. Using the steel pipe and running a rich mix, he finds this creates less scale on the blades during heat treatment, resulting in less scale to clean off.
Flattening scales before attaching them to the blade is another good tip, as Bobby makes multi-piece scales he often squares off the ends with a file guide. Leaving the end of the scale section sticking out between the carbides, he can easily file the end square for a good, clean fit-up when gluing the sections together. This is one of the few times Bobby thinks polishing is a good idea, shiny front of scales is a good thing before attaching them to the blade.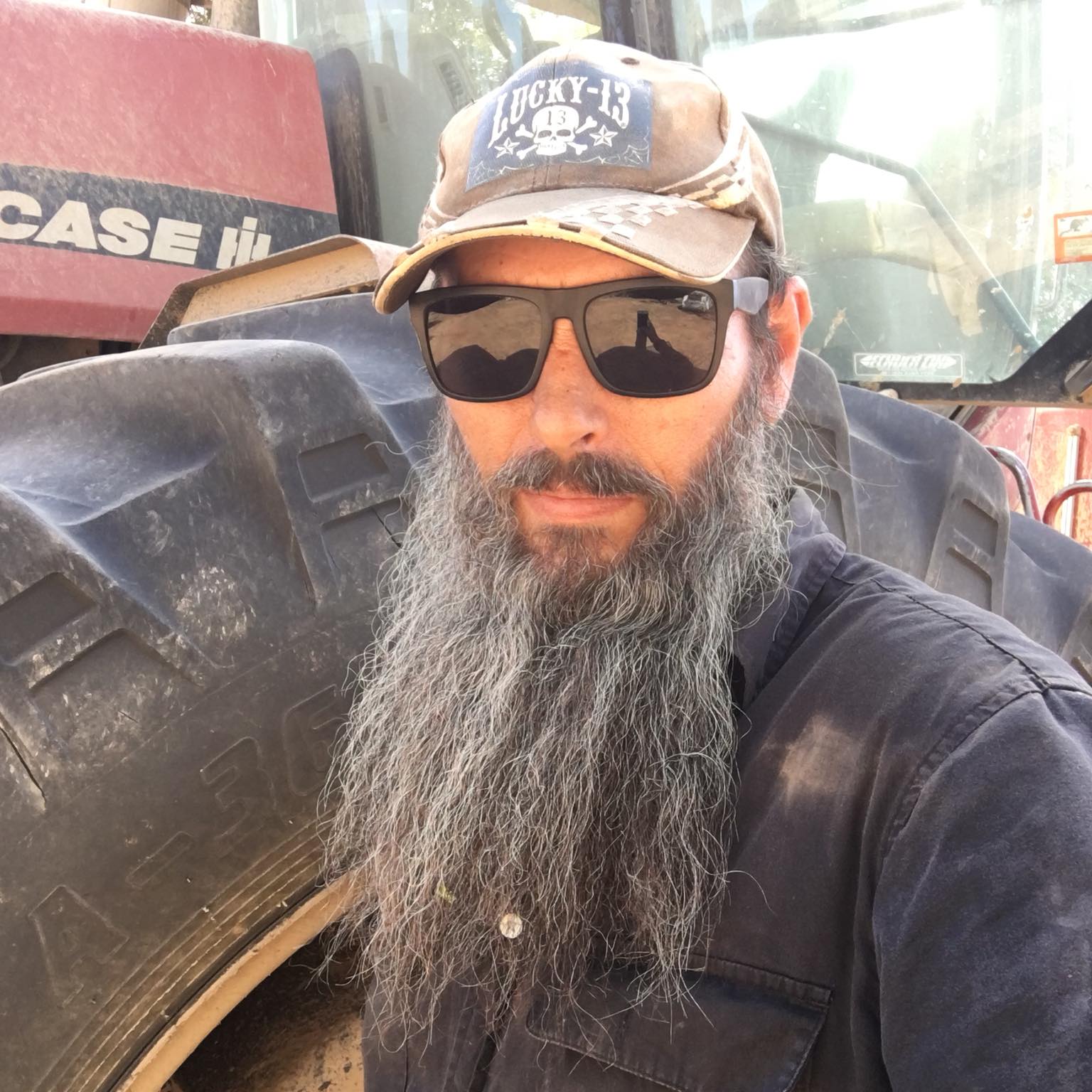 Favourite materials
Bobby likes using old materials, giving new life to an old material that used to be for instance a saw blade or other tool. But when it comes to handle materials, he feels that man-made materials suit his style more than recycled wood. Not that Bobby does not use wood in his work, but more often than not he likes to use G10, micarta and acrylics. He likes how well they finish up and how they combine to give a splash of colour to the knife. Black micarta and brass pins can also make amazing looking knives, look at Peter Del Raso for instance – but when it comes time to finish another pocket cleaver Bobby has enjoyed creating multi-part scales with G10 backing and combinations of man-made materials.
Where to from here?
January 2022 is already here, and Bobby has made some goals for the year. He wants to get comfortable with the grinder, to at least rough grind his blades on it before hand finishing them. And to work towards becoming a member of the Australian Knifemakers Guild. From having hand-made more pocket cleavers than maybe any other Australian maker, Bobby has also been pondering a new evolution of is favourite blade. Having made so many of them, spending many hours working on the shape, the fit and finish and from feedback from mates and customers he has some clear ideas for how it can be made even better. A prototype of a new model may or may not be in his hands already, watch out 2022!
As Bobby would say "Be Shifty, Be Safe!"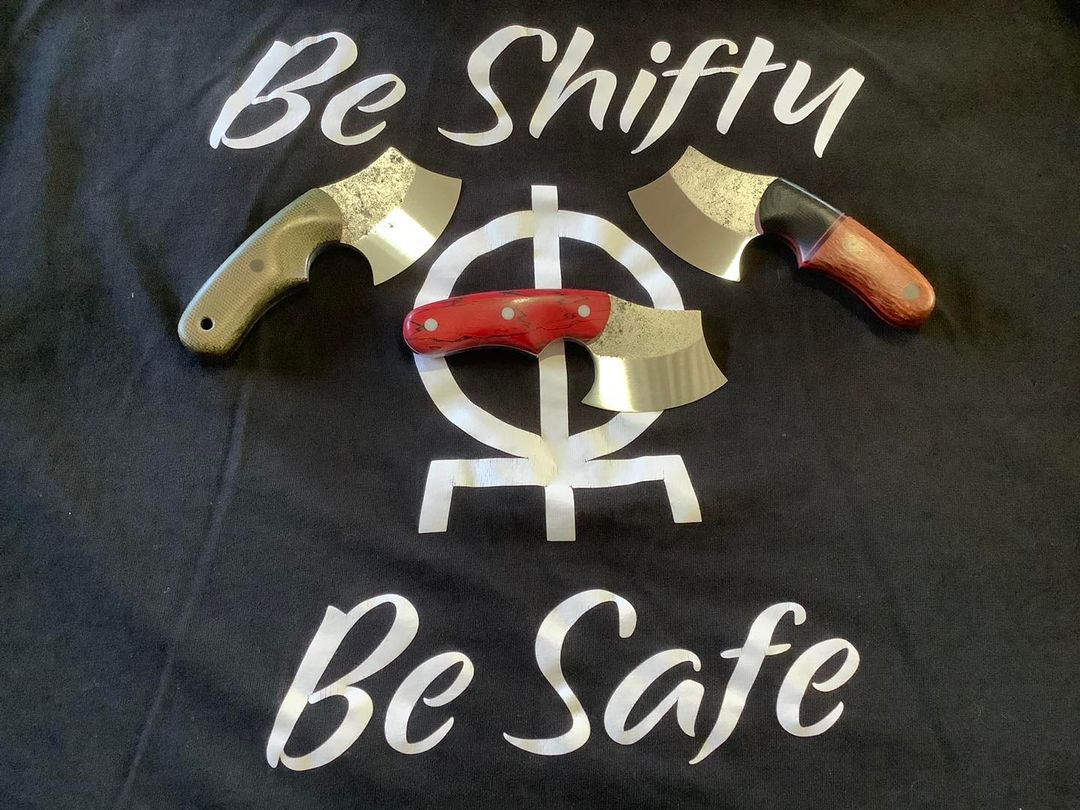 Recent Posts
Plane Old Iron ForgeJacob McNamara at Plane Old Iron is working hard on a new batch of 2.5 lbs round …

Wednesday 18th of May 2022 the Awards 2022 stream covered:HOW TO ENTER & WHAT PHOTOS TO TAKE.The …

Here are the summary slides from the live stream Wed 11th of May 2022: Prizes per top 15 spotsTroph …