Meet The Maker #15: Ian Stewart
By Michael Masion, Australian Knife Photography, Thursday 29th of July 2021.
I'm sure a lot of people reading this would have met Ian Stewart already at any of the numerous knife shows or hammer-ins and knife making symposiums held around Australia. Others may have met Ian on the social media pages, where Ian often shares his tips, tricks and techniques as well as work in progress (WIP).
However, few of us know his amazing story and his fascinating journey into knife making.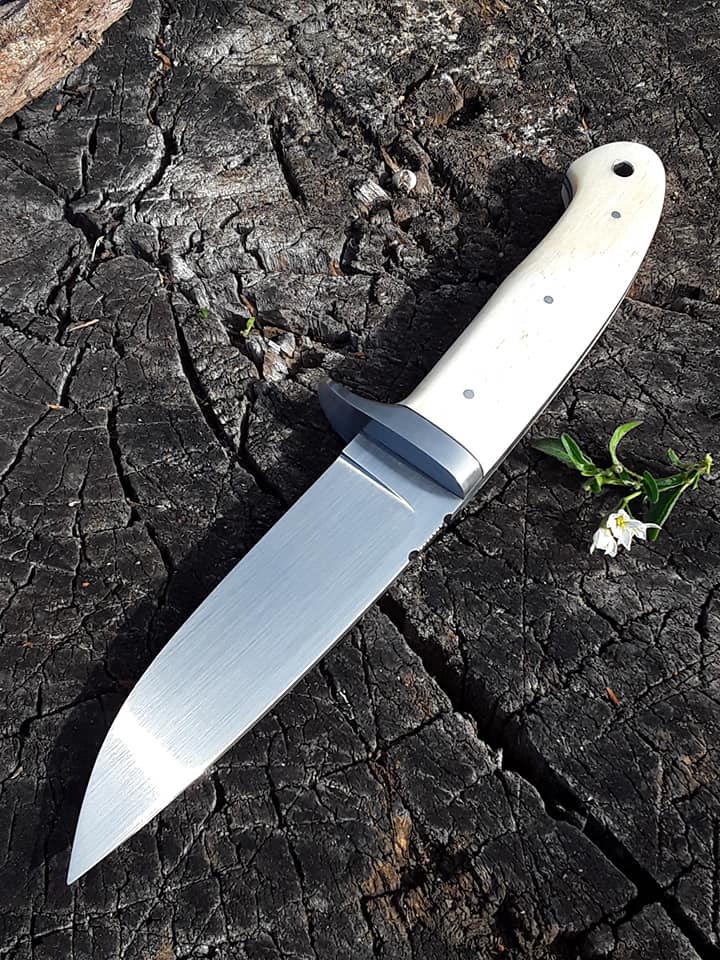 These days Ian lives in a secluded property, completely self sufficient (off the grid) in Tantawangalo (south-east of NSW), which Wikipidia describes as "a fictional Australian locality in the Bega Valley Shire". He grew up only 35km down the road in the main town of Bega. Like most youths growing up in the late 60's and 70's Ian enjoyed all kinds of sport and outdoor activities like surfing and skiing, but it's his passion for hiking, camping and hunting that has left an endearing impression.
After graduating high school in 1974, Ian went on to study engineering and design which led to a career in structural and civil engineering in Sydney. Life in the "big smoke" soon became too much and Ian moved back to Bega to work for the local council and the NSW Rural Fire Service (RFS). His work for the RFS took him all over the state for the next 40 years until retirement, though he continues to contribute and volunteer to this day.
Working for the RFS in the early 1990's, Ian's sporting passion was re-ignited when he first got involved in axemanship and competitive wood chopping. For the next 23 years Ian continued to compete around Australia and the US. His background in design and engineering combined with his experience in axemanship led to the development of his own brand of competition axe called "Stewart Racing Axe" which gained some popularity within the competition. That's when the addiction to sharp steel first began.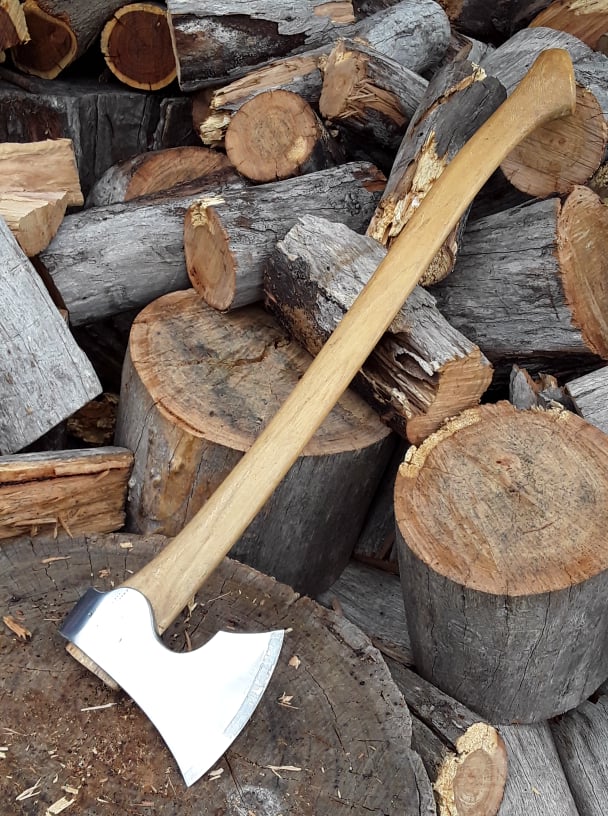 While on a working holiday to the US in the early 2000's, Ian had one day inexplicably found himself in a quirky, off-beat little book shop and he found himself buying six books on knife making – though at the time he had no interest in making knives!
At that time It was more about the research and the connection to steel. Years later, when he retired, Ian finally decided to pursue the interest into knife making ("making axes is bloody hard work!"). He soon contacted Corin Urquhart of Gameco who put him in touch with Keith Fludder – a Journeyman Smith and one of Australia's leading knifemakers. This led to Ian spending two days with Keith, doing a one-on-one knife making course.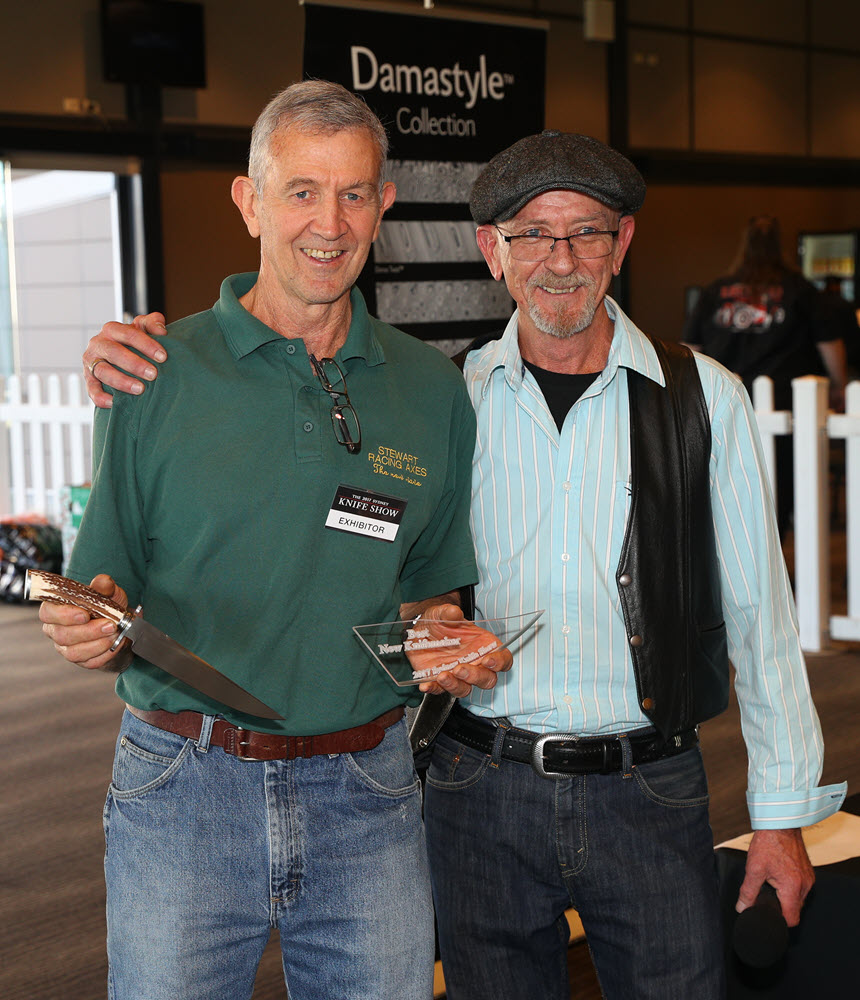 Ian Stewart on the left with Keith Fludder, photo by Corin Urquhart.
A passion was lit that Ian was keen to pursue but he was reluctant to start forging, which was problem because everything he learnt from Keith began with with the forge. Nevertheless, eager to give it a go, he made some knives and got a stand at the 2016 Canberra Knife Show in Tharwa. He didn't sell any knives at that show, but it led to some amazing contacts and an introduction to the Australian Knifemakers Guild (AKG) – which he immediately decided to join as a probationary member.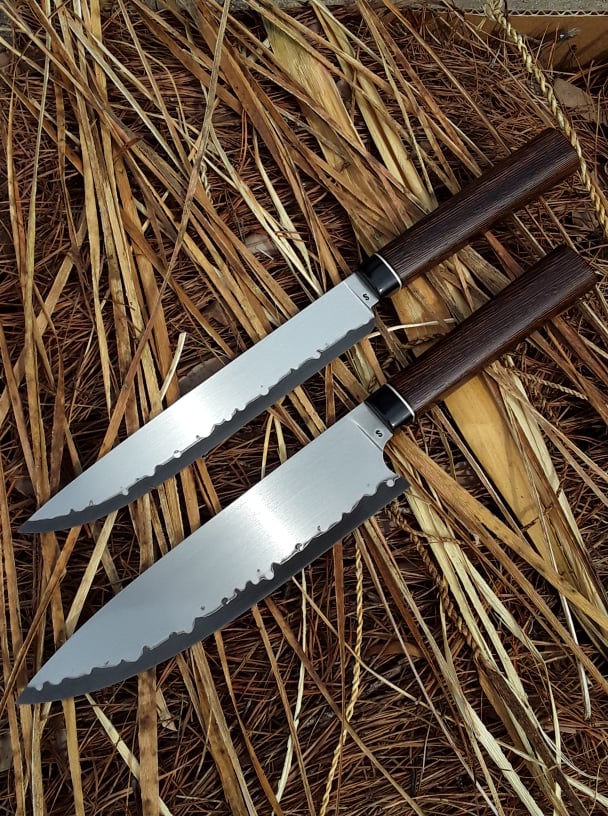 Through the Guild, he soon met Peter Del Raso, "Life Member" and Victorian representative of the AKG, This was the pivotal moment! Peter, a multi award winning, world class knife maker - doesn't use a forge! It was a truly liberating revelation – knife making process can be based around "stock removal"(grinding to shape) from flat bar of hardenable steel, without the need for forging! At last, Ian had a direction he could follow! He also learned a very important lesson early on from Peter – the importance of good design and that impeccable fit and finish was attainable even with basic tools. He continued to meet and spend time with other outstanding Guild members including Shaun McIntyre; thus, as Ian's knowledge and skill set continued to grow, progress came with every knife he made. Success soon followed, as he claimed his first trophy for "Best New Maker" at the 2017 Sydney International Knife Show. He started attending as many knife shows, hammer-ins and symposiums as he could, picking up more coveted trophies along the way, including Best Utlility at the 2019 Sydney Knife Show and Best Hunter at the 2019 Melbourne Knifemakers Guild Show (where his work was judged against that of his mentors).
Later that year, Ian joined his mates Mark Sinclair and Jason Towball to spend a week at Bruce Barnett's workshop. This is when he made his first folding knife. It turned out "quite sensational" and we will definitely be seeing more of these from Ian in the future.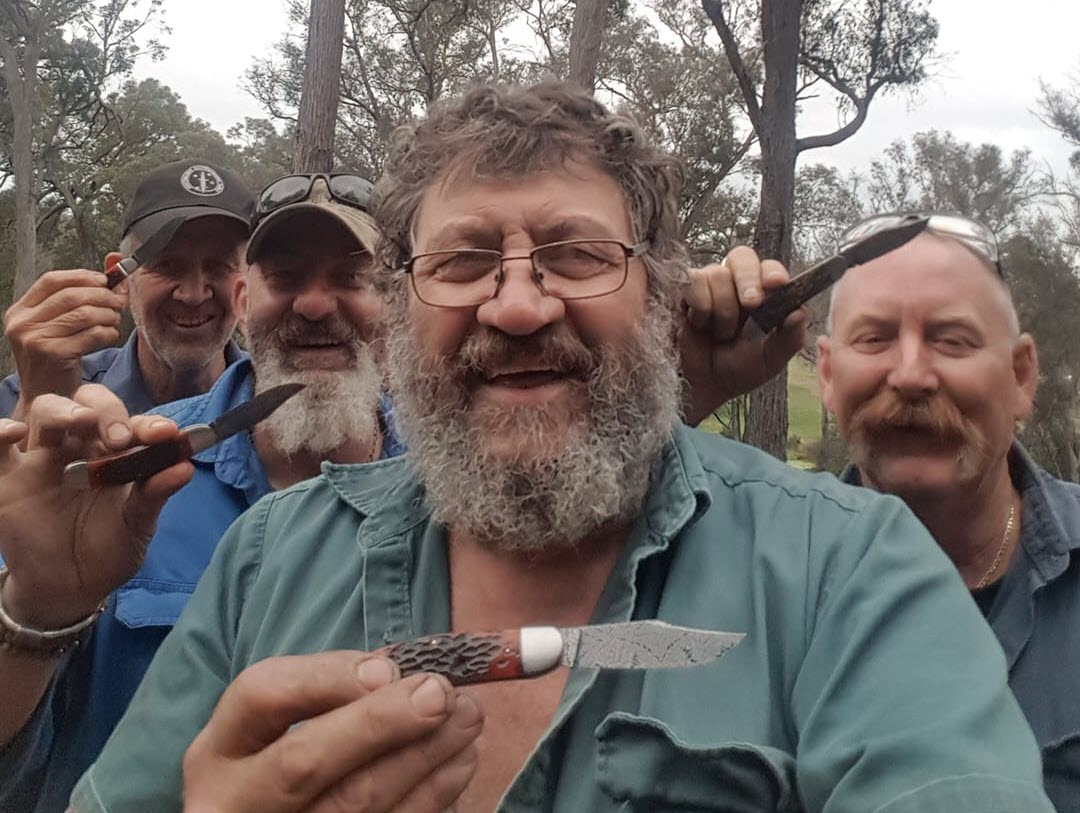 Ian Stewart, Jason Towball, Bruce Barnett and Mark Sinclair.
These days, with knife shows on hold due to the current health crisis, like most of us, Ian has continued to work from home and stay in touch with the knife community through social media, where he happily shares his knowledge by posting tutorials and WIP's.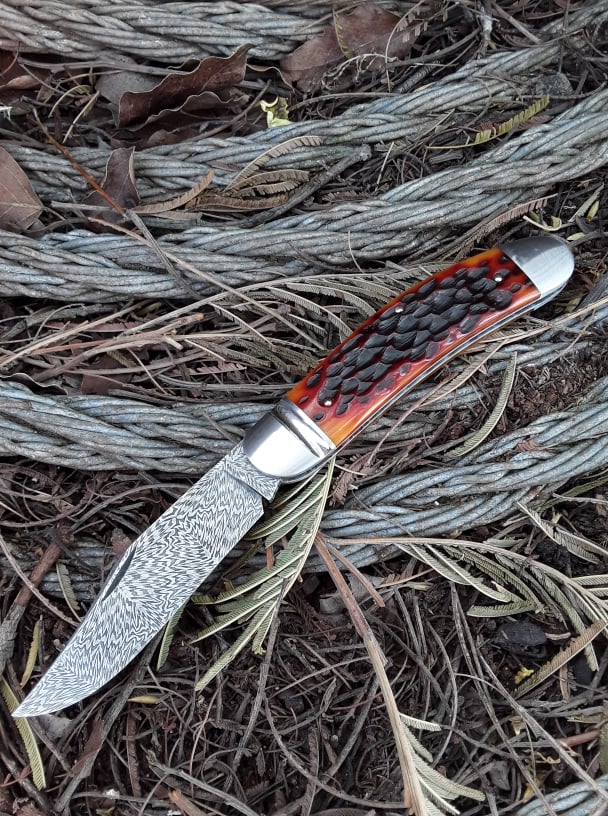 Ian's workshop is very modest in terms of machinery and equipment: mainly a 2x72" grinder, band saw and drill press. Living "off the grid" means that his house is run by a small solar panel array and he has to use a 6Kva generator when he needs to power machinery in his workshop. Thus he's had to learn to adapt and use his equipment efficiently and only when necessary. A lot of the work is done by hand, which reflects in the extremely high level of fit and finish in his knives.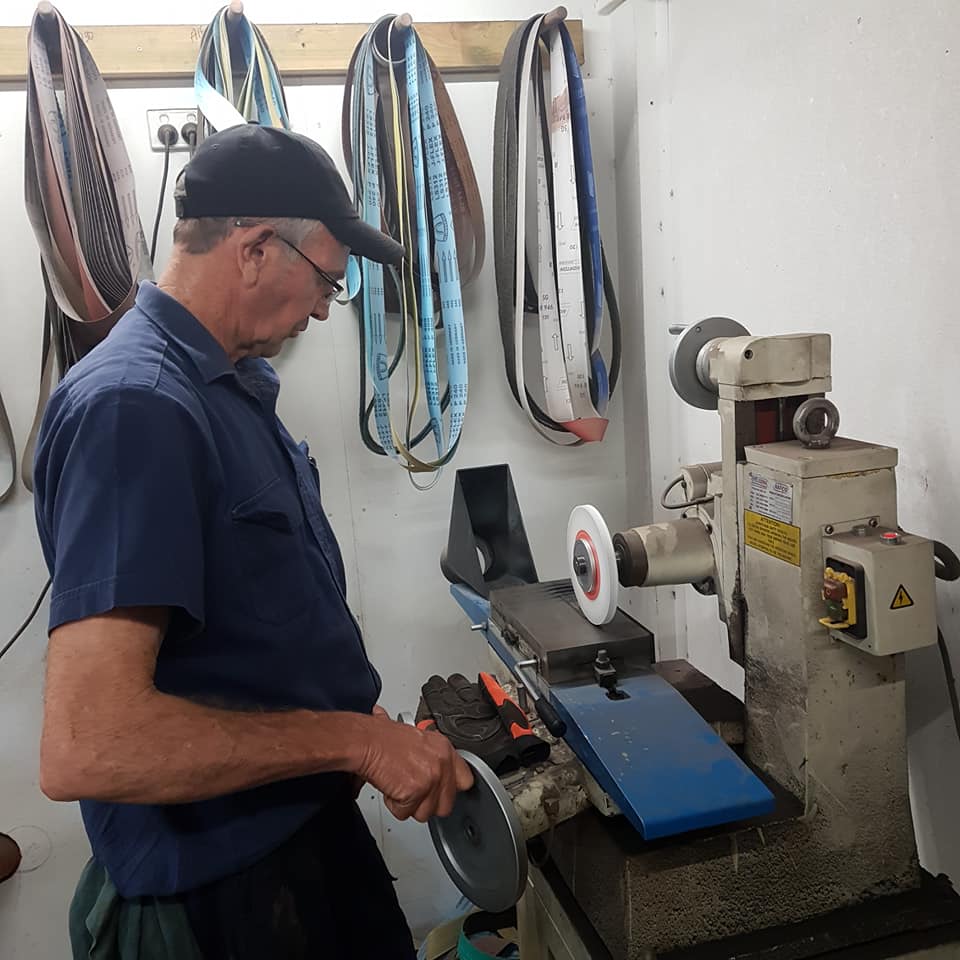 Using the surface grinder at Bruce Barnett's workshop in WA.
His pragmatic approach to knife making is also reflected in his knife designs and material choice. The knives are mainly medium size hunters and utility knives with superb ergonomics and clean, classical designs with modern tapered tangs. Guards and fittings are almost always stainless steel, while handle materials tends to be antler, bone or native timbers like gidgee and blackwood.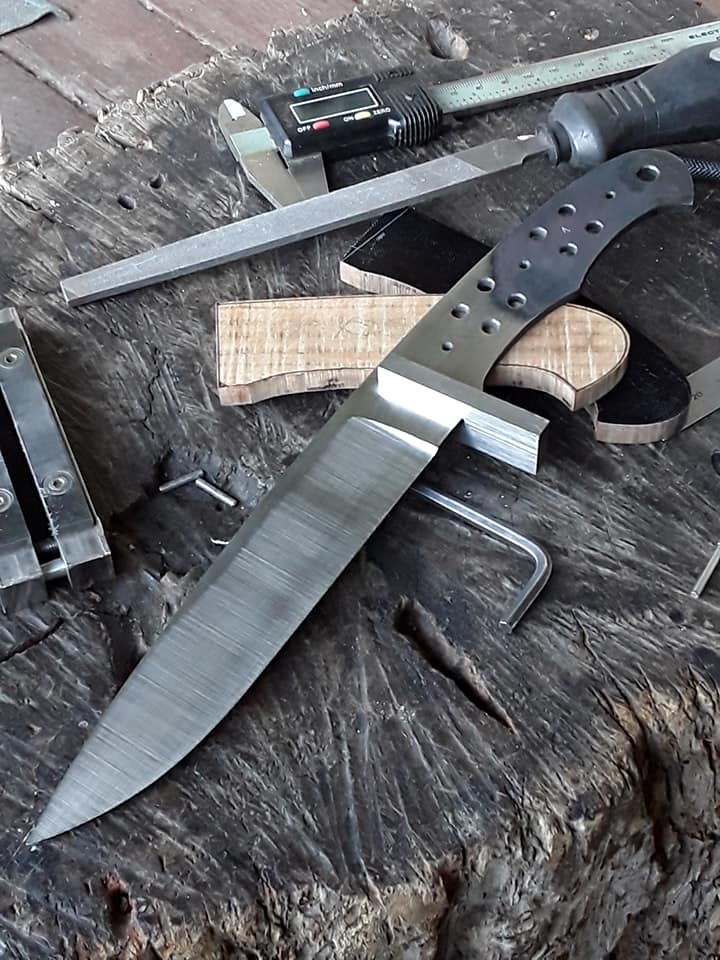 Ian's WIP threads on facebook where he freely shares his process and tips are very popular with other makers.
Blade material is usually 1084, though since meeting Kevin Cashen at the 2019 Blade Symposium, he is delving more into W2 and differential heat treatment to produce a "hammon". Ian does his own heat treatment in a home-made gas forge, tempering in a Webber BBQ. With practice and consistent heat treatment, these steels can perform exceedingly well at cutting tasks and easy to sharpen in the field if necessary (on a prolonged trip for instance).
His advice to new makers is simple:
decide on a design or style and work on improving it.
Stick with one type of steel until you have learned to consistently harness its full potential.
Get a belt grinder – 48" or 72" grinder – this is an absolute "game changer" when it comes to knife making.
Learn from the best and join the Guild.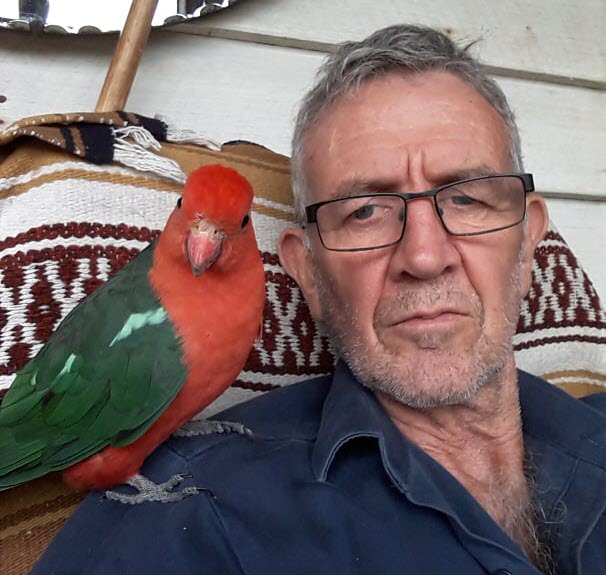 Recent Posts
LIVE STREAM: Saturday 18th of Sept 8 PMThis Saturday we are launching the 2021 Nordic Edge Destructi …

Last year we held the Big Blade Destruction Challenge, and it was a lot of fun. Rob from Wolf a …

Meet The Maker: Mert TansuArticle for Nordic Edge September 2021 by Michael Masion, Australian Knife …