Meet The Maker: Mert Tansu
Article for Nordic Edge September 2021 by Michael Masion, Australian Knife Magazine
What sets Mert apart as a high-end maker of chef knives is his background as a chef. His ability to know what a chef needs in a kitchen workhorse combined with his excellent fit and finish is the reason for his reputation as a globally acclaimed maker. Mert is also the maker Bjorn from Nordic Edge collaborated with for the BigMert carbide faced file guide.
Born in Turkey in 1981, he grew up in a coastal resort town of Antalya. He tells a story of when he was just 8 years old and his father took him to the shop to buy him a present, instead of a bike like every other boy his age naturally wanted, Mert wanted a sword! And though it was only a decorative "wall hanger:, he thought it was the greatest thing ever – better than any boring bike!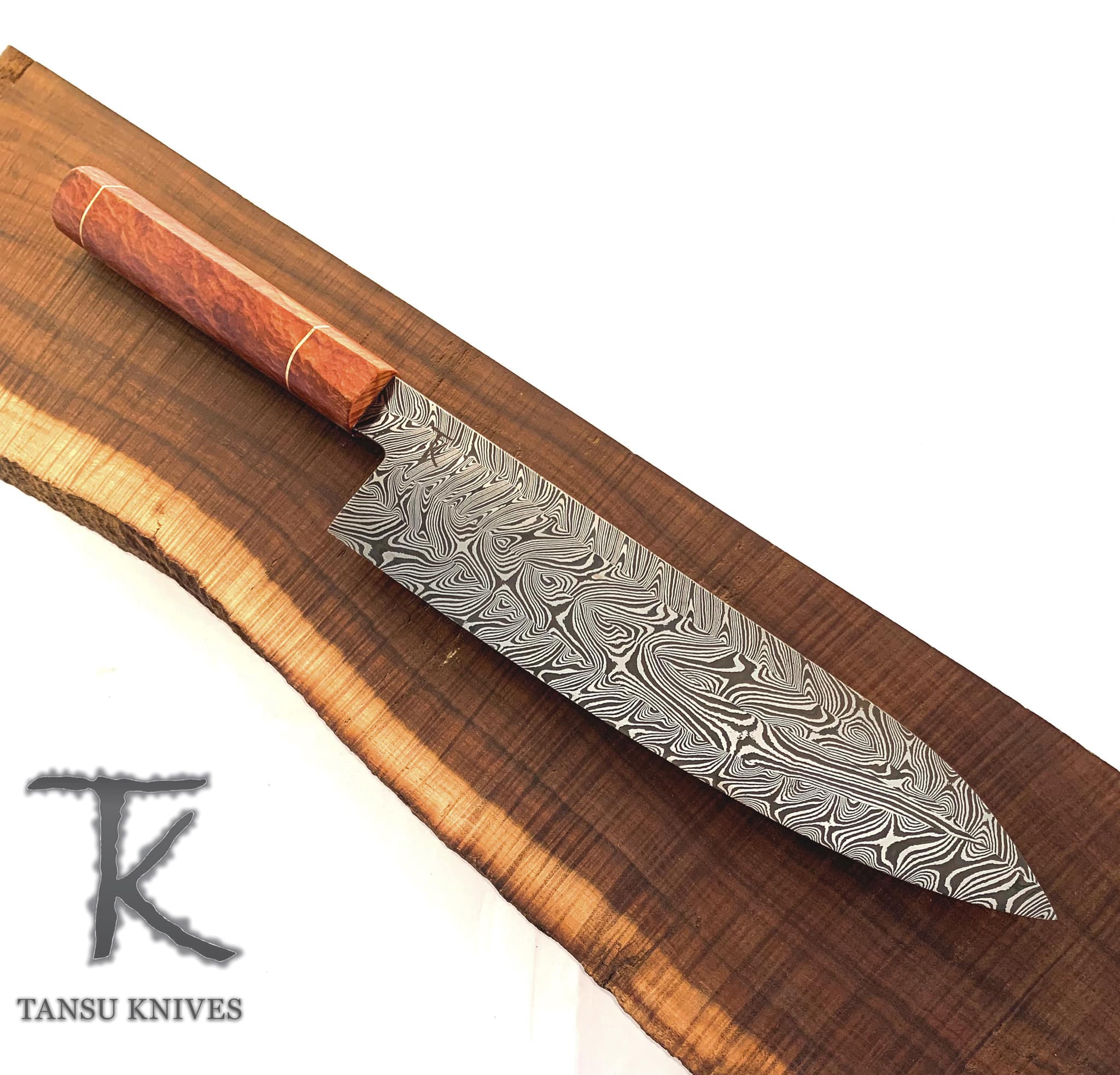 In university, he studied hospitality management as well as playing basketball. In fact he showed enough potential to pursue a career as a professional player, but we can all be thankful that he chose to follow the former path. Straight out of uni, at the age of 25, an opportunity presented to work for a hotel chain in the US. "I was thinking at the time that this would be a good gap year for me" Mert recalls, "I went there thinking it would be for a year, but then I end up meeting my wife." He stayed working for the hotel as they expanded internationally, opening branches in Scotland, Ireland etc, sending teams from the head office to establish these. In 2010 the opportunity came up to open a new resort in Australia, the young couple volunteered. "We were thinking at the time, we had no kids, we were living in the US, it would be a nice adventure to go see Australia for a year". Once the hotel was established they were going to go back, but instead they made their home here where their two beautiful kids were born.
Mert Tansu in top, left corner of the photo - he scored 15 goals in that game, winning 49-47!
While working in hospitality management, Mert had realised that he had an acutely developed sense of taste and decided to pursue career as a chef. "Being a chef was a surprise actually, I still find my high school friends and they ask "You didn't become a pro player?" – "No, I became a chef" he laughs.
The quest to find the best tool for the trade is one familiar to every tradesman, and being a chef, he wanted to find the best knife to use. After seeking advice from other professional chefs, he soon realised that they didn't really know the answer either. The knives they used and recommended turned out to be not that great, so he began to do his own research with the help of the internet (with a lot of trial and error). Having tried all the commercially available knives, he went on to handmade Japanese knives before turning to custom makers. Unable to find anyone in Australia at the time, he placed an order with a top US maker for what he thought would be the perfect knife. But this too ended in disappointment. Though the knife he got was beautifully made, "it couldn't cut for shit!" He tried to explain to the maker the areas that needed improvement, but to no avail. Mert realised that even though the maker knew how to make a beautiful knife, he had never used it as a tool – so this was a waste of time. He knew what the end product should be, he just didn't know how to get there.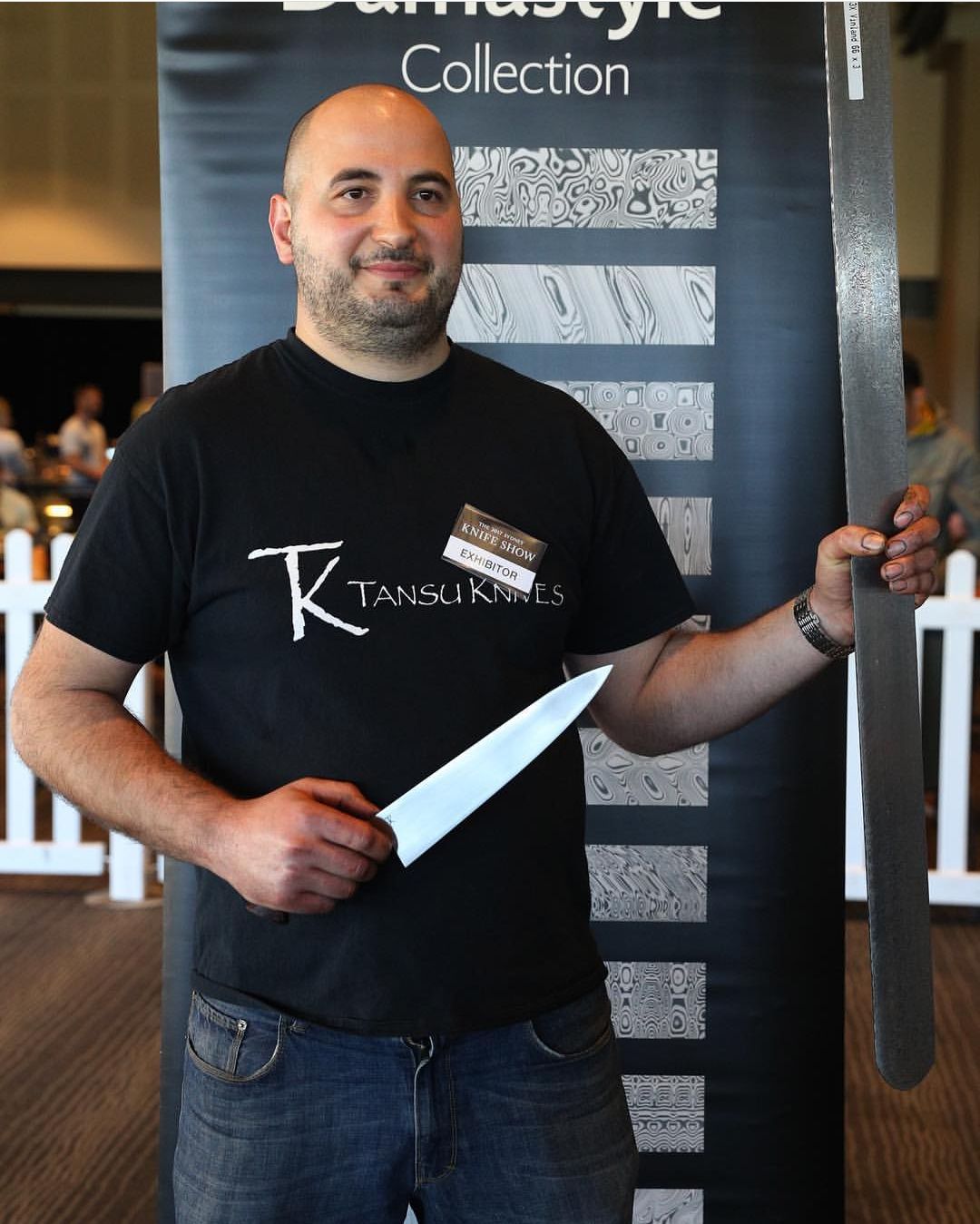 Mert Tansu winning the prize for Best Kitchen Knife at the 2017 Sydney International Knife Show.
While doing internet research, he found "an old grumpy guy by the name of Keith Fludder" who was offering courses in knife making, so he decided to try that. This was a pivotal moment for Mert. "On the way home driving back from Keith's place, I realised that this was more than just a weekend getaway for me, this was going to be the start of something". He came home with a finished knife and a blank that he had made, but he also came home with a new ambition in life. He began buying materials and equipment necessary to make knives, and every weekend and any spare time he had available was spent in his shed. He began making knives and it wasn't long before he sold his first one, which led to a custom order, then more sales and more orders. So in a very short period of a year, he went from making his first knife to having a list of orders and awaiting customers. This proved to be a blessing as well a burden; because even though it provided financial security, he was obliged to make what other people wanted instead of exploring new ideas. Four years ago he decided it was time to quit his job and concentrate on making knives full time. As well as a creative outlet, it allowed him to spend more time closer to home and his young family.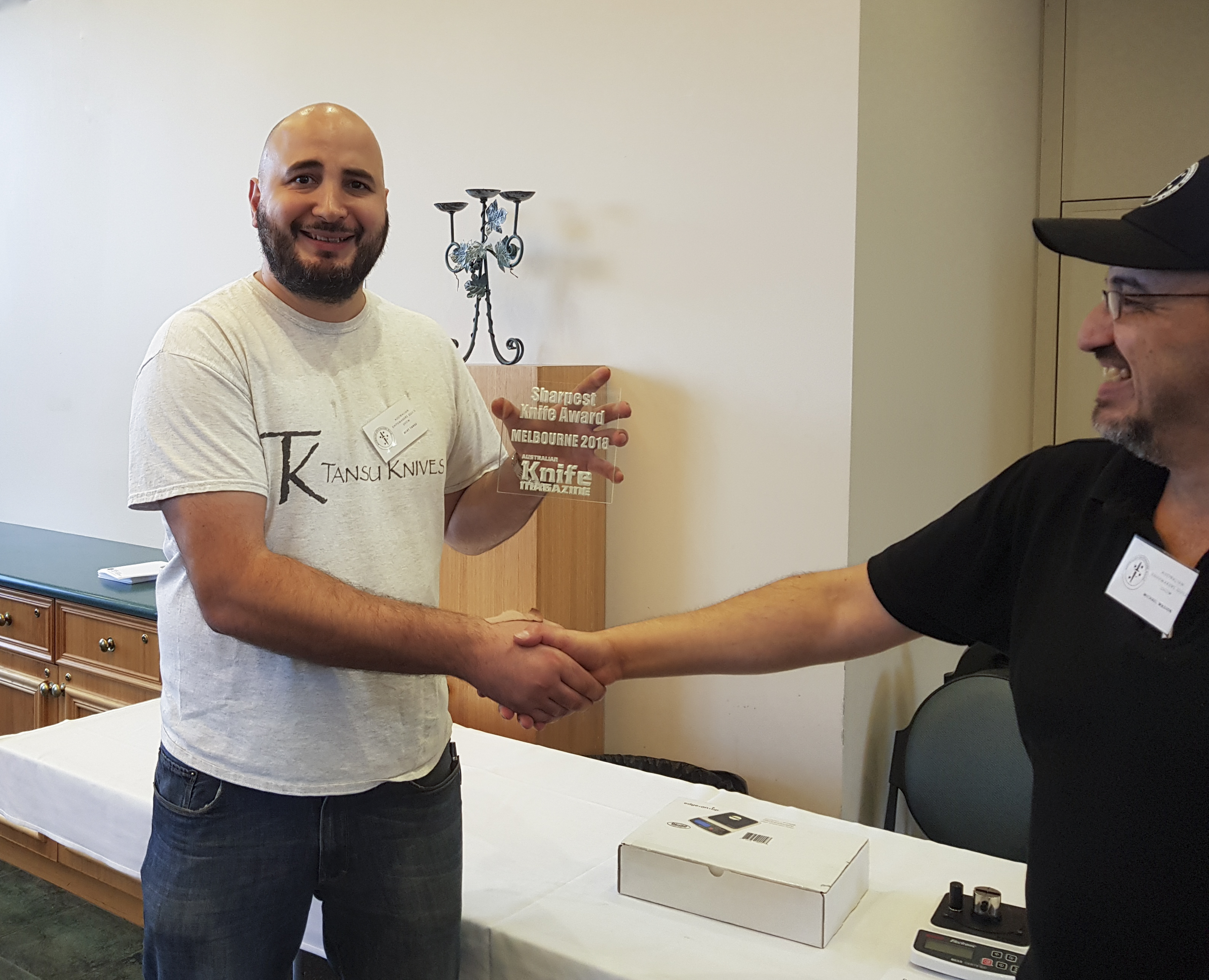 Author Michael Masion presenting the trophy for Sharpest Knife to Mert at the 2018 AKG Show in Melbourne.
Most of the knives he makes are forged to shape carbon steel, laminate and pattern welded (Damascus steel) as well as stainless "Damasteel". His favourite carbon steel today is 26C3, but he's also used a lot of 52100 for a very long time. In some of his laminates, he likes to use 1095 as a core steel, "It's not the most fashionable steel but it's a perfect steel if you do the right heat treatment". In terms of handle materials, he prefers to stick to his favourite 5 or 6 timbers, nothing too fancy but above all else practical and timelessly classical. Bocote, ringed Gidgee, Arizona Ironwood, African blackwood, Honduras rosewood burl, and also likes walrus ivory. But mostly he prefers to use native Australian timbers where he can, "These things never go out of fashion".
The workshop is divided into "hot section" with forges and tempering ovens, and a grinding room with band saw, drill press etc. He prefers to compartmentalise his time, "I forge ten knives on Monday, out of these I decide to heat treat four, out of these four I grind three and finish two. So by the time next week comes, I can skip forging because I already have so many forged and I can start the week with heat treating, I always try to stay ahead. I always try to forge and heat treat once a week so I always have something ready. I always have 4 or 5 knives I can finish quickly if I really have to push it".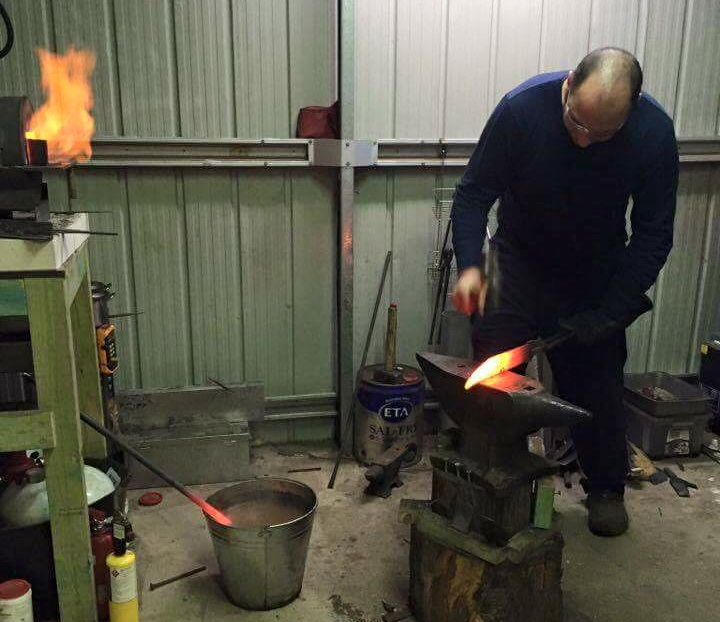 Mert hard at work in the workshop in Hunter Valley, NSW - where he also holds classes in knifemaking.
In terms of time management, at first it was really difficult, working unsustainable hours. So he has learned to keep a strict time table (or at least try to), finish work at 6 and spend at least one solid day a week with the kids. In fact, spending as much time with the kids as possible is one of the benefits of working from home. When asked about social media, Mert's advice is "use it but don't forget to turn it off. Also don't get caught up on the negative stuff... look for the stuff to make you better. Look to be the best version of yourself".
His advice for new makers, is to decide whether they want to start with doing stock removal or forging. "I would say, if someone is staring out – start with stock removal. If you want to do forging, you are adding more stuff that can go wrong. Use calipers, learn how to finish a knife properly before you start forging". You can use inexpensive carbon steel while you're learning and send the blade out to be hardened by firms specialising in heat treatment, you don't need to have a forge in order to make knives. You can get into forging later when you're ready.
Mert presenting on design and edge geometry for kitchen knives, 2018 Blade Symposium.
When it comes to essential equipment for a beginner, Mert recommends starting with a good, variable speed belt grinder (48 or 72 inches). Second on the list is a drill press, this is going to be essential for fitting handles – either hidden or scales on a full tank knife. Third item on the list is a disk sander, though this may surprise some people. "Disk sander is one of those tools that second you have one, you realise – oh how have I lived this long without it!". You start grinding the blade on a belt grinder, but this has a tendency to "jump and wobble" and leaves an uneven finish. Disk sander is flat and helps achieve a much smoother finish as well as getting handle materials flat. After the disk sander, everything is hand sanded, but this job becomes much easier because the belt sander has already done most of the work.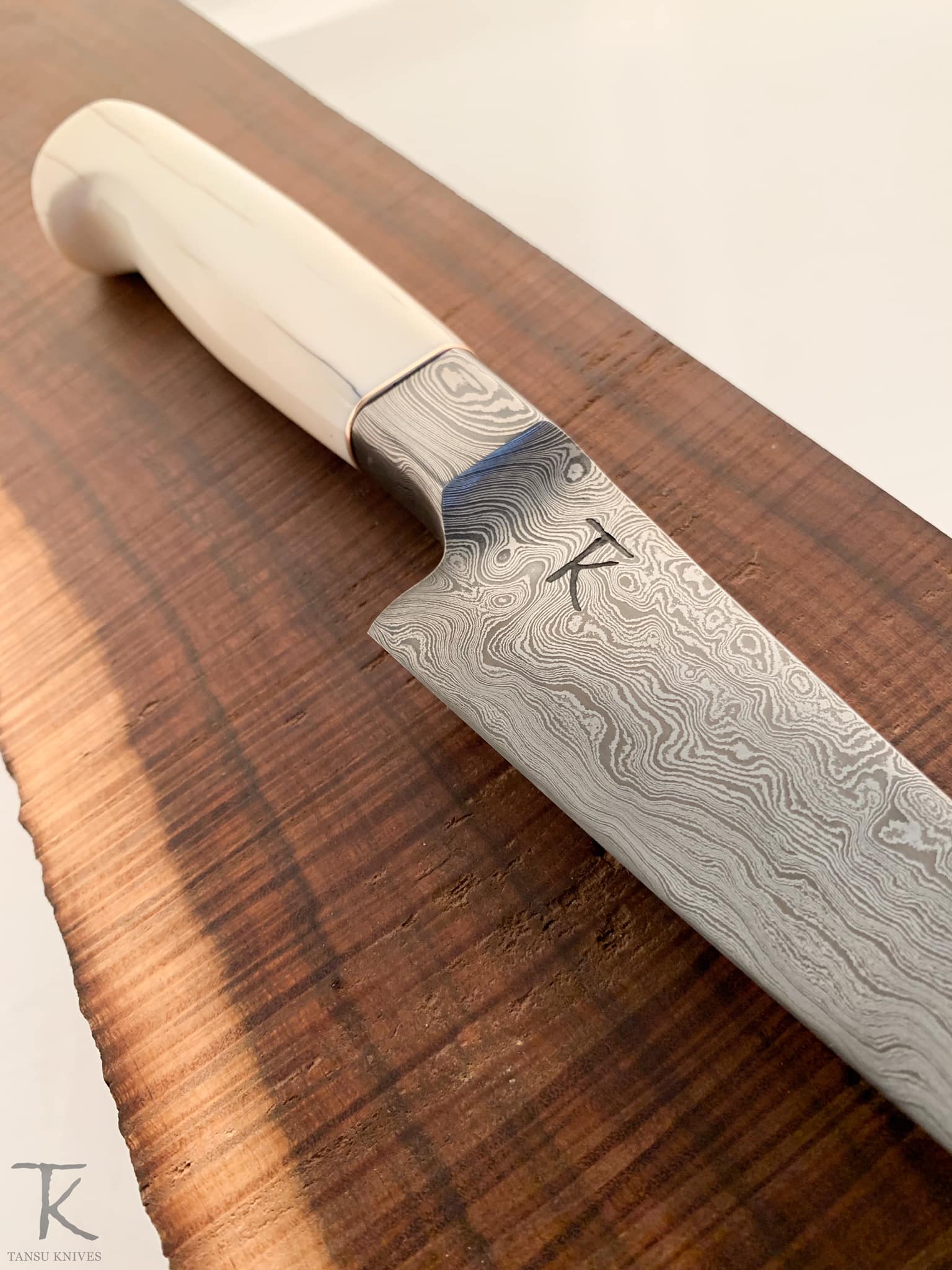 Based in NSW in the Hunter Valley, Mert Tansu is an award winning, professional knife maker specialising in kitchen knives. To see more of his work, please visit his social media page:
https://www.facebook.com/merttansuknives/posts/3050473238509129
https://www.instagram.com/tansu_knives/
To book a class: https://classbento.com.au/mert-tansu
Recent Posts
LIVE STREAM: Saturday 18th of Sept 8 PMThis Saturday we are launching the 2021 Nordic Edge Destructi …

Last year we held the Big Blade Destruction Challenge, and it was a lot of fun. Rob from Wolf a …

Meet The Maker: Mert TansuArticle for Nordic Edge September 2021 by Michael Masion, Australian Knife …