Daniel Dashevsky posted his latest chef knife on the Australian Beginner Knifemaking Group on Facebook over the weekend and it is a stunner!
The blade is in 1084 high carbon steel that has been mustard etched. Brass dovetail bolsters front and rear finishes the knife off.
Forcing a patina with mustard:
Carbon steel when used in the kitchen will patina and discolour over time with use. The acidic food materials being cut by the blade will etch the surface steel and create coloured blotches or shades.
To create a more uniform blade finish, some choose to etch the entire blade and then either leave it as-is or polish the etch partially off again.
Herringbone pattern:
Mustard etching is not a new process, but Daniel has used it in a very clever way to create a two-tone effect in a herringbone pattern. By applying a pattern of mustard and re-etching he has created different shades of etch with only one etchant.
The clever use of a bright, eye-grabbing handle material against the somewhat subdued blade really makes the knife pop out from the photos. We love it and wanted to share a couple of photos here.
This is what Daniel had to say on the etching process:
"For the mustard patina I just go the cheapest yellow mustard and maybe thin it out with lemon juice or vinegar depending. The steel darkens when exposed to acid and oxygen. The mustard brings the acid and stays where you put it, but a thick layer can block the oxygen so if I want to etch a stripe or patch I try to thin it out and apply only a light coating. Thicker or smoother lines of mustard can produce quite crisp lines at the edges if that's what you want.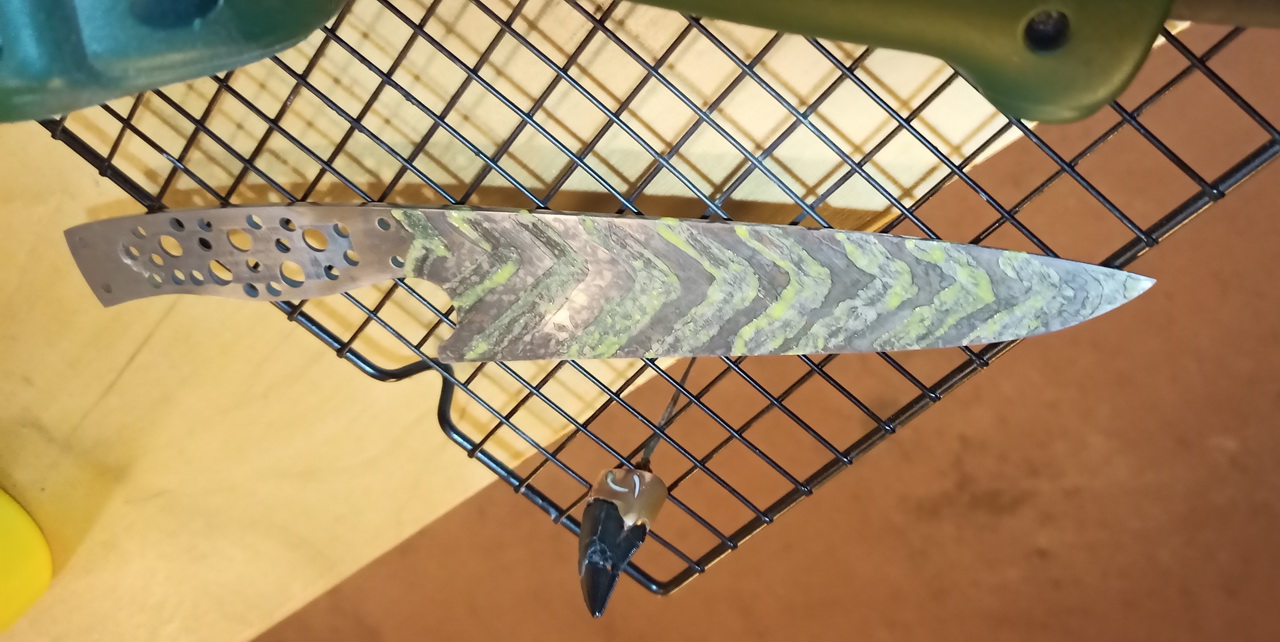 To get a semi-random sort of naturalistic effect I've found the trick is messy applicators like Q-tips or bunched up paper towel that will keep your lines from being too straight or well defined. Then keep doing layers until it looks good. I etch for 5-15 minutes (mix it up for more visual variation!) rinsing and scrubbing with steel wool in between applications."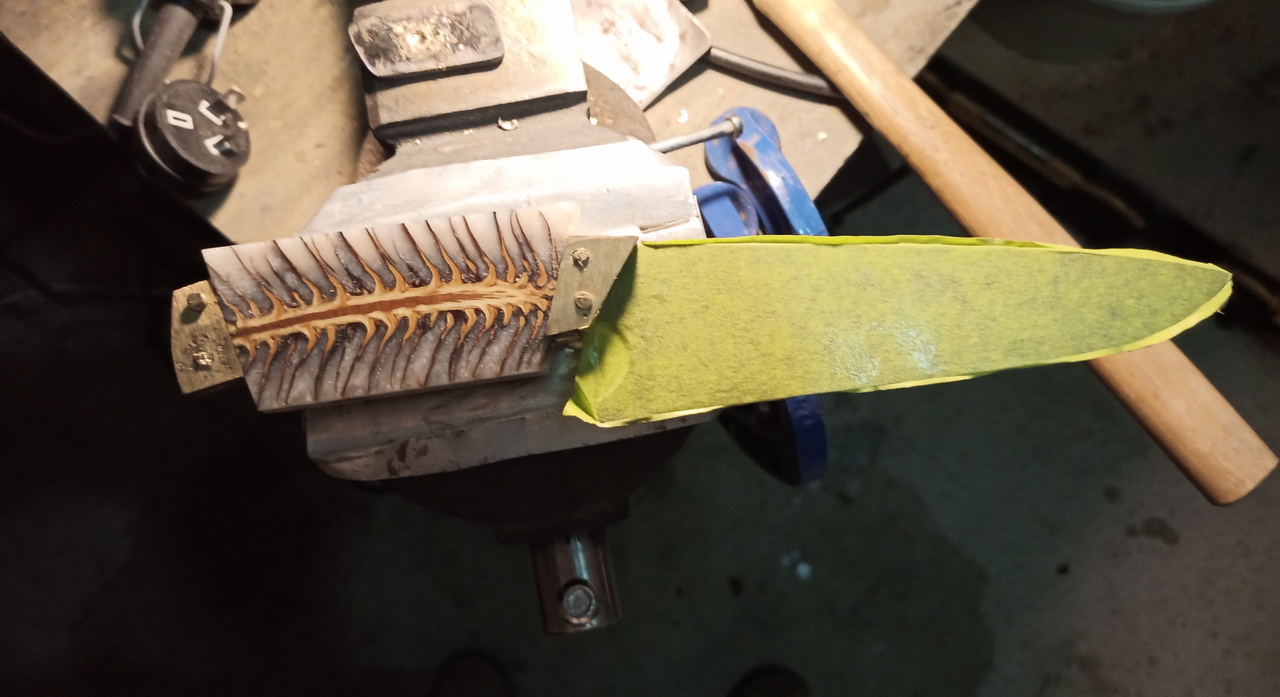 Can't argue with the results!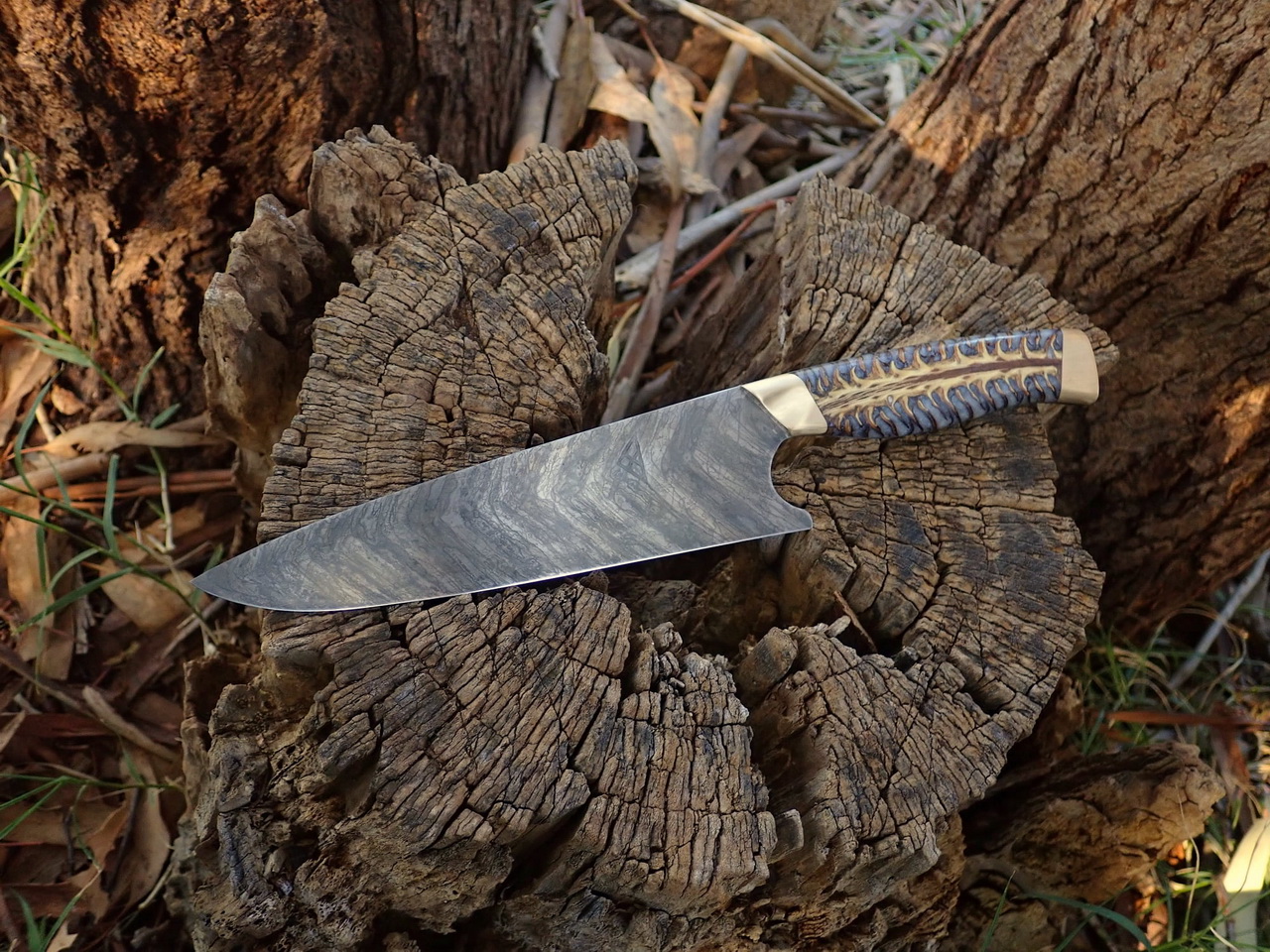 Recent Posts
LIVE STREAM: Saturday 18th of Sept 8 PMThis Saturday we are launching the 2021 Nordic Edge Destructi …

Last year we held the Big Blade Destruction Challenge, and it was a lot of fun. Rob from Wolf a …

Meet The Maker: Mert TansuArticle for Nordic Edge September 2021 by Michael Masion, Australian Knife …