Australian Knife Making Awards 2022: CATEGORIES
The Awards 2022 is about completing a knife between May 1st and May 29th and entering online in the free competition. Every week there is a live stream on the Nordic Edge Facebook page, as well as on the Australian Beginner Knifemaking Group. The below is the summary from the stream detailing the categories and requirements for each.
Wednesday 4th of May at 8 PM was the live stream covering the categories of the 2022 Awards;
Best Knife From Kit
Best Beginner Chef Knife
Best Beginner Outdoor Knife
Best Fully Forged Knife
Best In Show
Link to the stream if wanting to see the whole thing for more details: LINK
Here are the summary slides from the presentation:
Your host for the 2022 Awards are Jamie Bishop, Riley Burns and Tony Eearwaker.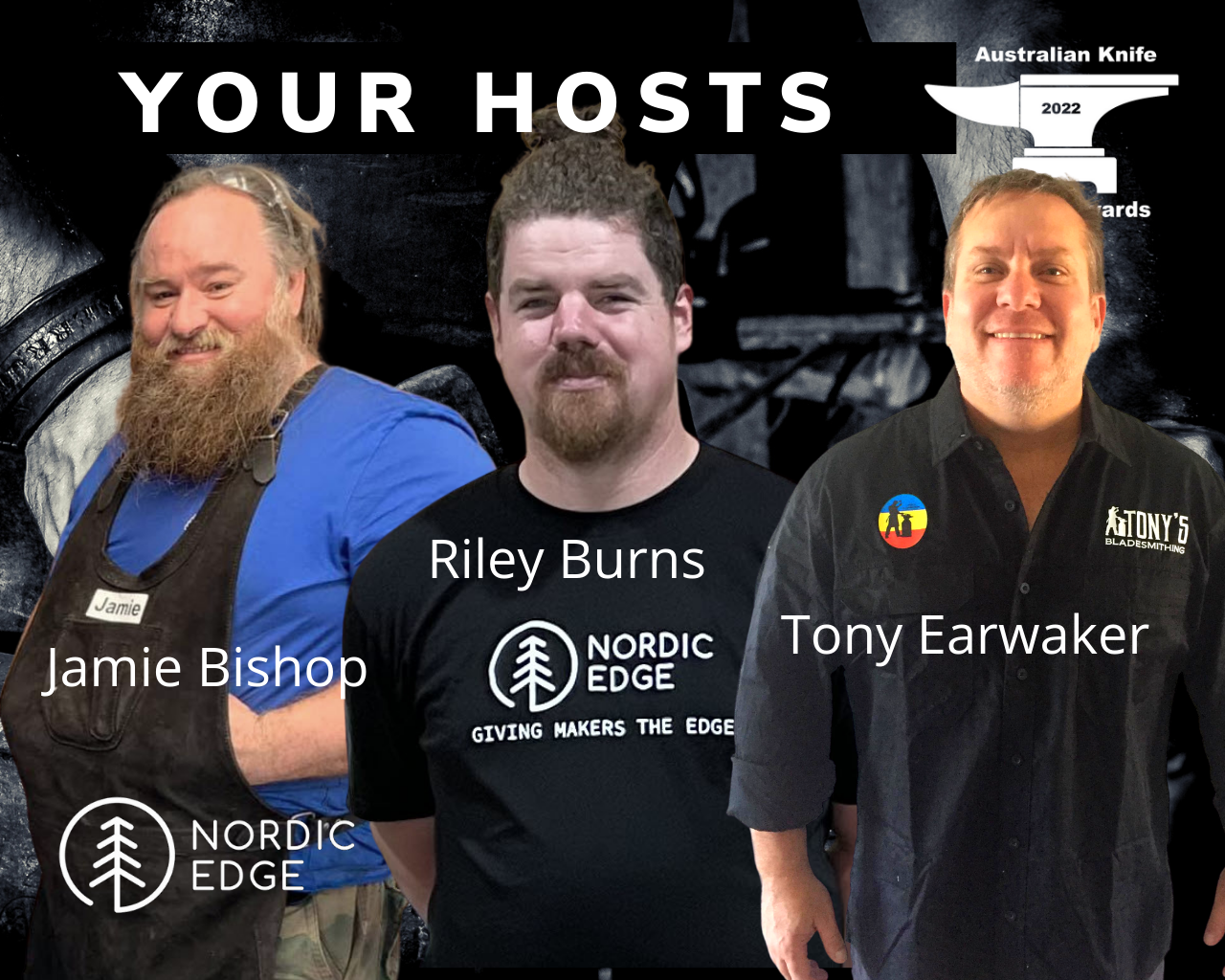 The Awards run every year in May, this year is no different. This is a chance for knife makers in Australia and New Zealand to take part in a "virtual knife show" if you will, and maybe more importantly get some feedback on their work. All knives receive not only an averaged score across the judges, but also helpful comments from the judges about what the maker might focus on to get to the next level, skills wise.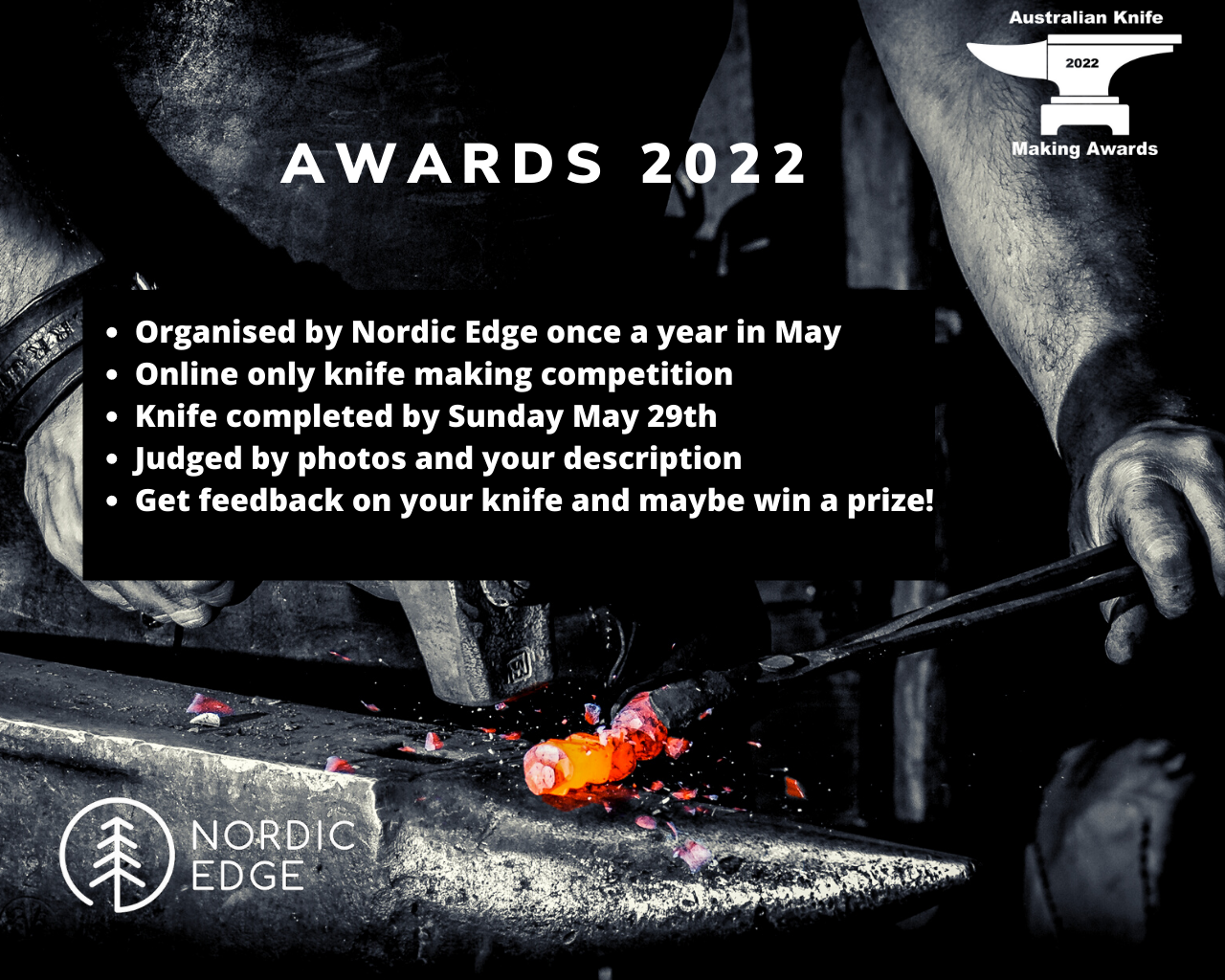 The Awards are for makers in Australia and New Zealand only.
When we started the Awards in 2020 after Covid shut down all in-person knife shows and competitions, this was all a bit of fun to keep the facebook group going and for us to have something to do as a group.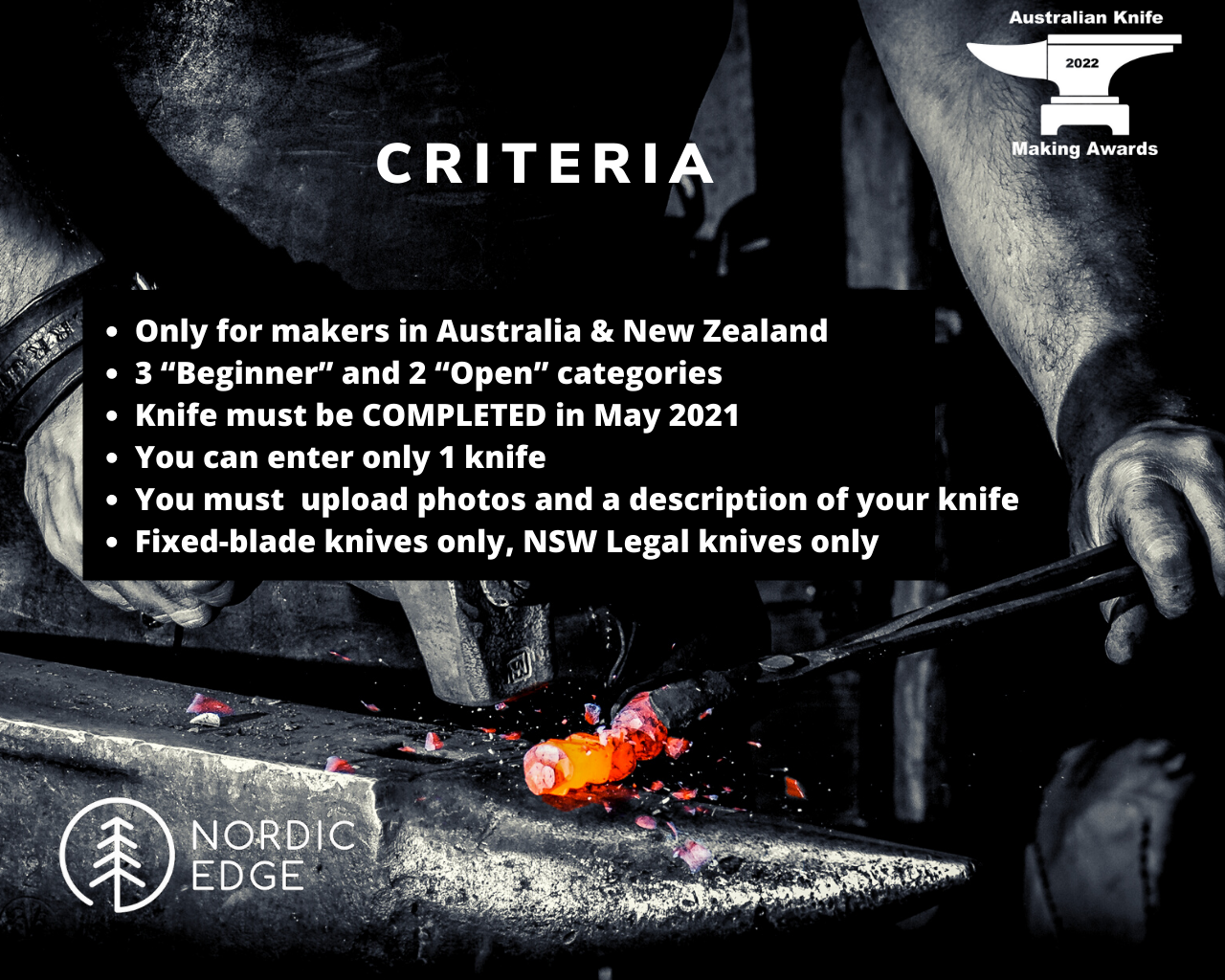 It also became a way to build some confidence for new makers, being allowed to compete in a "beginner" category against other makers who had not exhibited at a physical knife show before. We also made the distinction that a "beginner" is not a member of the Australian Knifemakers Guild (full or probationary member), or considered themselves an "advanced maker".
Three of the categories are for "beginner" makers and 2 are "open categories" meaning they are open to anyone in Australia and New Zealand, no matter what skill level.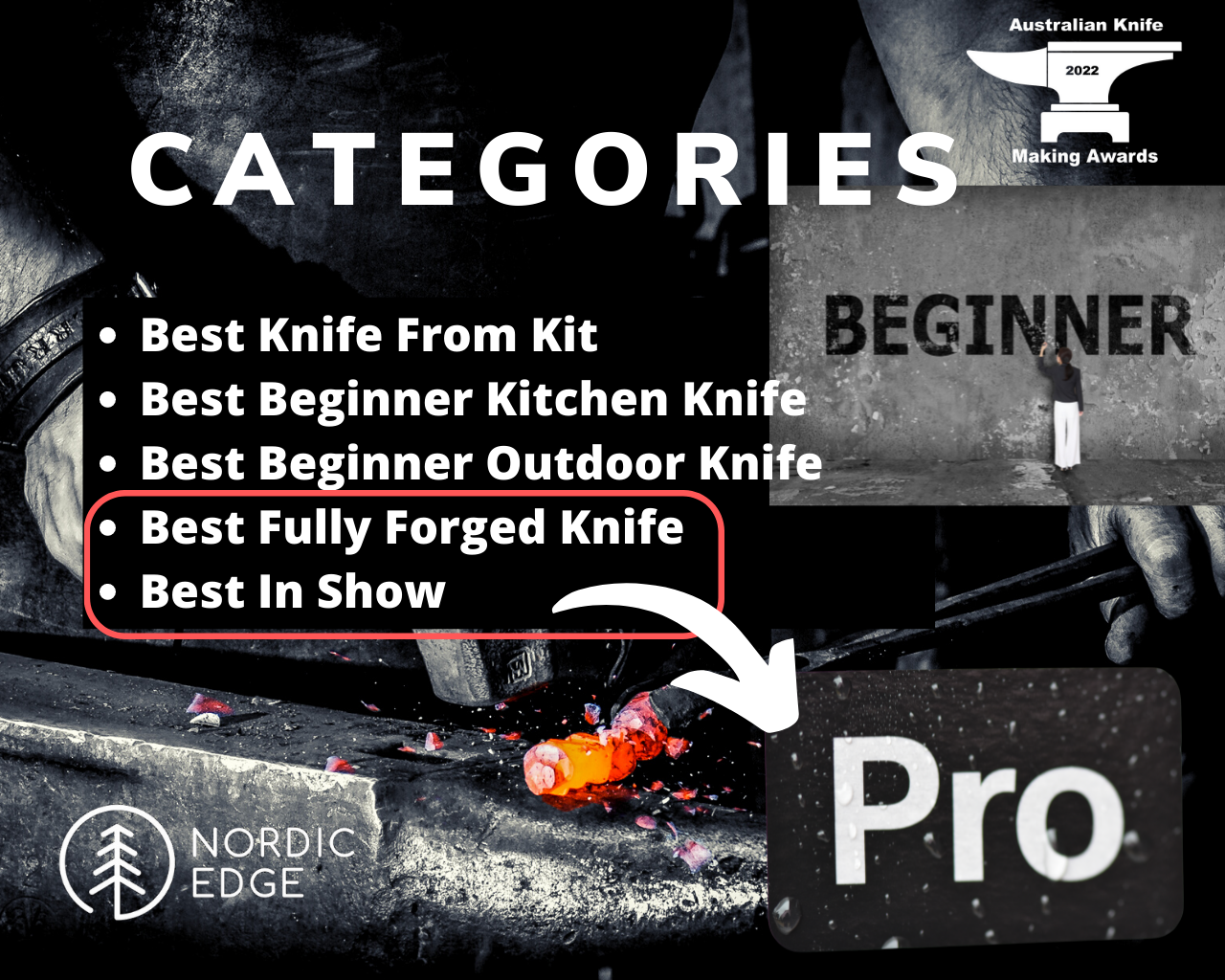 Best Knife From Kit: This is a category where the maker makes the handle.
The blade is a bought blade, meaning it is commercially available from a store, it is not a one-off made by a knife maker. This is part of making it an even playing field.
Any blade style, any handle material, blade length under 250 mm, fixed blades only. Like all the categories, the blades have to be a "normal" type as in a legal in NSW type, so look this up if considering using a blade not bought in Australia or not legal in NSW.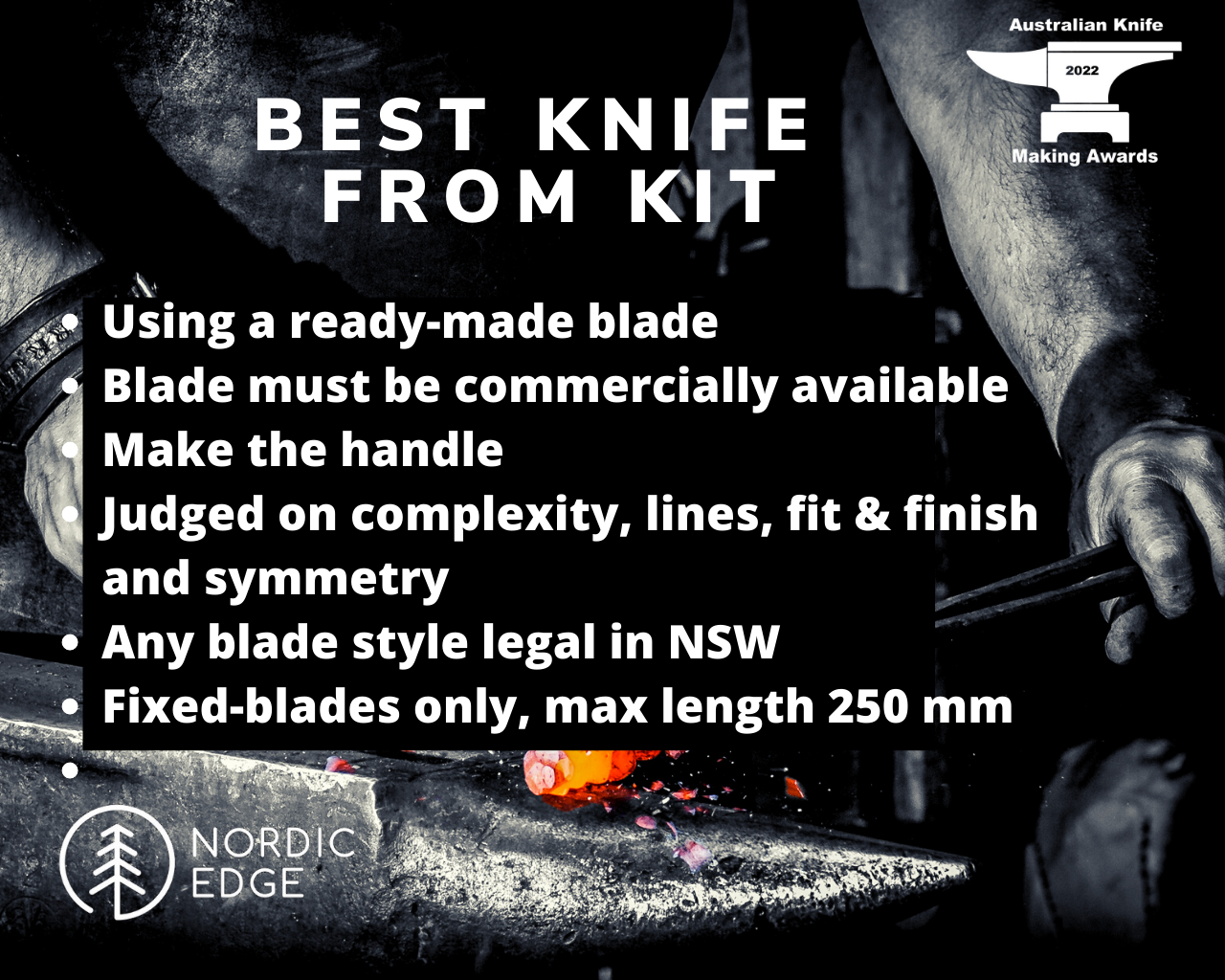 Best Beginner Chef Knife is a popular category, again blade has to be 250 mm or shorter.
Any construction like stick tang or full tang, damascus or monosteel. The maker must have made the blade themselves as well as the handle. Any embellishment by others like engraving is ok, just declare this on the form.
Best beginner Outdoor knife has the last 2 years been the most contested category, having the most knives entered!
It is a tough field to compete in, with a lot of skilled makers really showing their skills.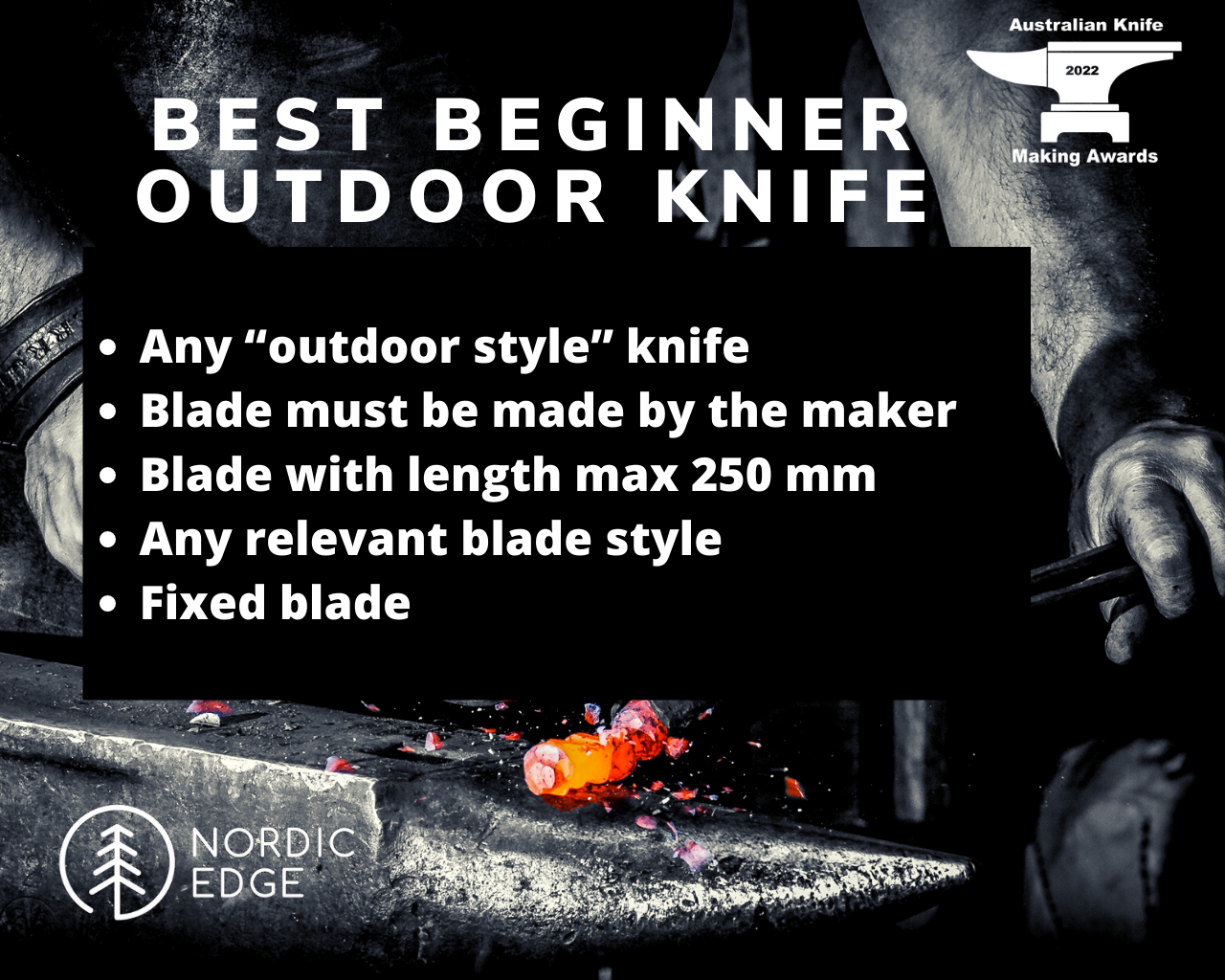 Best Fully Forged is a different type of category; first off it is "open" meaning any maker in Australia and New Zealand can enter. Having won an award before, or being a guild member etc is no hindrance.
The second thing that sets this category apart is that it is a forging competition, not a knifemaking compettion.
Meaning there is going to be little to no grinding, only forging to shape and giving it an edge.
The judges give points here for elegance, flowing lines and good looking knives - plus possibly some bonus points for complexity but do not think a difficult to forge result will win over a simple blacksmith knife with good flowing lines.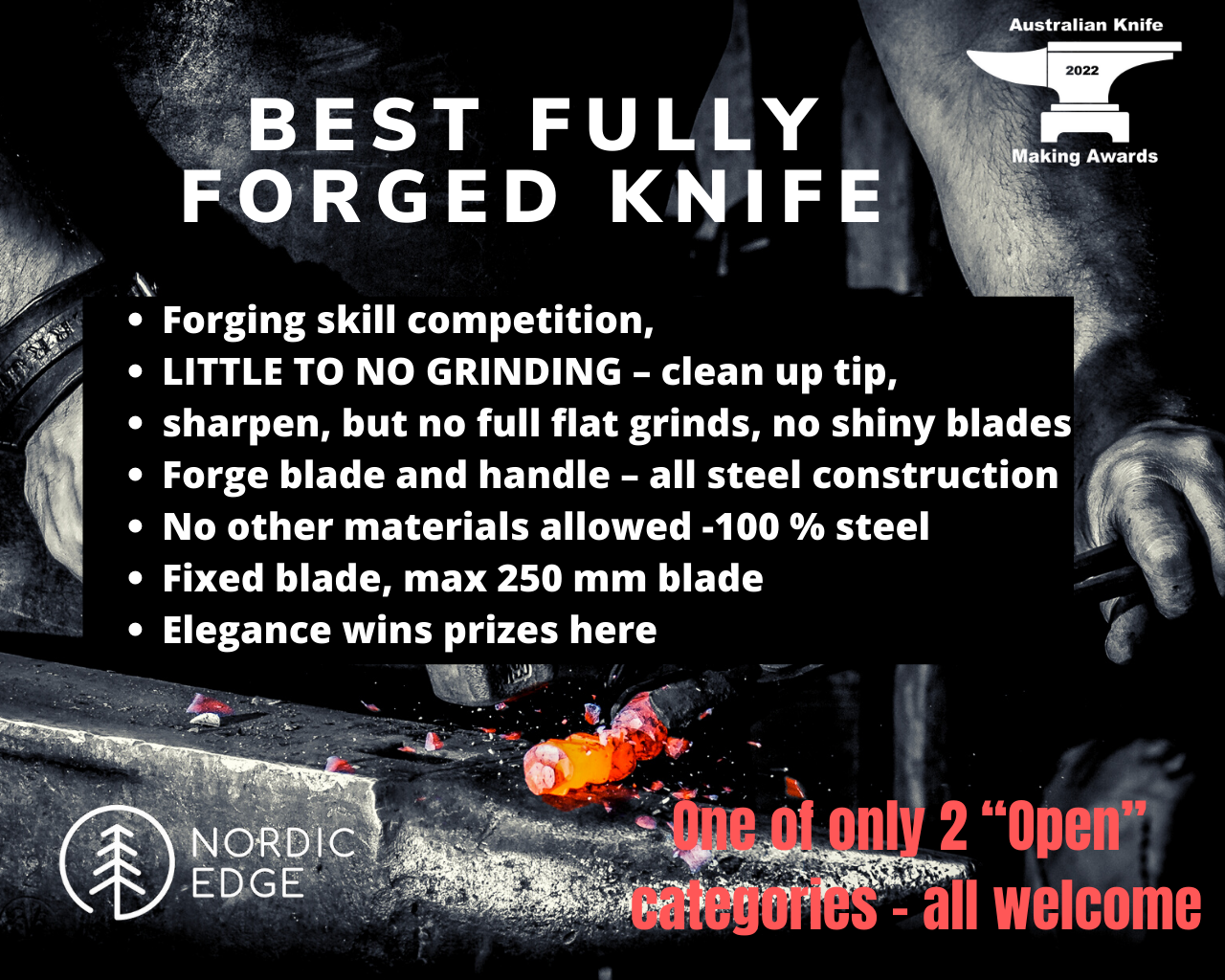 Best in Show is the "pinnacle" of the Awards where anything goes.
Any construction method, any blade length up to 500 mm, any skill level... the brief is simple:
WOW THE JUDGES.
The judges specifically here will give bonus points for complexity of construction, flowing lines, dimensions and proportions take a larger part in the scoring than in the beginner categories.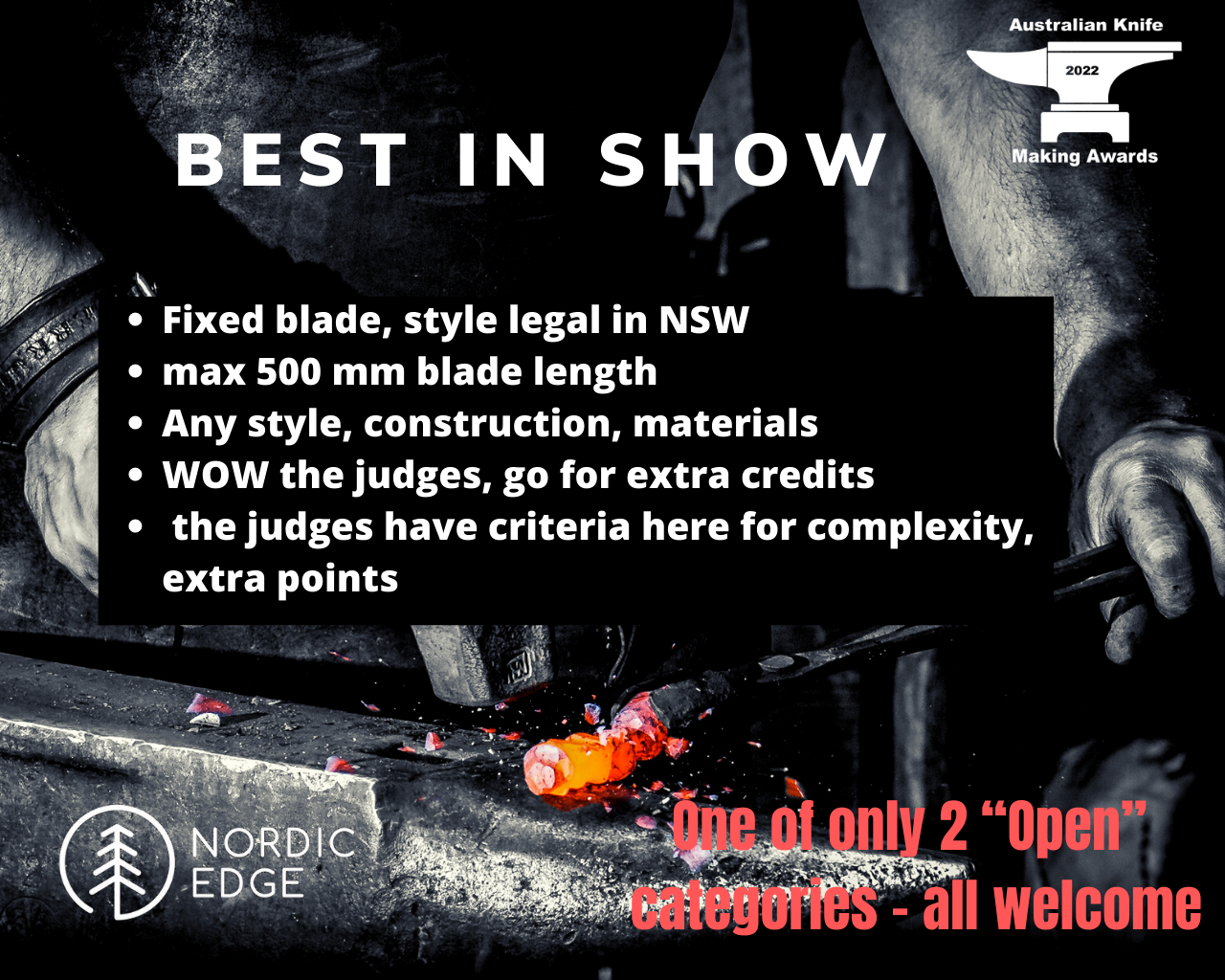 Each category is listed as either a "beginner category" or an "open category", this is to give makers who are not part of the Guild or do not exhibit at physical KAA or AKG shows the opportunity to compete in a more level playing field. It does not mean only new makers take part.
Carefully read the below and consider yourself either a "beginner" or if you should enter in the "open" categories.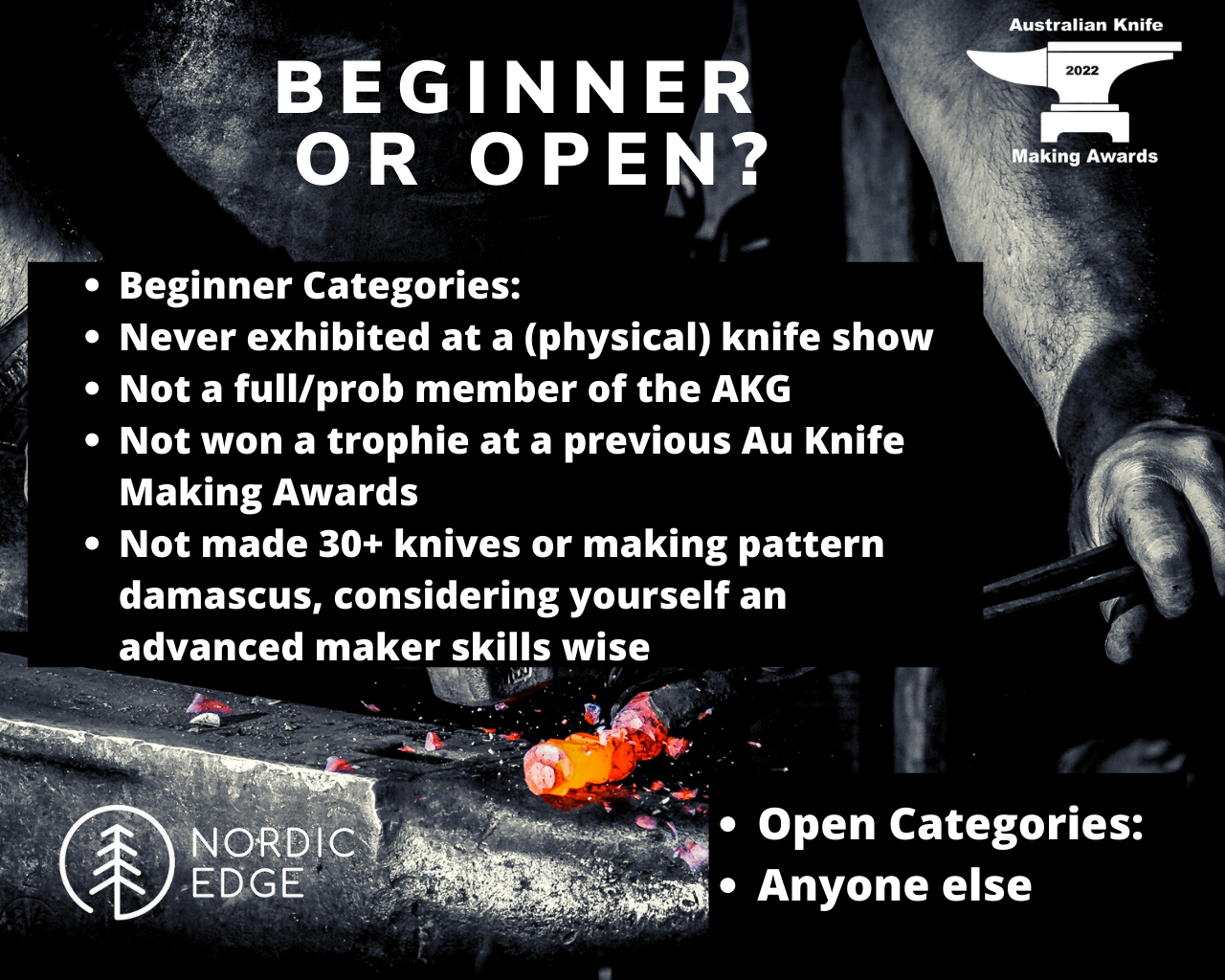 The "pattern damascus or consider yourself an advanced maker skills wise" is a bit vague on purpose.
Making your own damascus is not taking you out of the Beginner categories, but if you are on a level where you make advanced pattern damascus, canister damascus, or other techniques where it is fair to consider you an advanced maker - then consider joining the Open categories.
The Awards 2022 sponsors are a massive part of making this come together, they are the ones providing the trophies and prizes for all 15 winners across the 5 categories. A big Thank You to the sponsors;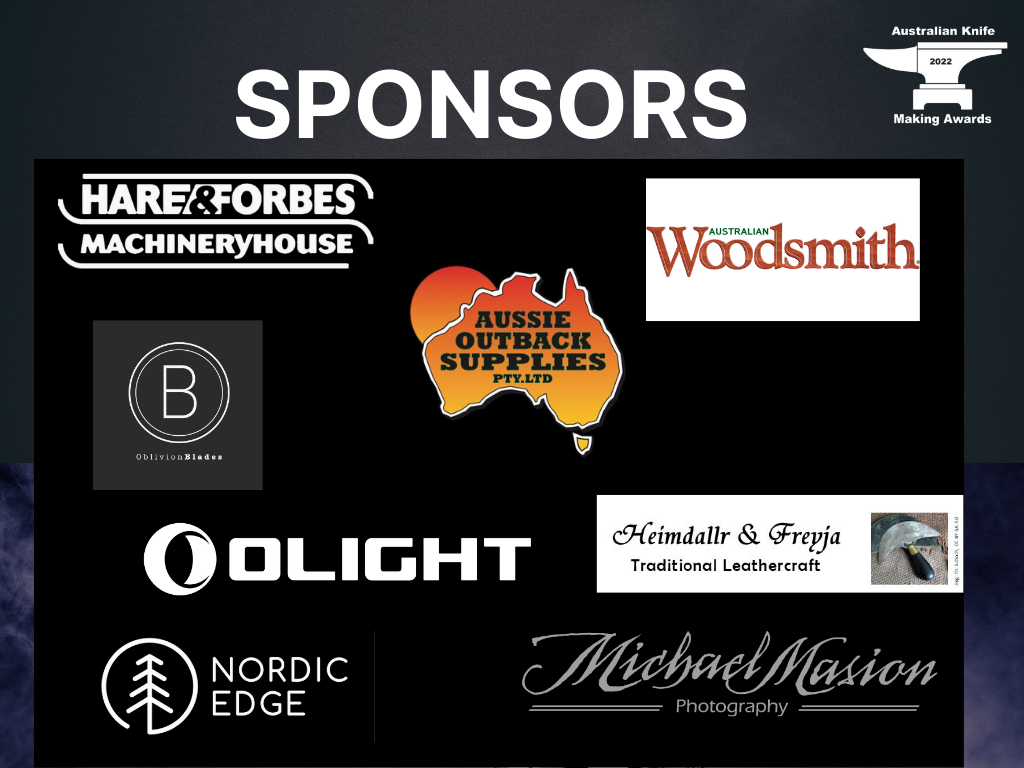 If you need something these companies supply, please consider supporting them as they are supporting us;
Hare & Forbes Machineryhouse, machinery and supplies for all makers: LINK
Aussie Outback Supplies, aussie made swags and bags and an amazing collection of knives for all purposes: LINK
Australian Woodsmith Magazine, magazine for woodworkers with plans for both simple and advanced projects, as well as tools and ideas for makers: LINK
Oblivion Blades, making custom steel bars and damascus: LINK
Hemdallr & Freyja, traditional leathercraft, knife sheaths and other custom leather work: LINK
Michael Masion Photography, for amazing knife photos: LINK
Olight Australia, the brightest torches there are: LINK
Nordic Edge, maker supplies for knife makers, blacksmiths, leatherworkers and spoon carvers: LINK
The guys did the weekly giveaway on the stream, this week the giveaway was black veg tanned leather, a set of handle scales with stabilised Norway Pine cone in green resin, as well as a padded deluxe leather knife case.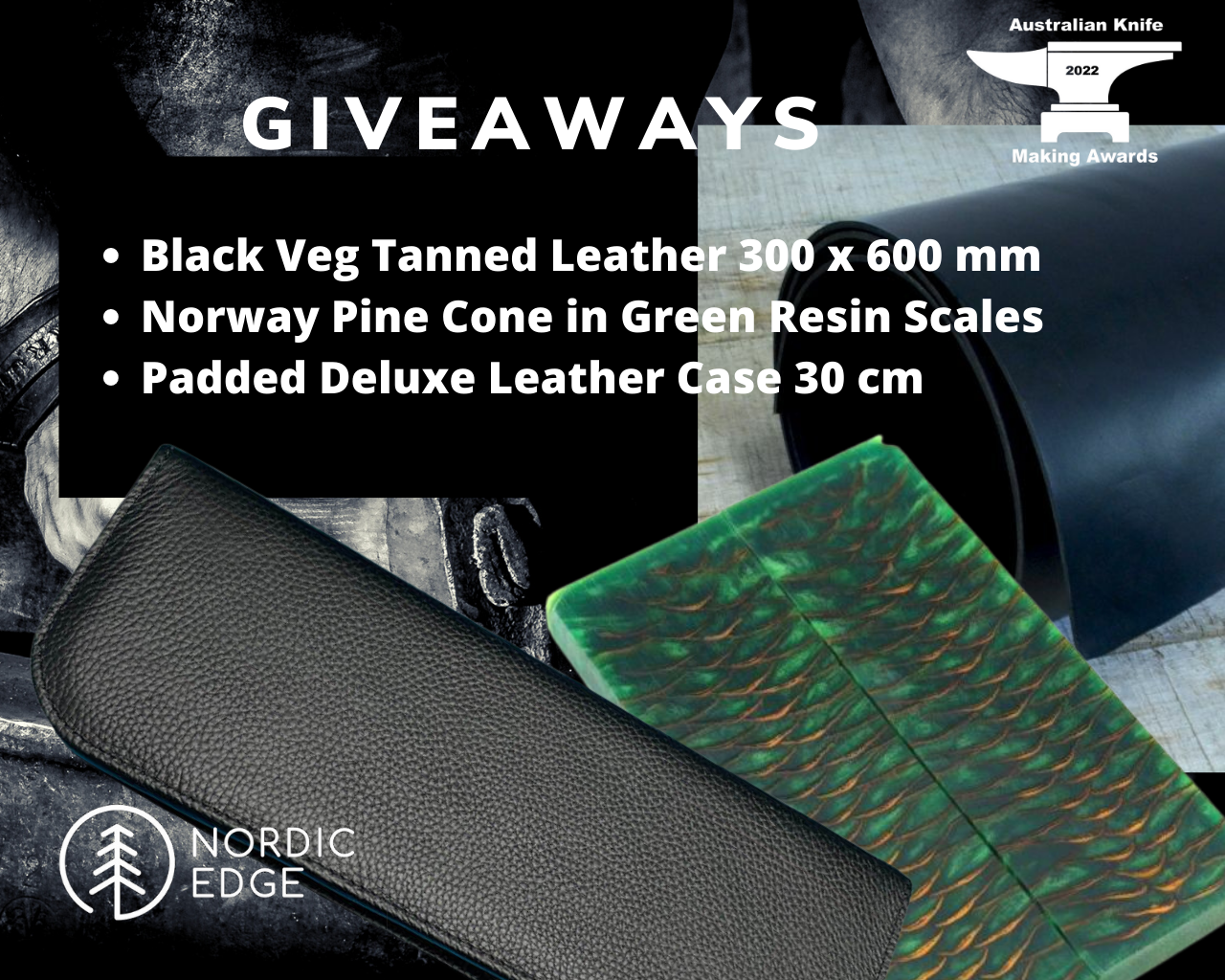 Last slide, showing the timeline for the Awards with remaining live streams.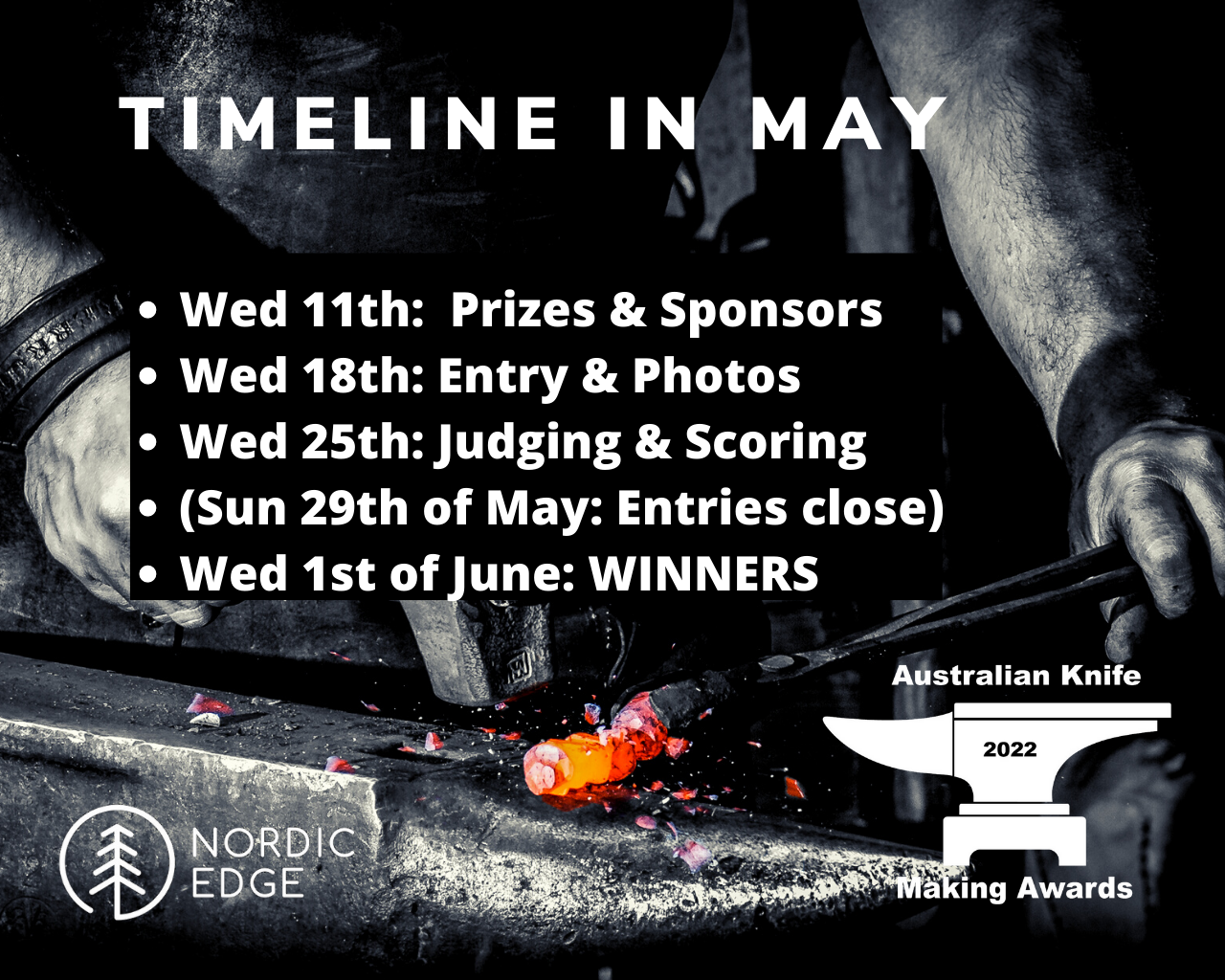 If wanting to get involved, check out the streams, complete a knife and join the awards!
(Entry form will be available last 2 weeks of May)
Recent Posts
Plane Old Iron ForgeJacob McNamara at Plane Old Iron is working hard on a new batch of 2.5 lbs round …

Wednesday 18th of May 2022 the Awards 2022 stream covered:HOW TO ENTER & WHAT PHOTOS TO TAKE.The …

Here are the summary slides from the live stream Wed 11th of May 2022: Prizes per top 15 spotsTroph …